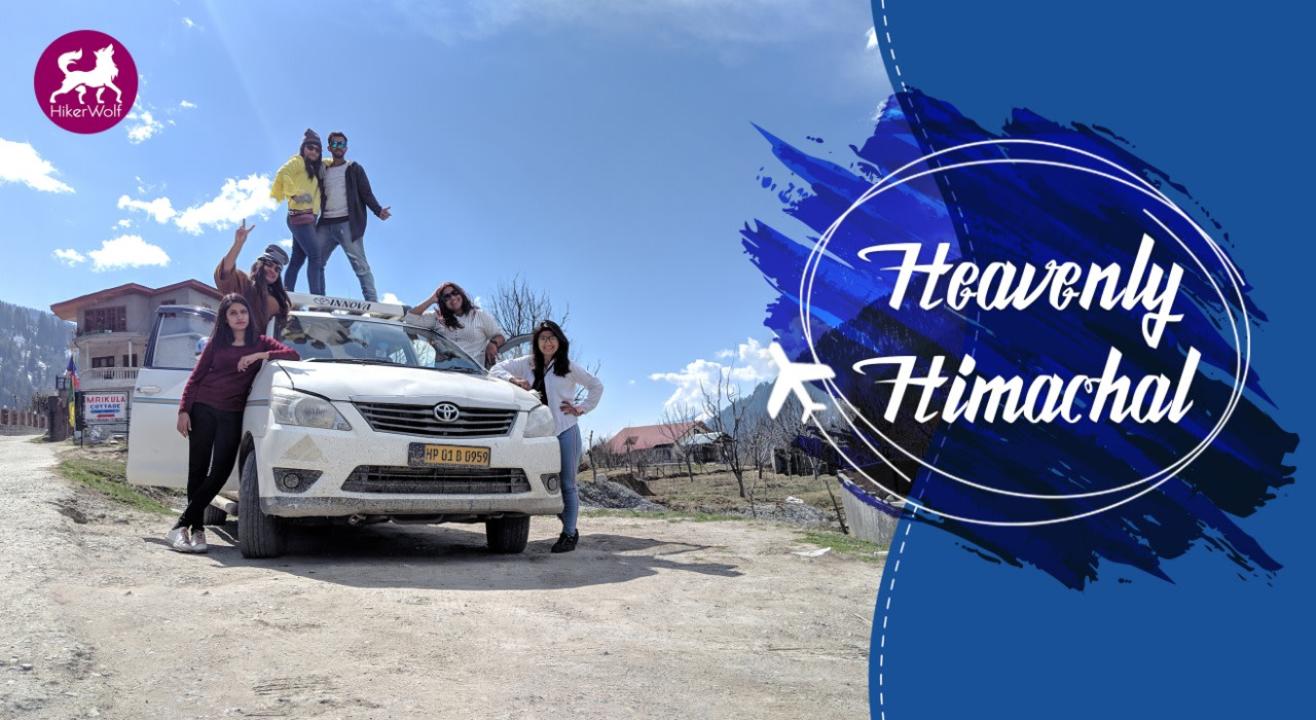 HikerWolf - Heavenly Himachal
Invite your friends
and enjoy a shared experience
Invite your friends
and enjoy a shared experience
About the Event
HikerWolf is on a mission to unravel and introduce you to countless pristine destinations and create only the coolest holidays for you. Break free from the shackles of crowded & touristy spots in India and get ready to experience the NEW.
This time, we bring you "HILLARIOUS HIMACHAL". Try paragliding in WORLD'S second best and INDIA'S best paragliding destination. Go fishing in striking Himalayan rivers. Witness the beauty of nature in its truest form.
Do you have the heart of a traveller? Then this one's specially crafted for you guys. Pack your backpacks and get ready to go on an unforgettable adventure! We're willing to see you there.
The Hiker is the explorer within you. The part of you which wants to reach out for more! Wolf is that side of you which yearns for a sense of belonging, the side which wants to bring people together and be there like Family!!

HikerWolf gives you a sense of belonging and guides you through exploring the world through a different lens. With each event, our family grows and the bond becomes stronger with every passing day!!

We make sure that every minute you spend with us is so energized and power packed that it keeps you buzzing for days! Every step develops a backstory! Every face you see is that of a friend-to-be!! Every photograph is a flashback of a movie like experiences!

With HikerWolf, there are no Goodbyes. It's always, See You Again Soon. So, See You Soon! There's so much room in our family! You are welcome to be a HikerWolf.

Why traveling to Heavenly Himachal with HikerWolf is soo much more fun? Wanna know?
We are not another traveling company, but a team loaded with care, love, fun.
We'd get watch gorgeous sunrise and sunset with each other.
Let's sing and dance at every opportunity we get!
Night walks are for the healthy body, so we won't ignore it, along with the cold nights and laughs of fellow travelers we will go for long and amazing night walks and enjoy the drop of temperature at midnight in the streets of McLeod Ganj
How can one miss on Midnight Camping at Rajgunda! Have some campfire parties and share some stories of love, horror, and what-not memorable
We wait for the beginning of adventure activities that starts with Water rappelling at Barot Valley
Another adventurous sport awaits us at Rajgunda is Ziplining!
The locals are the best storytellers. So, spending some time with them is another exciting thing to look forward to
We won't just share recipes but also taste some delicious Himachali foods.
Let's not forget the best experience that we are going to have while gliding over the mountains on Asia's largest paragliding site at Bir Billing and the fun of unraveling the town of Bir on bicycles
Finally, get some blessings at Bhaijnath Temple in Palampur
We will have so much fun together and we promise that a trip with us will be filled with beautiful memories to take home, along with breath-taking pictures to remind you of the good times you had with the HikerWolf fam.

Day 1: Night train GOLDEN TEMPLE MAIL (12903) from Mumbai (Reporting time: 8:30 pm at Mumbai Central station) to Ambala Cantt

Day 2: Trippers joining from Surat, Vadodara, and Delhi can board the train at 1:00 am, 2: 30 am and 6:00 pm respectively. Reach Ambala Cantt by night

Day 3: Start journey from Ambala to reach Dharamshala. Freshen up and leave for sightseeing at Dharamshala. Overnight at Dharamshala.

Day 4: Post breakfast leave for Barot. Visit HPCA (Himachal Pradesh Cricket Associate) Stadium Reach Barot and Sightseeing – Trout fish farm, Hydro-electric project, and evening at Ulh riverside-seeing. Overnight in Barot.

Day 5: Visit toy train Track in Barot and leave for a friendly hike to Raj Gunda. Reach Raj Gunda by evening. Riverside camping in tents and night under the beautiful blanket of stars

Day 6: Leave for Zip-lining, trail walk to Billing, Overnight in Bir.

Day 7: The D day is here! Experience Paragliding!! Explore the village on cycles and visit sunset Musical evening and dance. Overnight in Bir.

Day 8: Start your day early to visit DzongsarKhyentseChokyiLodro Monastery, Baijnath, Tea Gardens, and Palampur Heritage. Post Lunch, road journey to Ambala Cantt.

Day 9: Reach Ambala Cantt by 01:00hrs and board (GOA SMPRK EXP – 12450. (Trippers from Delhi and Vadodara can alight the train by 06:00hrs and 21:30hrs respectively)

Day 10: Remaining trippers can end their train journey at Surat and Panvel at 00:05hrs and 05:00hrs respectively.

Day 1: Welcome on board! We report at Mumbai Central Station by 8:30 p.m. to board GOLDEN TEMPLE MAIL (12903) and take our time to meet and greet the fellow travelers. Gear yourselves as today we're in for an overnight train journey towards Ambala Cantt!

Day 2: Trippers joining from Surat, Vadodara, and Delhi can board the train at 1:00 hrs, 2: 30hrs and 18:00hrs respectively. We reach Ambala Cantt by night.

Day 3: As we reach Ambala Cantt, Let's directly jump to our first place via overnight road journey to Dharamshala. A beautiful spot in the serene setting of Himachal and is the abode of beauty. So let's take our journey ahead. Post Breakfast, visit St. John's church, a classic church, which has a Christian cemetery surrounding it, has lovely glass windows and boost amazing architectural design.

Another exciting thing will be the Bhagsu temple! Temple-exciting? Yes, it is! The Bhagsu waterfalls, stunning waterfalls, present at a walkable distance from the temple, is one of extreme grandeur…cool right!!

After our adventure in the Waterfalls, we head to the Namgyal Monastery that is the home of the Tibetan spiritual leader the Dalai Lama and the largest Tibetan temple outside Tibet! The beauty of this monastery is so evident that even those who are not particularly inclined towards this religion will be fascinated by the serene ambiance all around and by the imposing figures of the Buddha. Such a sacred place to visit!

And with this, we will also visit the famous TSUGLAGKHANG Complex. Thankfully you aren't required to properly pronounce the name of the Tsuglagkhang Complex to get inside, no worries. Fun fact, Tsuglagkhang Complex is the private abode of the present Dalai Lama! Our next visit will be the famous Tibet museum!!!! This in Mcleodganj is a fine specimen of Tibetan architecture and was primarily built to preserve the history and culture of Tibet. Well, this place and its history will definitely make Himachal more exciting to explore.

Let's come out of this historical lecture and visit some of the famous cafes (as time permits) like Shiva Cafe, Illiterate cafe and Jimmy's Italian kitchen. Must say the ambiance and the food of the cafes will really enrich your travel experience…Later; Spend an evening alongside Dal lake in Naddi.

The day really ends well with good food!!!! Sleep with excitement for our next day!!!

Day 4: This marks the second day of our Himalayan venture as we leave for Barot post breakfast. Enroute we visit HPCA, the picturesque cricket stadium located in the city of Dharamshala District. A stadium with a stunning backdrop of snow-capped mountains of the Himalayan range, breathtaking isn't it?

Ever heard of the phrase 'heaven on earth?' Then let us translate the same into a reality! Barot Valley, an unimaginably beautiful virgin landscape around River Uhl, is completely unexploited by the flock of the tourists and commercialization. Trust us, for peace and solitude lovers, this is the exact place to be! And here we leave for sightseeing to Trout fish farm, Hydro-electric project and with the peaceful evening at Ulh river.

Day 5: After getting the warm-up of scenic pleasure at day two, we continue our journey towards Toy train track. There is also a small hike to Raj Gunda that await us. You won't be disappointed as you're here to experience an unforgettable eve, away from the loud parties and overcrowded pubs with overnight Riverside camping in tents under the beautiful blanket of stars. Can the eve get any better? Woohoo!

Day 6: Post morning breakfast we have for ourselves yet another adventurous day. Today we go ziplining! Once we're done, it's time to descend towards Billing. We reach Billing by evening and have our snacks. The evening is for relaxation at one's own. Dinner and overnight hotel stay at Bir.

Day 7: This day is probably the most awaited day of all, the day that is going to be etched in memories forever- as, after breakfast, we leave for the highest paragliding site in Asia to tick it off the bucket list! But it doesn't end here. After exploring the lush white and green Himalayas from the sky, get ready to unravel the town on bicycles. The evening is all about enjoying the sky go golden at sunset point, after which we are greeted by music, dance and a delicious dinner. Overnight stay at the hotel in Bir.

Day 8: We will bid goodbye to Bir as we leave for Palampur early in the morning. Post breakfast, we forge ahead towards a memorable experience at Dzongsar Monastery, the Buddhist charm of which is not only a treat to the eyes, but also to one's senses! After which we make our way to Bajinath – the shrine of Lord Shiva.

Also, being in Himachal, how can one afford to miss the beauteous and vast Tea gardens?

However, not all good things are meant to stay forever, as after lunch we finally pack our bags and pull the reverse gear. It's a final goodbye as we leave for Ambala Cantt post lunch. But the good part? More trips await us!

Day 9: Reach Ambala Cantt by 01:00hrs and board (GOA SMPRK EXP – 12450.

(Trippers from Delhi and Vadodara can alight the train by 06:00hrs and 21:30hrs respectively)

Day 10: Remaining trippers can end their train journey at Surat and Panvel at 00:05hrs and 05:00hrs respectively.

The trip ends with mesmerizing and unforgettable memories with HikerWolf.

Accommodation on twin or triple sharing basis
Semi-AC Luxury travel for all internal transfers
Breakfast and dinner
Riverside camp charges
Complete assistance in all other activities for the best possible rates
Charges for tour guide and driver
Basic First Aid
Government taxes and service charges
All entrance tickets for sightseeing wherever required
All permits

Adventure Activities
Insurance
Lunch
Any personal expenses during the trip
Anything not included in inclusions

FAQs for heavenly Himachal
Can I join the trip directly at Ambala Cantt? If yes, then how?
Ans: Yes, you can join directly at Ambala Cantt. the nearest Airport from Ambala Cantt is Chandigarh, which is at 50 km, a journey of 1 hr.

Can I join this expedition solo?
Ans: Yes, of course, you can! We have a good number of solo travelers on almost every HikerWolf Trip.

Is there any age limit to join this trip?
Ans: No, there is no age limit to join this trip. However, based on our previous experiences, the age group of travelers is usually between 18-35.

How physically fit do I need to be to join this trip?
Ans: This trip doesn't have a very high physical requirement. You need to be able to walk long distances on flat plains and be able to do a day trek too.

Can I smoke/drink on this trip?
Ans: We at HikerWolf do not refrain our participants from smoking or drinking on our trips. However, there are times you will be disallowed to do so (monasteries, treks, sacred spaces, etc.). Indulge in these activities very responsibly.

Are kids allowed? If Yes, then what are the charges?
Ans: Yes, Kids are allowed. Below 3yrs- No charges. 3 yrs. to 10 yrs.- 50% of the Trip Cost. 10yrs and above 100% of the Trip Cost

What will the temperature be like while we're there?
Ans: Temperatures rise to a maximum of 34°C during the day and can drop to a minimum of 18°C during the night

Does this trip involve Camping?
Ans: It involves 1-night camping at Rajgunda.