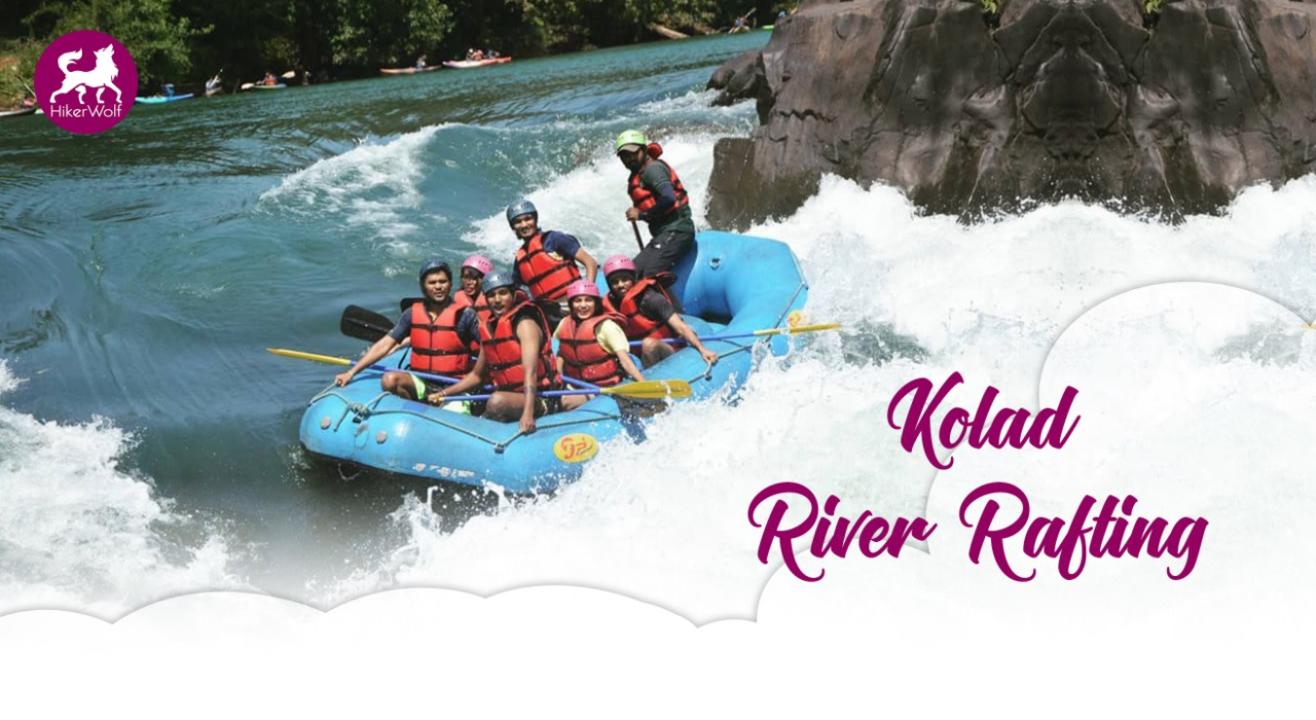 Adventure
HikerWolf - Kolad River Rafting
Multiple Dates | 11:30 PM
About
Quite beautiful with many waterfalls, lush greenery, and the fascinating Sahyadris, Kolad is a major tourist destination in Maharashtra, especially due to its approach towards water-based adventure activities and similar activities. Kolad is a peaceful yet vibrant location that offers adventure sports like rafting, rappelling, kayaking, rock climbing and many more but of course, Kolad River Rafting has gained prominence in the tourism sector in the recent year. This tiny village in the Raigad district presents the picturesque nature before the visitors with the utmost happiness and excitement. The Kundalika River is the major factor behind people's choice to do white water rafting in Kolad. It is one of the fastest flowing rivers in the south that makes it ideal for the adventure-filled rafting along with other adventure sports and activities. Mind-blowing forts, dams, waterfalls, etc. have their own influence on the mind of people coming here as they are competing to grab attention from the visitors.
A hiker is an explorer within you. The part of you which wants to reach out for more! Wolf is that side of you which yearns for a sense of belonging, the side which wants to bring people together and be there like Family!!

HikerWolf gives you a sense of belonging and guides you through exploring the world through a different lens. With each event, our family grows and the bond becomes stronger with every passing day!!

We make sure that every minute you spend with us is so energized and power packed that it keeps you buzzing for days! Every step develops a backstory! Every face you see is that of a friend-to-be!! Every photograph is a flashback of a movie like experiences!

With HikerWolf, there are no Goodbyes. It's always, Sees You Again Soon. So, See You Soon! There's so much room in our family! You are welcome to be a HikerWolf.

Day 0

Gather at Dadar at the mentioned meeting point by 23:45 hrs. The bus will depart from there depart by 00:15 hrs sharp with multiple pickup points (Dadar, Ghatkopar, Vashi, Panvel, Lonavala).

Day 1

We will reach the rafting start point by 05:00hrs and assemble for breakfast. As we reach the rafting point, we distribute Rafting Gear to you (Helmet + Life Jacket + Pedals) which is followed by a Pre-Rafting Session which includes Instructions, training and practice sessions of Rafting. Then we start the Rafting session where you negotiate 10 rapids at a stretch of 12 km which takes around 2-2.5 hrs. Once your Rafting gets over, Freshen up and change over to dry clothes and have lunch. Get ready for complimentary activities viz Burma Bridge, Commando Crossing, Tarzan Swing, VolleyBall, Tyre Crossing, etc.. We start our return journey by 16:00hrs to reach Mumbai by 21:00hrs.
Note:- The trip will start one day before i.e we start our journey on the 22nd night.

• Transportation to and from Mumbai
• Breakfast
• Lunch
• Hi- Tea and evening snacks
• Commando Crossing
• Tarzan swing
• Volleyball
• Tyre Crossing
• Burma Bridge
• River rafting charges
• Basic First Aid
• HikerWolf Expertise

• Insurance
• Any personal expenses
• Anything not mentioned under inclusions

• extra pair of clothes
• sunscreen
• towel
• toiletries

1. What grade rapids?
Ans. Grade 2-3

2. Is it safe?
Ans. Rafting is an extreme sport, We practice maximum safety operating procedures and try to the best of our ability to avoid mishaps.

3. My dad/friend is a heart patient, Can he Raft?
Ans. He can but he may not. Being an extreme sport, we don't suggest Rafting for Heart Patients, Pregnant women, and those with extreme Motion Sickness. Nominal physical fitness is a prerequisite.

4. What is the height/Weight or age required to raft?
Ans. Minimum height: 4 ft 6"; Maximum weight: 120 kgs. 14-year-olds and above.

5. Is it a good time to raft?
Ans. Rafting is a dam controlled activity in Kolad, the water levels are the same throughout the year.

6. How many people in a raft?
Ans. Min 4 – Max 8

7. How long is the course? How much time does it take?
Ans. It's an 11 km stretch, takes about 2-2.5 Hrs

8. Is Jain food available?
Ans. Yes

9. What food will we get on trips with meals?
Ans. Maharashtrian cuisine cooked by the homestay members and served as a buffet.