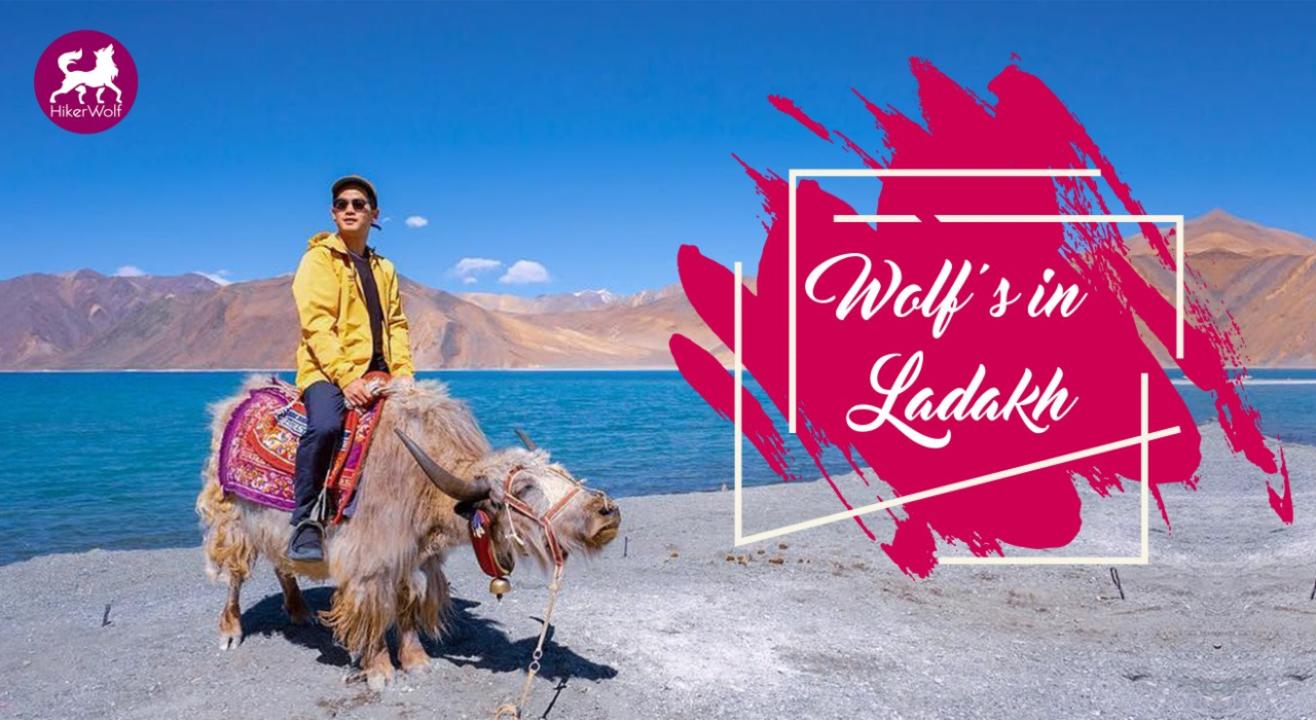 Tour
HikerWolf - Wolf's in Ladakh
About
HikerWolf is on a mission to unravel and introduce you to countless pristine destinations and create only the coolest holidays for you. Break free from the shackles of crowded & touristy spots in India and get ready to experience the NEW.

This summer, we bring to you the beautiful land of High Passes, Ladakh in the scenic state of Jammu and Kashmir, the Paradise on Earth. It's time to escape the busy crowded metropolitan cities and take a deep breath underneath a staggering blue sky with the entire Milky Way conspiring to shine above you.

We have finally come up with your 'dream trip' full of excitement and awe-inspiring adventures. Get ready to experience the rawest form of nature with magnificent landscapes, snow-capped mountains picturesque green oasis, monks in maroon in the beautiful monasteries, along with extra luggage to take back with you the beautiful handicrafts of this town. Join us on the most awaited trip, as we bring to you, the enchanting Leh-Ladakh!

The Hiker is the explorer within you. The part of you which wants to reach out for more! Wolf is that side of you which yearns for a sense of belonging, the side which wants to bring people together and be there like Family!!

HikerWolf gives you a sense of belonging and guides you through exploring the world through a different lens. With each event, our family grows and the bond becomes stronger with every passing day!!

We make sure that every minute you spend with us is so energized and power packed that it keeps you buzzing for days! Every step develops a backstory! Every face you see is that of a friend-to-be!! Every photograph is a flashback of a movie like experiences!

With HikerWolf, there are no Goodbyes. It's always, See You Again Soon. So, See You Soon! There's so much room in our family! You are welcome to be a HikerWolf.

Why travel with HikerWolf
We are not just taking you for a vacation from work, but we want you to relieve your stress and take back memories for a lifetime.
We, as a family, wish to stand high on the Shanti Stupa with you capturing the essence of the surrounding beauty of the landscapes.
We will help you witness the best sunrise and sunsets of your life.
You will not be able to resist filling your bags with the incredible handicrafts!
You've experienced gravity pulling you down, it's time to experience heaven pulling you up towards it on the magnetic hill.
Remember reading about Indus Valley in school textbooks? We will take you close to it to and receive blessings at the Spituk monastery.
We will have a deeper look in the history and visit the oldest and largest Buddhist monastery, Diskit Monastery in the Nubra Valley of Ladakh.
How can we forget to gulp down the tasty prashad offered in Gurudwara Patthar Sahib We will all together get a little patriotic while sightseeing the Hall of Fame, a museum constructed by our Indian Army.
Let's get closer to China by the Pangong Lake, the high grassland lake extending from India to China.
How can we miss out the adventures in store for you? We are offering you a camping night at Pangong.
We will also not miss the Khardung La Pass which connects the capital of Ladakh to the Siachen Glacier which would definitely be a scenic and an unforgettable experience.
Lastly, we not only want you to fall in love with the leisure and monastic side of Ladakh but also ride the double-humped Bactrian Camel at the Hunder Sand dunes against the backdrop of snow-clad mountains during sunset.

Day 1: Arrival in Leh and check-in in Ladakhi Style Hotel. Rest and leave for sunset at Shanti Stupa followed by Leh Market.
Day 2: Sightseeing on Leh-Kargil Highway proceeding to Gurudwara Patthar Sahib, followed by a drive on the magnetic hill. The day ends with a visit to Spituk monastery.
Day 3: Long drive to the Nubra valley reaching world's highest motorable road called Khardung La, followed by a short drive to Hunder sand dunes and ride on the double-humped Bactrian camel.
Day 4: Visit the Disket monastery on a hilltop
Day 5: Another long drive to the spectacular Changthang Valley with sightseeing on the way to Pangong. Overnight in camp or guesthouse.
Day 6: Explore Pangong and drive back to Leh watching Himalayan marmots & migrated birds on the way.
Day 7: Head to the Airport for onwards journey.

Day 1:
We warmly welcome you on your arrival to the city of Leh. Our local representative will help you with your check in to the Ladakhi Style Hotel. Take your time to acclimatize yourselves to the arid high altitude of Leh which is 3505m. Later in the evening, we will head towards Shanti Stupa to enjoy the mesmerizing view of the sunset followed by a visit to the Leh Market to explore the handicrafts! The day will end with dinner and overnight stay at the hotel.

Day 2:
Have a nice breakfast this morning as we will be driving downstream along the River Indus on Leh-Kargil Highway. Your hearts will fill with patriotism when you enjoy the beautiful sight of Hall of Fame, a museum constructed by the Indian Army on your way and proceed further to the Gurudwara Patthar Sahib nestled deep in the Himalayas and receive the blessings of Guru Nanak. After this, another drive of 4km will lead you to the Magnetic Hill which defies the law of gravity. The drive further will give us a way through the picturesque landscape of the Confluence of the Indus and Zanskar River. After this, we will head back to Leh en route visiting the Spituk Monastery which was built in the 15th century. The evening will be provided for your personal leisure activities with an overnight stay at the Hotel.

Day 3:
Today, post breakfast, the day starts with a 125km long drive of 4-5 hours to Nubra, the valley of flowers. After 2 hours, we will reach the world's highest motorable road called Khardung La which is about 18,380 ft. above sea level. The most beautiful view of the Indus Valley and its snow-covered peaks can be enjoyed from here while on the other side of the Pass, the Karakorum mountain range and peaks can be seen. After this, we will descend down to the beautiful valley followed by rest at the hotel till evening. The evening has the double-humped Bactrian camel ride in store for you at the Hunder Sand Dunes and a beautiful sunset view. If time permits, we will also have a village walk to see and interact with the local people and understand their culture. This exciting day ends with an overnight stay at the hotel as we have something more exciting lined up for you.

Day 4:
Do you feel you have visited the most beautiful places of this town and captured their beauty in your eyes forever? Today is the day of the visit to the most picturesque Disket monastery on the hilltop. This is the oldest and largest Buddhist monastery in the Nubra Valley. After an overwhelming experience here, we will continue our drive to the other side of the valley, the main part of the silk route. Thereafter, we will head back to Leh via Khardung La once again. The day will end with a peaceful sleep at the hotel.

Day 5:
Today is the day of our much-awaited adventure! Grab a quick breakfast because we are going on the longest drive of this trip, 154km away to the spectacular Changthang Valley, winding our way over the exhilarating Chang La (5320m); the second highest point of our journey. We will reach Pangong absorbing the purest form of nature that we came across today. But this is not the end, as we have the option for an overnight camp/stay in guesthouse planned for you. Have a great night!

Day 6:
The exploration of Pangong continues as this day begins. The Pangong Lake, which extends from India to China is spread across 125km but is only 4km at its widest. Only a quarter of this lake is in India. Imagine how close we are to our neighboring country, China! En route, we also come across some Himalayan marmots and migrated birds. Later today, we will head back to Leh with an overnight stay at the hotel.

Day 7:
This morning brings you to the end of this beautifully spent 7 days with Hikerwolf family. We are delighted to have served you for these few days and we hope that we were able to deliver the services that we had promised. Now we will head to the airport for onwards journey.

Return Airfare from Mumbai.
Accommodation on twin sharing basis.
Breakfast and Dinner.
Assistance upon arrival and departure, welcome in the Ladakhi style tea in the hotel.
Transfers, sightseeing and overland journey by non-air-conditioned vehicle.
Wildlife fee.
Environment fee charges.
First Aid Medical kit in Cab.
Oxygen Cylinder is also included in every vehicle.

Lunch
Any personal expenses during the trip.
Monument entrances, camera charges, etc.
Travel Insurance
Additional cost due to flight cancellation/roadblocks, political unrest, etc.
The additional cost of a hotel to be borne by the customer in case of road blockage due to snow (En route Nubra and Pangong)
Anything not included in inclusions

Here is a list of essentials that you will be needing for the trip:

Medical Kit:
Moove/Iodex
Dettol/ Savlon
Headache Medicine
Dizziness and body pain medicine
Disprin/Asprin
Band-Aids
Medicine to suffice lack of oxygen
Imodium
Diamox
Stomach ache medicine

Wearable Items:
Sunscreen/ UV protection
Sunglasses, Cap
Mustard Oil (for applying in nostrils as it can become dry and painful due to dry and cold winds of Ladakh)
Lip Balm
Muffler
Water/Windproof jacket.
Eatables:
Glucose
Chocolates
Nuts etc.
Clothes:
Jackets/Pullovers/Sweaters
Woolen Socks
Light trouser/T-shirt
Dress in layers as there are sudden fall and rise in temperatures over there.

Toiletries:
Face Wash
Paper Soap
Toothbrush and paste
Wet tissue/Dry tissue
Moisturizer
Comb

Other necessities:
Government-issued ID-card along with photocopies of it.
Medical Insurance (if any)
List of important contacts on a paper in case of phone battery discharge
The charger of your phone.
Extra battery for cameras as batteries die quickly in a cold environment.
Extra memory cards for the camera
Enough cash as there are long queues at the ATM in Leh.
Only BSNL post-paid connection works there.
Torch with extra cells
Swiss Knife

Use code FREEDOM25 and get a flat 25% off up to Rs. 300.
Venue
Mumbai Domestic Airport
Terminal 1B, Chatrapathi Shivaji International Airport,, Opp Sahara Star Hotel, Santa Cruise East, Mumbai, Maharashtra 400099