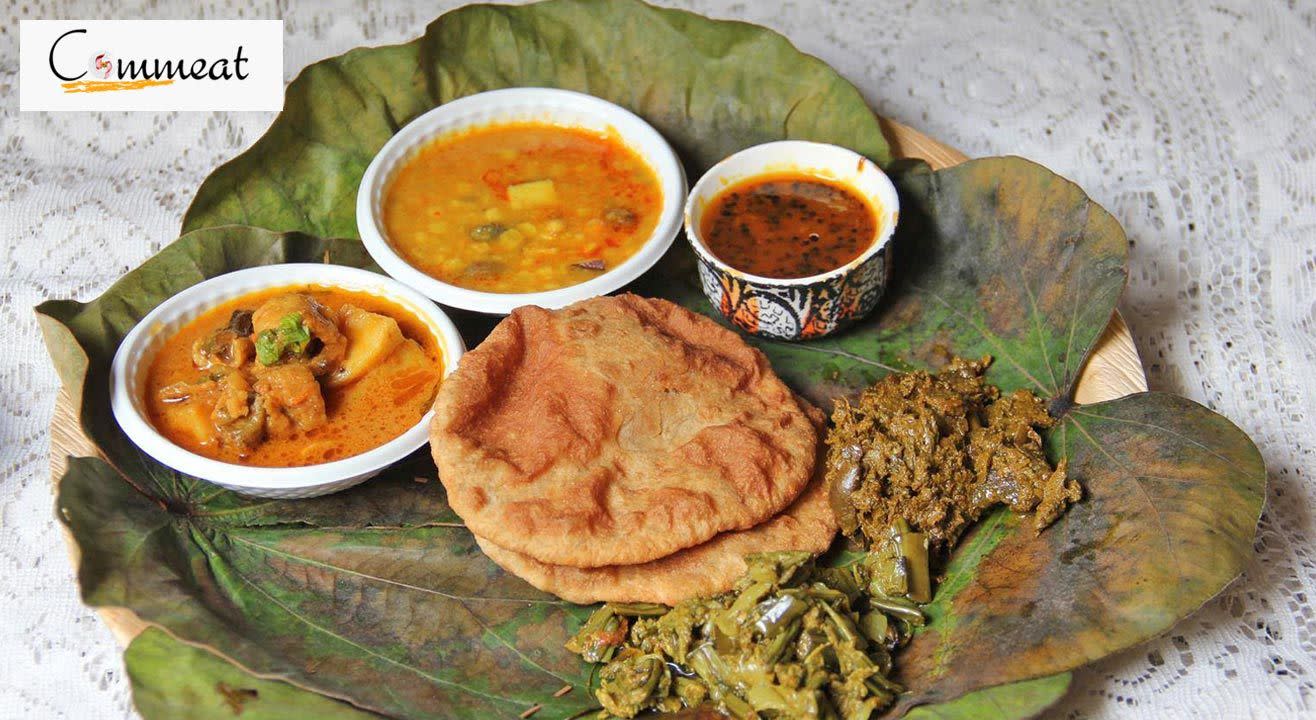 Lunch
Himachali Spread with Suman Sood
Pocket B, Siddhartha Extension
About
Himachal is credited with many lip smacking and mouth watering dishes. The Dham offers one with an opportunity to be acquainted with the various delicacies of the state.
Join us for this earthy Himachali spread, a one-off menu created by our Home Culinaire Suman Sood.
Starters
Pakoodu with Chaccha: These are spicy balls made from Kalan dal (a himachali dal) deep fried and served with Chaccha (chutney) which is made from kaccha aam,pyaaz,pudina and alot of pahari herbs.
Patode: Rolls of steam cooked Arbi leaves with besan masala, steamed and fried in little oil. A must made starter in Himachal.
Babroo

Main Course
Lungdu ka Madara: This Fern (fiddlehead),slow cooked with curd is a delicacy in Himachal available only for 2-3 months in a year. Specially sourced from Palampur and we take full guarantee of it's amazing taste!
Aloo Chana Madra: One of the signature dishes fromt he hills, Madra is a thick, yogurt based gravy that is a popular dish in Pahari food, made out of aaloo and safed chana.
Chane ka khatta': is one of the most sought after food item of Kangri Dham. We bet you must have never had kale chane like this ever before!
Teliya mah: It's the Himachali version of our Dal Makhani but made without the makkhan. Simmered to perfection!
Ambua: Its is made with small, ripe mangoes, boiled and sautéed in oil and spices, ending with the addition of buttermilk. It is again sweet and tangy to taste and goes best with bhuturu.
Aata bhaturu: To enjoy our dishes you need to try these mains with bhaturu, which is exactly like a stuffed roti made with whole wheat.
Chawal-Pahari: We have bought special rice from Himachal to enjoy all these delicacies and they bring out the best flavours out of each of our dishes.

Dessert
Phirnee: A wonderful, creamy dessert made with ground rice combined with milk, cream, sugar and some saffron strands for flavouring topped with grounded pista. We have a Himachali twist to this one too!
Nashasta (Aata Seera): Seera is a slightly chewy dessert, made by soaking wheat grains in water for 4-5 days. One of our favourites for sure!