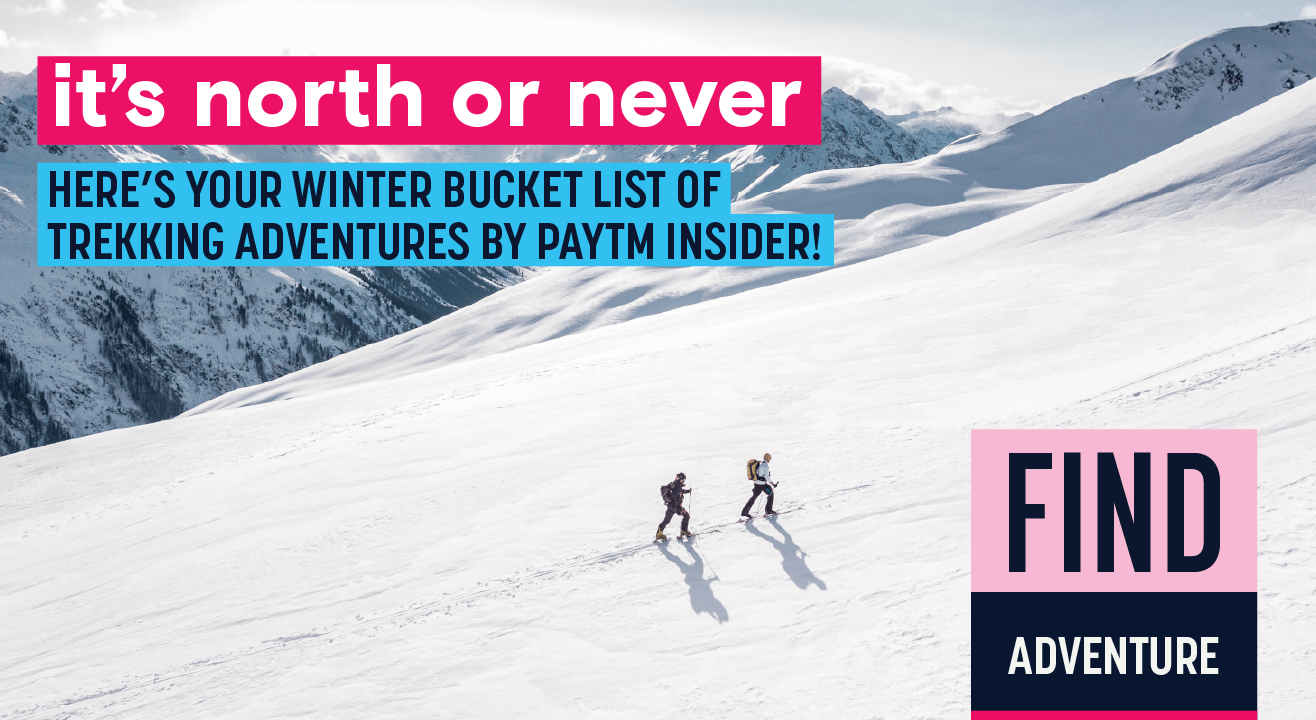 Travel
The Himalayas are calling!
One simply does not refuse a call from the Abode of Gods.
If there really was a Staircase to Heaven, it'd be right here. Head to the mountains this winter! The Himalayan mountain range has been the stuff of legend. What stories haven't been made around its snow-capped peaks and cascading valleys? Gods walk around these mountains, kings live on in its ancient structures and ordinary folk call them home. The Himalayas have seen travellers testing their limits, making world records, and journeying to find themselves. It's also been a go-to for mortals just wishing to indulge themselves and take in the winter view. What will your Himalayan story be?
Where can I start?
The Himalayas naturally have a range (geddit, geddit?) of treks to try. Spread over 3500 km from Afghanistan to Myanmar, there are easy treks to do along winding grasslands dotted with flowers, such as this one. As you walk along the trail through Hampta Pass, you can come across glistening lakes that look like a piece of the sky. For the seasoned explorers, there are treks such as the Gaumukh Tapovan to the source of the Ganges river that take you through alpine forests and rocky terrain.

There are more popular treks to Kedarkantha, Kasol, and Nag Tibba that you can take with an offbeat twist - like winding down with a music jam by the bonfire. You could choose to pack your adventure with activities like rappelling or skiing! Stay in comfy homestays or embrace the wild in minimal camp tents. The company's great too - you can choose from trips with YHAI, who gather together young, spirited people on pocket-friendly expeditions. Women can choose to go on an all girls trip with other organisers too!

When you're not astounded by the views and the enormity of the trail, find pleasure in the little things. Sip buttered chai with your travel buddies or help cook food with the family at a village homestay. The heart-to-heart conversations about life: free. Quite often, you'll meet residents who were visitors themselves and decided to settle down there because of its beauty. The travel stories: unlimited. If you're lucky and cool enough, the kids might invite you to play along in their football game. You might even find puppy therapy with mountain dogs that join your trek!
Our top three winter treks


1. Kedarkantha Trek
The Kedarkantha Peak is nestled in the Garwhal region of Uttarakhand, and trekking to it means stopping by some of the most beautiful campsites. There are spots like Juda-ka-Talab tucked away amongst pine trees and then there are spots where you're just surrounded by pristine white snow. It feels like you're in the embrace of the mountains on this trek - there's always a view of the peaks all around! It's great for beginners too.

Difficulty: Easy
Reaching there: Trains run from major cities to Dehradun Railway Station. You'll also find flights from across India to Jolly Grant Airport, the closest airport to the city. From here, you can take a taxi to Sankri, or get on a bus to Sankri from Mussoorie Bus Stand.
What to Look Out For: The mesmerising pond of Juda-ka-Talab
Approx cost: 7,000 - 9,000

2. Brahmatal Trek
The Brahmatal peak is also nestled in the Garwhal region of the Himalayas and makes for a slightly more trickier trek. You get to walk through oak and rhododendron forests, stroll by lakes, and voyage a meadow that might just be a thick blanket of snow when you're there. You get an extra close-up view of other mountain peaks too!

Difficulty: Easy - Moderate
Reaching there: Most treks start from Kathogodam railway station, which is connected by trains from Delhi, Lucknow
and other cities. There's also Pantnagar airport nearby that has flights from Delhi airport.
What to Look Out For: wide open Brahmatal snowfields
Approx cost: 6,000 - 9,000

3. Goechala Trek
One of the less known treks, Goechala Trek happens in Sikkim. It gives you an amazing view of the world's third highest mountain, the Kachenjunga - the closest you might get from India! It's got beautiful rhododendron forests, a lovely lake by the name of Samiti, tea houses until a certain point, and more. The campsites tend to have wooden huts all the way too!

Difficulty: Moderate - Difficult
Reaching there: Organised treks usually start at Yukson. Bagdogra is the nearest airport to Yuksom from where you can drive to Kalimpong and from there to Yuksom. You could also take a train to New Jalpaiguri Station, the nearest station to Yuksom.
What to Look Out For: The sunrise over Kachenjunga is what's most talked about, but don't forget how pretty Mount Pandim is too!

Subscribe to receive our newsletter!
Find the best experiences happening out there in your city or enjoy handpicked content while sitting comfortably at home. Paytm Insider is your go-to place to figure out what to do today!