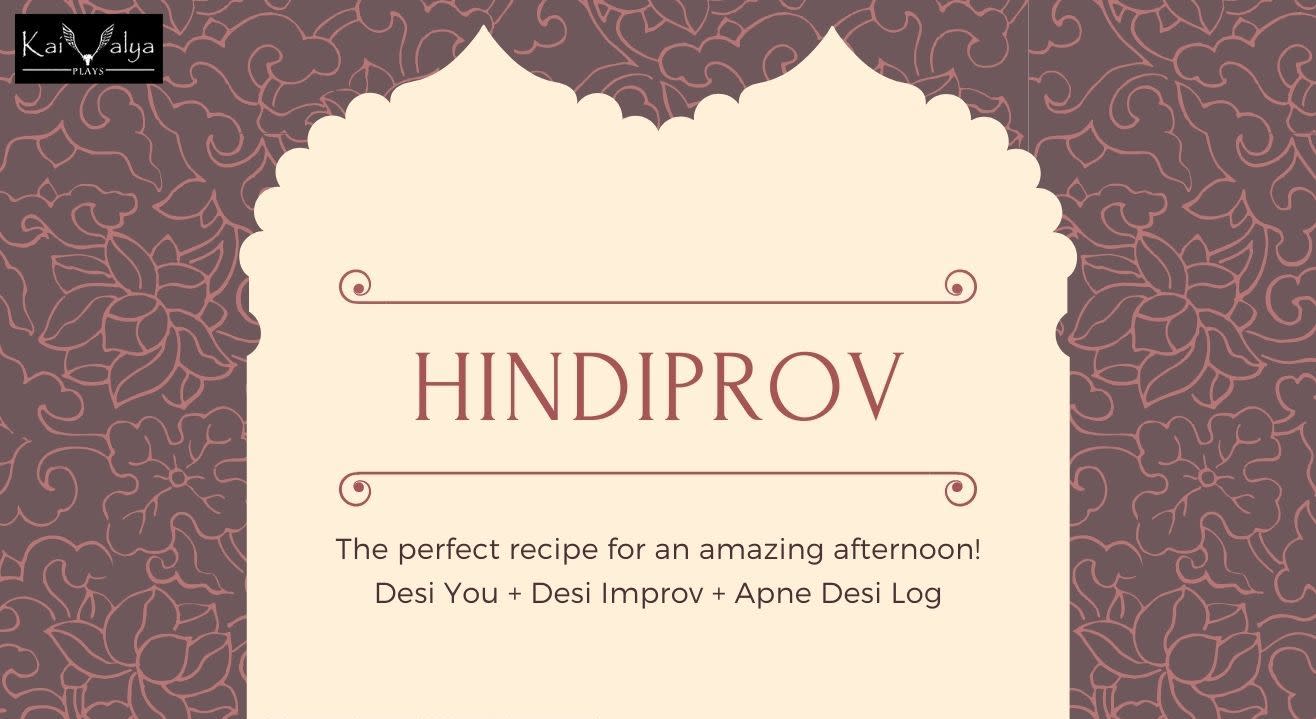 Multiple Dates | 9PM onwards
Enjoy this event from your home
Invite your friends
and enjoy a shared experience
Invite your friends
and enjoy a shared experience
About the Event
Kaivalya Plays Present
HINDIPROV (ONLINE)
Dates:
28th February | Sunday | Desi Khaana Sabse Pyaara (aka Food Love)
28th March | Sunday | Festivals
Timings: 9PM - 10PM IST
ABOUT THE EVENT
A space for fun, games and all things Hindi. HindiProv is a facilitated series for everyone who wants to embrace the desi in them or just simply try something new. Celebrate and enjoy an afternoon filled with fun and laughter with Improv theatre.
The workshop is open to all, irrespective of the language level. The session and the games will be conducted entirely in Hindi. Come join us to play games and have a good time with your desi pals.
ABOUT THE ORGANIZERS
Kaivalya Plays is a Delhi-based theatre group. Their artistic training is grounded in spontaneous improvisation, lying at the intersection of short-form improvisations (for performances and workshop) and applied improvisation (with a focus on mental healthcare, business, education, training). Their improv group CueLess improv was one Delhi's first improv teams and became the training ground for a generation of improv performers and heads of new teams. In late 2018, Kaivalya Plays created Unravel, an interactive theatre production produced under the Refunction theatre grant by the Goethe-Institut / Max Mueller Bhavan. The play brings conversations about mental health to the fore, with the ensemble using improv theatre and audience suggestions to devise the final performance on the spot. Their work has been featured in India Today, The Hindu, Indian Express, Financial Express among others. Since the lockdown, we have moved our improv practice entirely online. In the last few months, they have hosted 15 applied improv workshops, 22 open-space sessions, 5 online improv shows digitally – with a cumulative engagement of 2000+ individuals – and they are constantly figuring out newer formats to make improv more accessible and available.