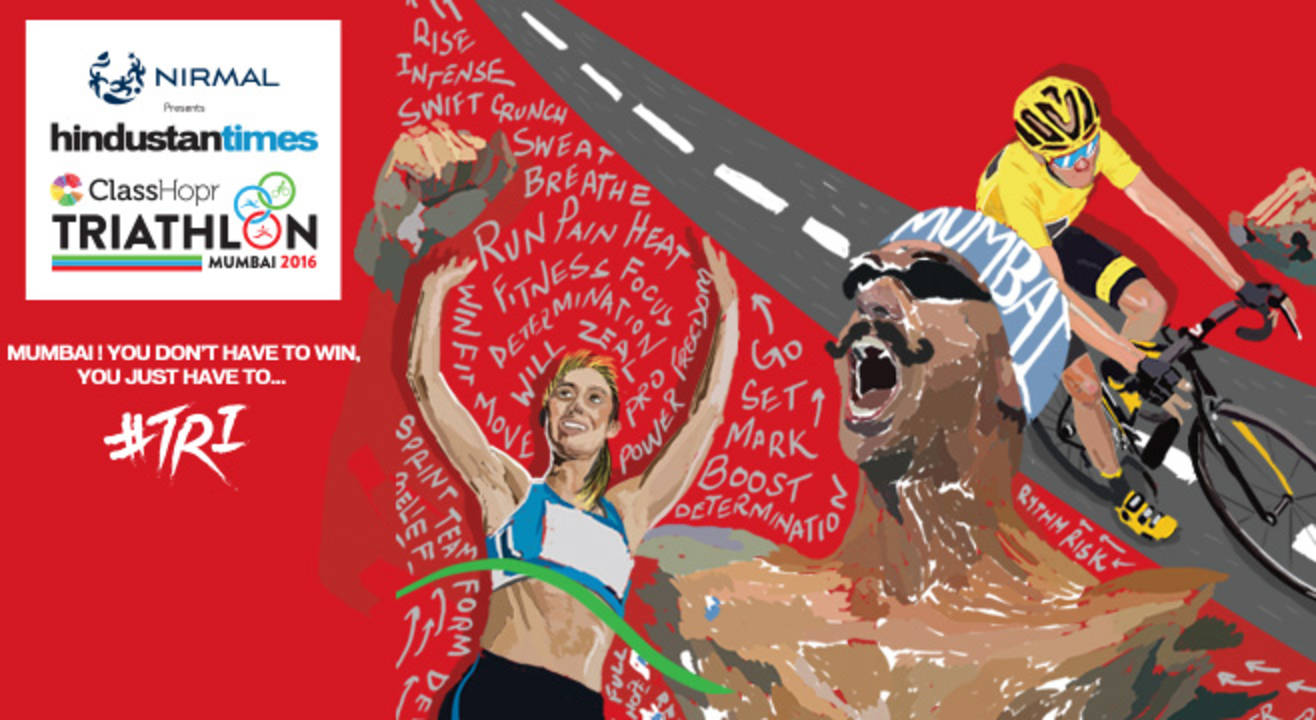 Hindustan Times ClassHopr Triathlon, Mumbai 2016
November 13 | 6AM
Nitro Sport & Fitness Center
About
Mumbai, you don't have to win, you just have to #TRI
Organised by ClassHopr Wellness Private Limited & Hindustan Times, HT ClassHopr Triathlon is Mumbai's first & biggest Triathlon event. It's a test of strength, stamina, endurance and pushing the limit, while you revel in the satisfaction of finishing the triathlon.
What is a Triathlon?
Triathlon is an athletic contest consisting of three different events, typically, swimming, cycling and long-distance running.
For those who don't know how to swim, you can try out the Duathon. It consists of cycling & running. For those who don't know how to bike, you can try out the Aquathon. It consists of swimming & running.
The event will start at Nitro Gym and Thane club (depending on the category you are participating in) and end at Nirmal Sports City. There will be a fitness carnival at the end point for participants to celebrate their achievement and for prize distribution.
Registration fee covers a timing chip, bib tag, food and beverages during the race, a certificate and Medal upon completion and a T-shirt !
Registrations will close by 10th November 2016, or earlier once the race slots are full.
Categories:
Dream Sprint
100M SWIM + 5KM BIKE + 1.5KM RUN
Sprint Pro
300M SWIM + 19KM BIKE + 7KM RUN
Relay Sprint
150M SWIM + 5KM BIKE + 2.5KM RUN
Aquathlon
200M SWIM + 5K RUN
Duathlon
7KM BIKE + 5KM RUN
Venue
Nitro Sport & Fitness Center
Swantraveer Sawarkar Taran Taloa, Behind Kanhaiyya Nagar, Opposite Kaya, Nagar, Kopri, Thane East, Mumbai, Maharashtra 400603
Terms & Conditions
Do read through the activities and the weight/height limitations on them.
Any activities non-operational due to technical reasons shall not be substituted or refunded
Applicable waiting time will have to be followed for each activity.
Height, weight and safety criterion are to be followed strictly.
Sports shoes are compulsory for all activities.
The right of the admission is reserved with the organizer.
The organizer does not take the responsibility for the loss or theft of any personal belongings or any injury that the ticket holder may accrue at the event.
Smoking and drinking is strictly prohibited.
Any inappropriate behaviour by any of the participants shall lead to eviction from the event.
We recommend that you arrive at least 15 minutes prior to the starting time.