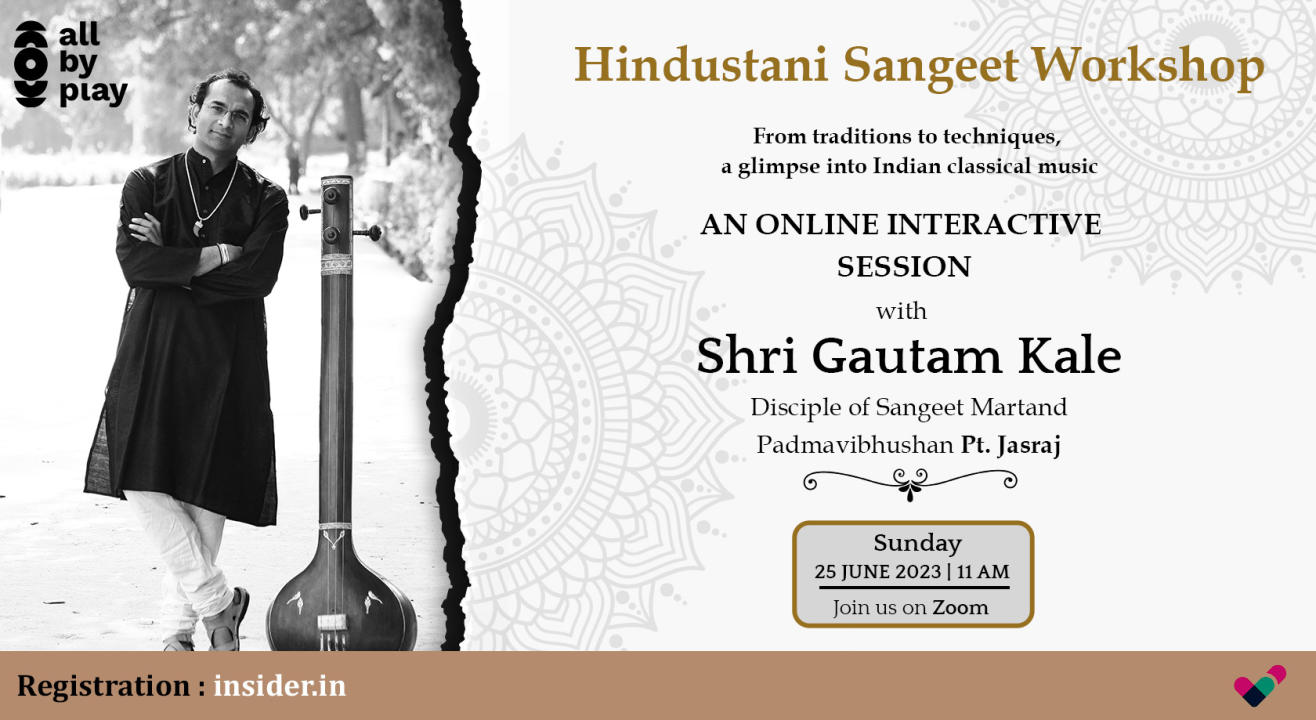 Hindustani Sangeet Workshop with Shri Gautam Kale Presented by All By Play
Enjoy this event from your home
Invite your friends
and enjoy a shared experience
Hindustani Sangeet Workshop with Shri Gautam Kale Presented by All By Play
Enjoy this event from your home
Invite your friends
and enjoy a shared experience
Invite your friends
and enjoy a shared experience
Join us over Zoom for our exclusive workshop with Shri Gautam Kale, an artist with long years of experience in Hindustani Classical music.
Shri Gautam Kale has trained students and conducted workshops for the last 15 years. His music school in Indore, called Sangeet Gurukul, has 200+ students. This workshop is designed to initiate audiences with limited or no exposure to Hindustani (North Indian) Classical music to its fundamentals. Besides introducing participants to the basic terminology of Classical musical forms, the workshop will cover basic components of performance and how to recognise the genre's aesthetic features.
If you've always wanted to learn about Hindustani Classical music without knowing where to start, this workshop is for you! You can begin to be an informed listener who can recognise the nuances of this art form. This informative workshop will offer a good introduction to techniques, emotions, history, stories, and many other elements which one can use and implement in other vocal and instrumental musical styles.
The Hindustani Sangeet workshop combines instruction with demonstration and listening to audio/video recordings. It includes traditional "bandishes" or compositions passed down generations, such as Thumri, Ghazals, and others. The session will follow the traditional Indian way of teaching -- the one-on-one "Guru Shishya Parampara" where knowledge is passed down directly from teacher to student.
So, what are you waiting for? Register now and learn about this unique musical tradition under the tutelage of Shri Gautam Kale.
The online form of the workshop gives you access to a number of freebies and practice materials to use after the workshop.
Full recording of the online workshop for future referencing
Workshop handbook PDF that gives you a detailed overview of the syllabus and practice guides.
Regular monthly interactions with Gautam ji for feedback and guidance
Hindustani Sangeet Workshop with Shri Gautam Kale Presented by All By Play
Enjoy this event from your home
Invite your friends
and enjoy a shared experience