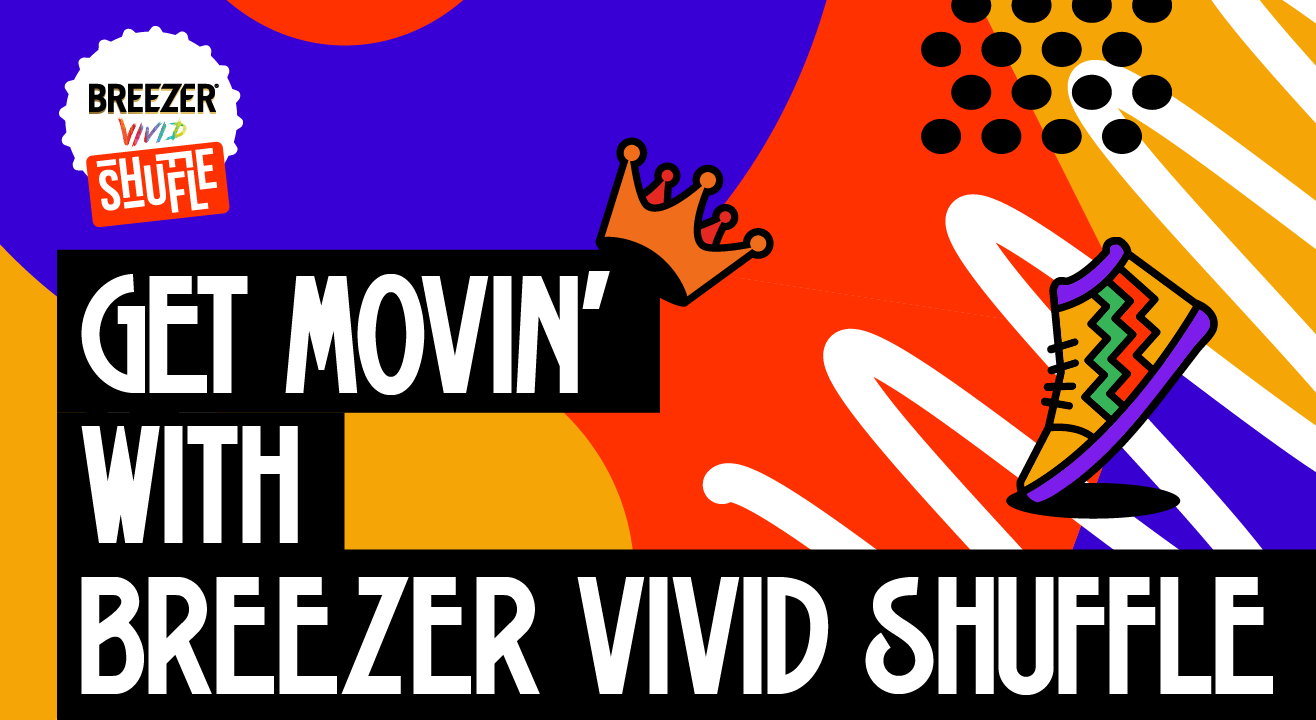 Dance
It's time for Breezer Vivid Shuffle!
India's largest hip-hop dance festival is back! Breakers, poppers, crews, and pretty much everyone else - whatever your style, show your moves at the Shuffle and take home the prize.
Welcome to Breezer Vivid Shuffle - a festival that showcases and celebrates the best of hip-hop and street culture, by giving dancers across the country a national stage, and a lot to win.

Want to show off your moves? Register to participate and battle it out.
Want to learn something new? Sign up for workshops all across the country.
Want to just live it up Shuffle style? The Shuffle afterparties promise to be something for the books.

Read on for details and get ready to shuffle!
6 regional rounds, 1 international round, 4 cypher rounds, 20 workshops, 10 afterparties and 1 grand finale - all across 10 cities in India and 1 international destination!
How are you going to Shuffle in 2019?
Shuffle has 4 dance categories in which you can participate: one-on-one Breaking, one-on-one Popping, Crew Showcases and a brand new open category - Rep to any rap.
The first 3 categories are exactly what they say they are. For the open category, pick any rap song and dance along to it in any style at all - Jazz, Ballet, Classical, Harlem shake - anything goes. We want to see innovative new dancers grooving to a hip-hop beat, period.
The regional and cypher rounds will happen in July & August across 10 cities: Shillong, Delhi, Jaipur, Bangalore, Hyderabad, Kolkata, Pune, Bhopal, Indore and Mumbai. We're also having our first ever international round in Bangkok!
Pick which city is closest to you - for participation, for workshops, or just to party - and pick what you're looking for. In case of participation in our 4 categories, the rules for each will be mentioned at the beginning of the form.
After a series of exciting regional rounds, the finale will come to Mumbai on September 21, where the finalists will be judged by the best of the best-accomplished judges from around the world.
For the breaking and popping categories, you need to provide your basic information, and for Crew Showcases, you need to submit a video as well. For the open category, you'll need to send in a video of yourself dancing to any rap song. You will be notified as to when and where in your selected city the regional round is happening.
Where are you going to Shuffle in 2019?
A throwback to Breezer Vivid Shuffle 2018 finale
The winners of Breezer Vivid Shuffle 2018
Bboy Tornado (Breaking)
Popkorn (Popping)
Same Age Crew (Rep Your Style)
Polestar (Crew)

Not only did they win India's largest cash prize pool for a hip-hop dance festival but also got to feature in an exclusive music video with Varun Dhawan and Raftaar - check out the super cool video below!
Subscribe to receive our newsletter!
Find the best experiences happening out there in your city or enjoy handpicked content while sitting comfortably at home. Paytm Insider is your go-to place to figure out what to do today!