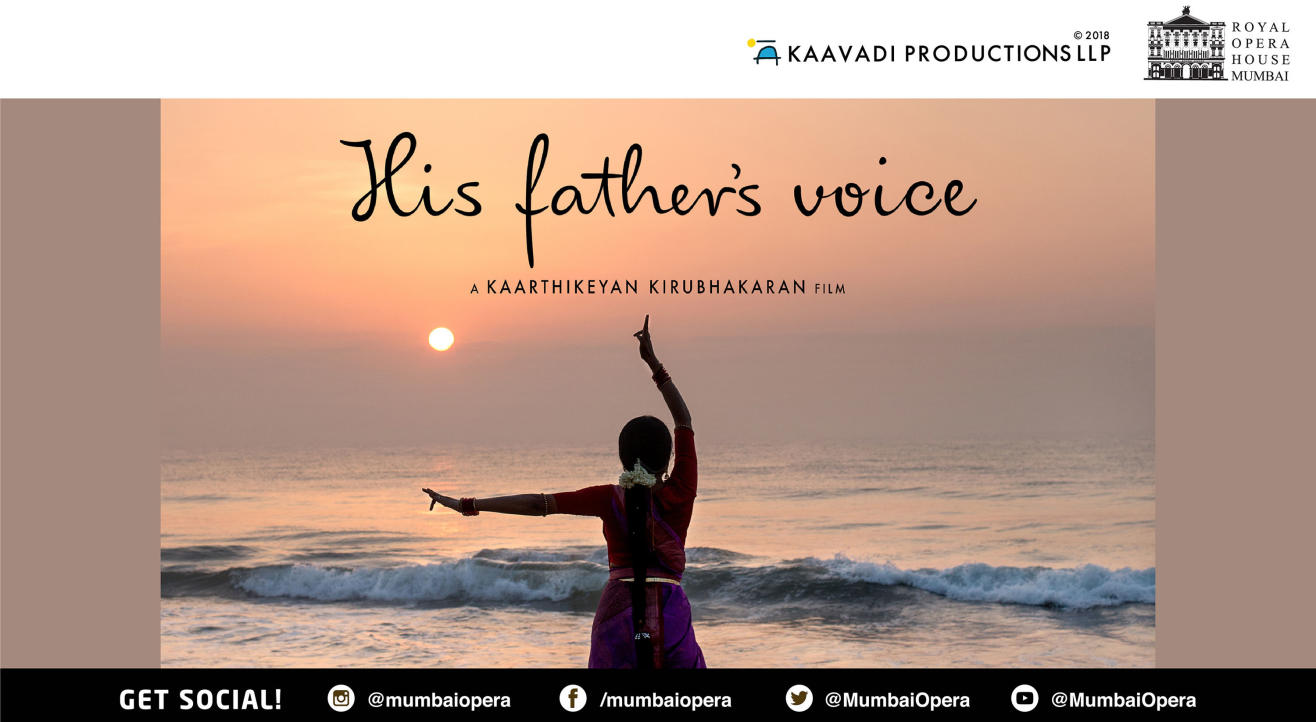 His Father's Voice: Exclusive Mumbai Film Screening
The Royal Opera House, Mumbai
Invite your friends
and enjoy a shared experience
Invite your friends
and enjoy a shared experience
About the Event
Kaavadi Productions and Royal Opera House, Mumbai present an exclusive Mumbai screening of Filmmaker Kaarthikeyan Kirubhakaran's His Father's Voice.
The film, produced by Kaarthikeyan, Ashwini Pratap Pawar and Shankar Kiru tells the poignant story of a gifted male dancer who after being separated from his musician father in childhood must return to him, to be able to dance again.
The screening will be followed by an interactive session with the filmmaker, producers and select cast and crew.
Read below for a synopsis of the film:
An American family, Jon, Clara, and their son Kris, live with Parvathi, Nagarajan and their daughter Valli, inside a Music and Dance School in Tamil Nadu, India. Jon is a Musician, deeply inspired by Indian Classical Music. Kris and Valli are inseparable, learning everything from nature and from their parents.
When Clara begins to be jealous of Parvathi's influence over Jon and Kris, she begins to distance herself, eventually parting from Jon and leaving with Kris. Jon is heart broken, finding solace only in his music.
Twelve years later, Kris returns as a young dancer, with a burning need to reconnect with his father, and to heal himself of a deep trauma. Valli, his childhood companion, is now a beautiful and gifted dancer. Though resentful of Parvathi and Nagarajan, for what he perceives as their role in his parent's separation, Kris discovers in Valli's company, a truth that brings him consolation, as well as a sense of tremendous betrayal. The scene of Parvathi's dance in the moonlight becomes a sensual masterpiece, as the camera, prepared for surprise, films her dancing with the greatest spontaneity.
The film is the fulfilment of a promise, from a father to his son, of a bond beyond boundaries, and of a love that triumphs. The film has been praised for its attention to detail, an outstanding screenplay, tailor made cast, deeply engaging music and dance, a gorgeous palette of colors, engaging cinematography, and much more.
The Opera House has a long-standing connection to this city's most iconic industry- film. From having hosted several premiers of famous Hindi movies, being a preferred location for films being made, having film stars as patrons and operating as a single screen cinema for decades, one of our earliest and longest relationships with the wider arts has been forged with film. Maharanisaheba Kumudkumariji of Gondal says "We are happy to continue our support of the art form and fraternity and especially be a platform for meaningful cinema, such as this, that showcases the human experience, the performing arts, and connects the arts with life."
Join us to experience this much lauded film, described in the press as "an authentic cultural experience" and one that truly "taps into the power of culture, relationships [and] healing."
Where: Royal Opera House, Mama Parmanand Marg, Mumbai – 400 004
When: Thursday, 6th February 2020 | 7:00 PM onwards
Please Note: Seating is available only on the 1st level (Dress Circle) on a first-come-first-serve basis. This level has no elevator access.
About the Filmmaker
Kaarthikeyan Kirubhakaran is a Writer, Director & Cinematographer. India and France are two countries that have shaped Kaarthikeyan. He is an alumnus of both the FTII, in Pune, and the FEMIS, in Paris. He has been a Co-producer and Executive Producer for six feature films, collaborating with companies such as Gaumont, Boréales and SFP Productions, in France. 'His Father's Voice' is his début feature film, as Writer, Director and Cinematographer.
About the Producers
Ashwini Pratap Pawar is an actor, artist, and classical dancer. She is a graduate from the Sir. J.J. School of Arts, Mumbai, India, with a Masters in the Science of Waldorf Education, New York, USA. 'His Father's Voice', is her first feature film as an Actor, and as a Producer.
Shankar Kiru is a Producer. Shankar has over 25 years of manufacturing, finance and management experience across a range of industries. Born in India, and living most of his life in the United States, he has had the wonderful opportunity to travel the globe and work with people from many walks of life. His passions include art that elevates the soul and eastern mysticism.
About Partners
Kaavadi Productions is a company based out of Tamil Nadu, India, for the production of feature films and feature length documentaries, for Cinema, and, for Television. It intends to produce narratives that bring people closer, and, contribute to a better understanding, of the existential threats that we face today, from the way we treat our planet, and our own fellow human beings. It intends to tell stories that may become part of our collective conscience, and reshape our world, for the better. Our maiden feature production, 'His Father's Voice' is one such narrative, where we explore the question - What is love without understanding?
Website: www.hisfathersvoice.film | www.kaavadiproductions.com | Follow us on Facebook: @hisfathersvoice | Twitter: @HFV_TheFilm | Instagram: @hisfathersvoice | YouTube: @hisfathersvoicethefilm
Royal Opera House, Mumbai is widely touted as Mumbai's Cultural Crown Jewel and India's only surviving Opera House. The original idea for the space was conceived of in 1908, inaugurated in 1911 by King George V, and eventually completed in 1916. The design incorporated a blend of European and Indian detailing. The space became a cinema in later years before falling into disrepair and shutting by the 1990s. Fittingly, the space has been owned by the Royal Family of Gondal since 1952 and was eventually restored by conservation architect, Abha Narain Lambah under the leadership of His Highness, Maharaja Shri Jyotendrasinhji of Gondal. The Royal Opera House Mumbai, now one of the last remaining Baroque structures in the city, reopened after 23 years in October 2016. The building was included on the 2012 World Monuments Watch to raise awareness about its history and significance, and support preservation efforts. The building has since been recognized with an Award of Merit in the 2017 UNESCO Asia-Pacific Awards for Cultural Heritage Conservation. The restored facilities feature a 575-seater 3-level auditorium with an orchestra pit and state of the art technological upgradations, including acoustics, stagecraft, lighting and air-conditioning, alongside retaining the old-world charm of the proscenium stage, the royal boxes and the magnificent regal chandeliers. Some more enhancements to the venue include a motorized screen, co-axial ceiling speaker system, Four-zone volume control and all round wifi access. Today, it stands as a key performance and creative hub in the city's cultural landscape, while being a premier heritage landmark. Facebook: MumbaiOpera Twitter: @MumbaiOpera Instagram: @mumbaiopera
The Royal Opera House, Mumbai
Mathew Rd, Charni Road East, Opera House, Girgaon, Mumbai, Maharashtra 400004
GET DIRECTIONS