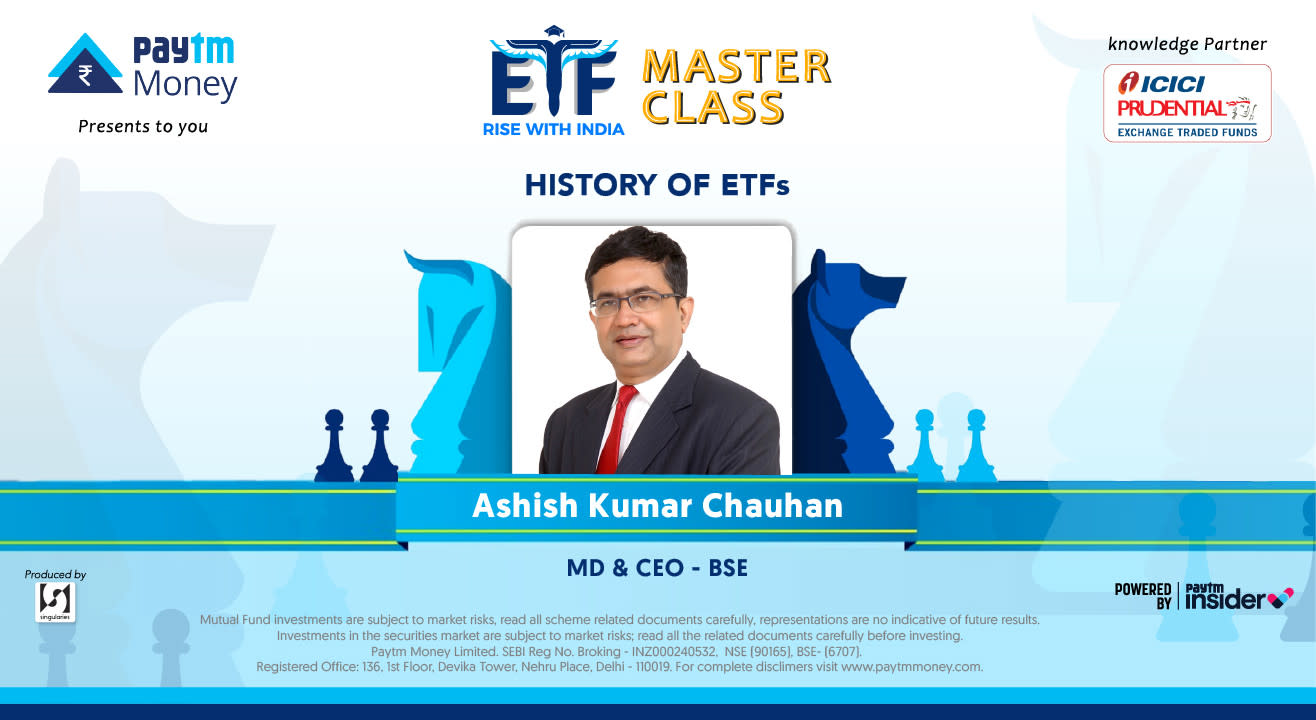 ETF - Rise with India | Masterclass series | Paytm Money
Get amazing benefits with the all new Season passes
Know more
Event Guide
Digital Event
Watch on Insider
Masterclass
Learn from an expert
Invite your friends
and enjoy a shared experience
ETF - Rise with India | Masterclass series | Paytm Money
Get amazing benefits with the all new Season passes
Know more
Event Guide
Digital Event
Watch on Insider
Masterclass
Learn from an expert
Invite your friends
and enjoy a shared experience
Event Guide
Digital Event
Watch on Insider
Masterclass
Learn from an expert
Invite your friends
and enjoy a shared experience
Watch Mr Ashish Kumar Chauhan, MD & CEO of BSE, speak about the history of ETFs in India and share insights on how they have developed over time.
India is one of the fastest-growing economies in the world. Have you wondered how your finances can benefit from this growth?
If you are betting big on India, ETFs or Exchange Traded Funds are the way to go for you. ETF is a low cost and efficient way for you to make sure that your money rides high on the India growth story! Isn't it time that you took control over your finances? You have worked hard for your money, now it is time for you to make sure that your money works harder and smarter for you. This Masterclass is one of its kind educational initiative to explain the importance of ETFs as an investment and trading product in the Indian context.
Presented by: Paytm Money
Knowledge Partner: ICICI Prudential Exchange Traded Funds
Produced by: Singularies Events Private Limited
ETF - Rise with India | Masterclass series | Paytm Money
Get amazing benefits with the all new Season passes
Know more
ETF - Rise with India | Masterclass series | Paytm Money
Get amazing benefits with the all new Season passes
Know more
Event Guide
Digital Event
Watch on Insider
Masterclass
Learn from an expert
Invite your friends
and enjoy a shared experience