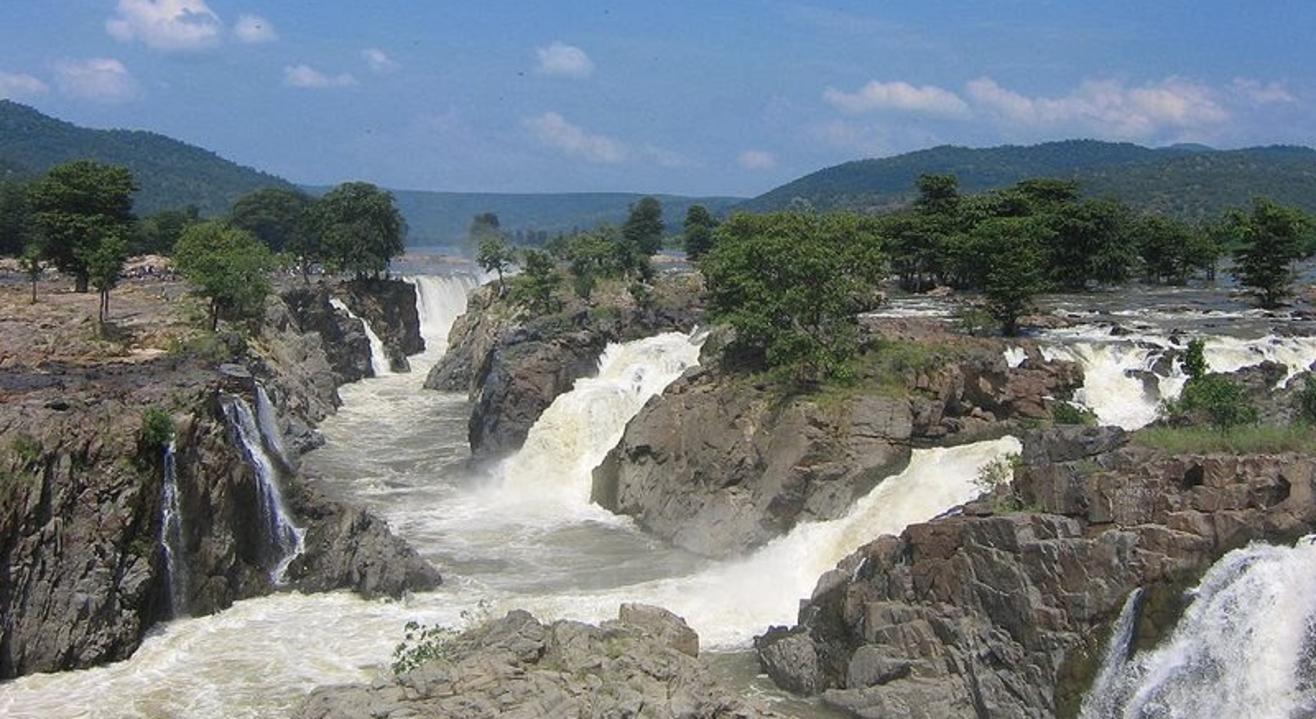 Camping
Hogenakkal Falls Overnight Camping With DJ | Escape2Explore
2,800 (*inclusive of taxes)
About
Hogenakkal Falls Overnight Camping with DJ
The companionship you discover under the stars dancing like baboons around the bonfire and experimenting with echoes.
This excitement you will find at just a distance of 146kms from Bangalore near Hogenakkal Falls. The name is derived from two Kannada words Hoge and Kal which means Smokey Rocks. Built on Cauvery river, the waterfall is situated in Dharmapuri district of Tamil Nadu.
The enormity of the nature will make you feel so small and yet so exciting once you were on your foot for the trekking to reach near the waterfall. Then you will let your body lose and cool it down while swimming in the river or joining a jolting but peaceful Coracle ride. Do not miss to see the fantabulous 14 channels waterfall during your boat ride.
Eventually, when the dusk falls on the earth you prepare yourself for the musical time with your favorite songs which slowly transform the dull evening into a DJ night as you move your body around the campfire. Dance, dance and dance till you awake in your dream.


Itinerary
Day 01
06:00am pick will be start from Marathahalli
08:30am have breakfast on the way
12:00pm reach Hogenakkal welcome drink
Relax & fresh up – have lunch
Water activities & trekking
06:30pm evening tea snacks & relax
07:30pm DJ start & with campfire
09:000pm dinner (veg & non-veg) & stay multiple occupancy


Day 02
06:30am wake up & have tea & 590 for water body
08:30am have breakfast
10:00am head back to Bangalore
02:00pm reach back to Bangalore


Things To Carry
Backpack
Rain coat/Poncho
Water bottles
Energy food
Personal medication
Sweater/ jackets for the night
Extra clothing (in case you plan to dive in the lake)
Sports shoes or trekking shoes in good condition
Flashlight/Torch with extra batteries
Track pants and cotton T


Inclusions
Transportation
water activities
Breakfast
Coracle ride
Lunch
Swimming
Dinner
Trekking
Campfire
DJ


Pickup Points
1. Marathahalli (05:30 AM) - Near Kalamandir
2. Silk Board (06:00 AM) - Central silkbord building .(towards BTM)
3. BTM (06:10 AM) Udupi - Garden Bus Stop, Opposite To A2B
4. Banashankari (06:40 AM) - Bus Stop


Organiser Details
For queries about this event contact the organiser Vicky 9886421211.


About Escape2Explore
Escape2Explore Adventures is not just one of Bangalore's leading adventure travel companies, it's a hub for all nature lovers, adventure enthusiasts and those who just need a little escape from the routine of life to explore outdoors. With Escape2Explore, find the much notable adventure activities near Bangalore. Choose from a wide range of exciting outdoor activities and destinations that best suit your team/group, and leave the arrangements to us.
Venue
Hogenakkal Waterfalls
Dharmapuri-Hogenakkal Road, Dist.Hogenakkal, Hogenakkal, Tamil Nadu 636810