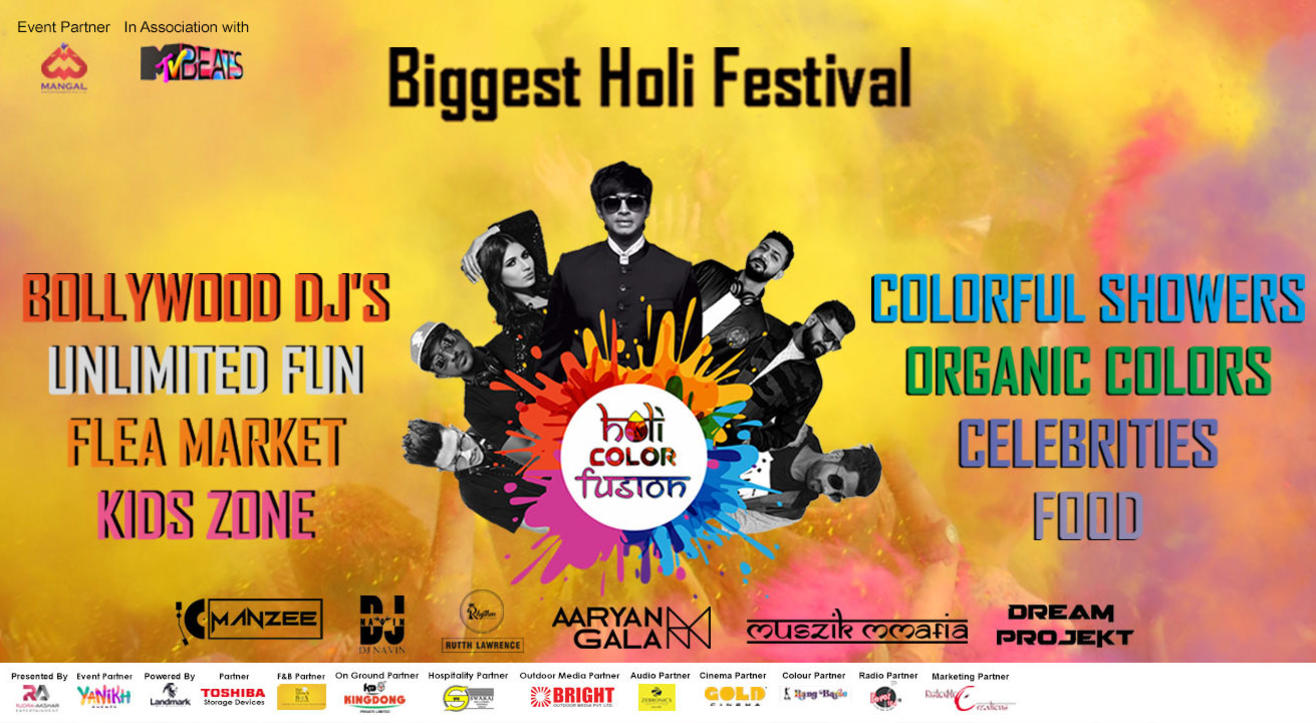 Invite your friends
and enjoy a shared experience
Invite your friends
and enjoy a shared experience
About the Event
HOLI COLOR FUSION is an initiative of bringing together individuals, families , friends and adding music, food, colors to this amazing festival.
Holi Color Fusion will have a Flea Market, Food Court, Pool, Rain Dance & Music to add rhythm to all. It is happening at the prestigious Korakendra Ground they have been hosting the biggest Navratri in Mumbai since the last 10 years, HOLI COLOR FUSION will be the biggest Holi festival this season. With a powerful DJ line-up we also have crowd engaging activities open to all generations.
Aaryan Gala
Aaryan Gala famous for his Galatime is the finest and trending DJ in the city. Aaryan started DJing in late 2010, he started his career with opening acts and playing in small clubs, lounges, private parties, etc. In September 2012, Aaryan flew to London to become the first Indian to train at the 'Ministry of Sound DJ Academy' under industries big names - Andy Woods, Jamie Griffiths and Chris Finke. He has now performed in more than 7 Different Countries, 21 Different Festivals & 52 Clubs

Muszik Mmafia
Vickke Bhawnaani & Inddra Zala better known by their stage name MuszikMmafia. Having shared console with big names in the Indian DJ industry gave MuszikMmafia the credit they deserve. Their livewire music has made hearts throb across Mumbai and now they are coming to Holi Color Fusion

Dj Navin
Known for his versatile sense of music he is one of the most featured upcoming DJ in the town With his passion for music and his style of juggling beats he pumps up energy in the crowd and keeps their feet cracking the floor.

Aman Sharma
A man who has stormed over 40 counties last year with his energy and madness . Over 2000 shows , worked with the best actors in bollywood and has performed with nucleya and many more dj's pumping up thousands of people worldwide .

DJ Manzee
This guy was tagged as "THE DJBOY". When he started doing Djing of some bollywood parties using a beginners player, 6 years ago.
His love for Bollywood music grew up since then. At a very young age of 14 Manzee started to understand what music is all about.
He is full of skills when it comes to playing live, with a lot cultural festivals and clubs Manzee has also played at Star Parivaar Awards.
With his vast collections of Bollywood Beats he is sure to make groove on the dance floor.


Use code HOLIYAY to get a 25% OFF on all purchases up to INR 250 per transaction on purchase of 3 or more tickets
Extra INR 50 cashback if used on the Insider.in app, usable against movie bookings
Kora Kendra Ground 3
Shimpoli, Borivali West, Mumbai, Maharashtra 400092
GET DIRECTIONS