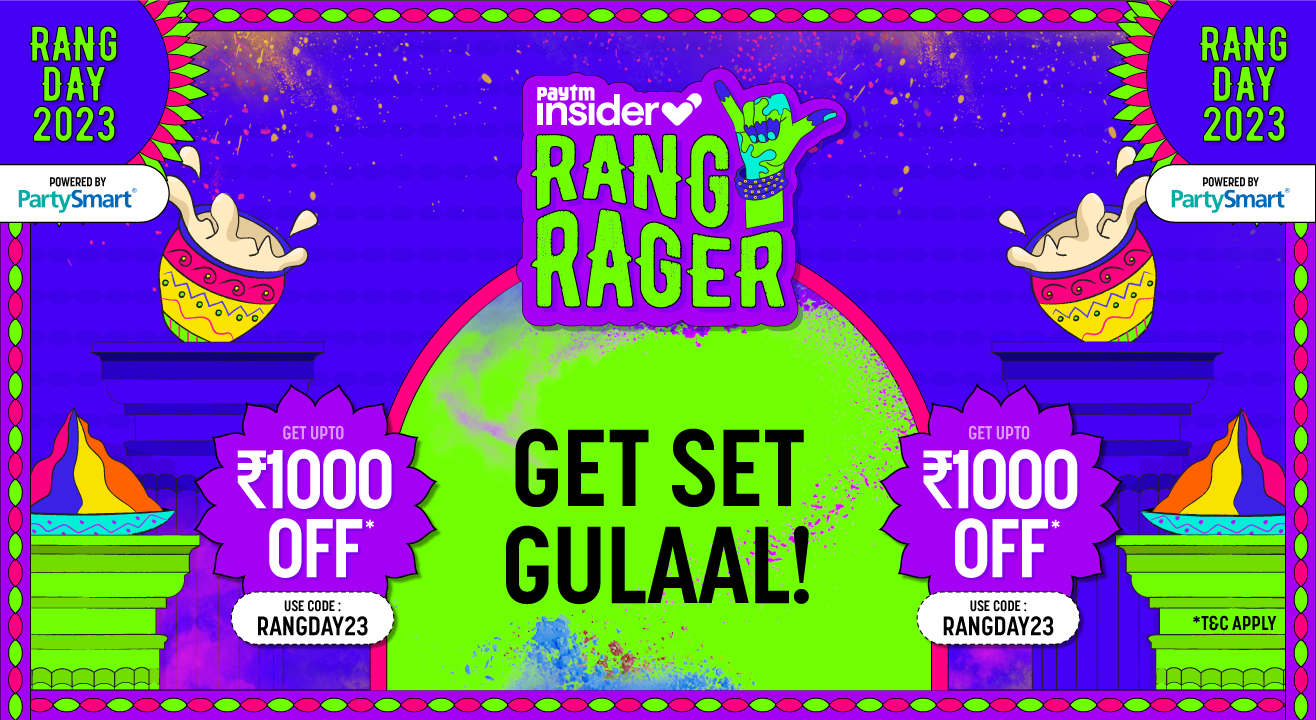 Yellow There! Check out Holi events & parties in Delhi - Paytm Insider
Watch this space for awesome events and parties across your city.
Invite your friends
and enjoy a shared experience
Click below to find out what's happening in Delhi for Holi 2023!
A dash of colour in Delhi

Whether you like spraying colours or getting away from the city, we've got your back.

There are Holi parties at Maharana Pratap ISBT, Frenzy Adventure, Gamesforest, Janmashtmi Park (Punjabi Bagh), Jawaharlal Nehru Stadium and The Garden Of Five Senses. You can also steer towards Eco Farm, Noida too. Price isn't an issue because we've you covered with pocket-friendly deals as well.
What you can expect at the Holi parties? Organic colours, rain dances, bhang, gourmet food, premium liquor, photo booths and tons of surprises. Groove to live thumping music as the best artists present multi-genre eclectic acts.

Word To The Wise: Make sure this Holi celebration is a fun one for the planet as well. Celebrate Holi responsibly with organic colours, limited water usage, lower volumes across sound systems and less trash.
What kind of a Holi party person are you?
A-Lister
Can be easily spotted at a Leela, Hyatt, Taj, Marriott, or a Shangri La's kind of a Holi party place. You celebrate Holi bringing in the highest spirits, by going big with the grandest 5 star Holi events in Delhi, dancing with celebrities and the biggest stars. Your group mostly ends up getting everyone to party their hearts out by the end of it, and have what one might describe as a colorful Holi blast.
Groover n Shaker
Your friends make their way to the best and only the perfect live music party for Holi thanks to you. You're really proud of your music collection and hunt down the hottest Holi party with some big acts and performances for you and your friends every year. All the latest hits (even old ones like Rang Barse, Aaj Na Chhodenge, Badtameez Dil) are always on your mind and you know the exact moves to the song. Can be easily located grooving it out in front of the stage, with a jalebi in one hand & thandai in the other.
Major Rager
You start your Holi party a day prior to Rang Panchami right at the bonfire with a pack of colors in hand. Identifiable by a loud cheer of "Holi Hai" and lots of excitement. You play Holi twice as much as the others involved in the Holi party. You start your day early, with oiling your hair and prepping up for a long day full of playing Holi. A strong believer of - it's not really Holi unless you get hit by a balloon out of the blue, you revel in all the balloon chase. Dance moves you bring out at Holi celebrations are considered a trend for that year, and your friends just follow your cue. You don't leave the party unless the DJ says LAST SONG!
The Planner
Every Holi you just have a chat with Paytm Insider, and make a plan for Holi celebrations way in advance, while everyone around you is busy trying to decide between a rooftop party or a rain dance one. You're known to find the coolest events in your friend circle, and dig out the best offers with the Holi 2020 Sale. Party is what matters to you, whether it's a foam party, pool party, farm party, or even a music festival one. As long as it's a party, you don't mind being there whether it's Connaught Place, Hauz Khas, Cybercity, Mehrauli or even an off beat trip to Kasol or Manali. You're planning is so spot on that you bring two sets of music playlists to a Holi party that has a DJ. Really good stuff, you rock.

You thought we forgot the foodies? All these people we know absolutely need some lip-smacking food and drinks to go with their Holi vibe and tribe. Haan, gujia, jalebi, laddoo, malpua, puran poli and gujia, did we say gujia already?
Not a party person? Check out these awesome places near Delhi:
Rishikesh - Located near the foothills of the Himalayas, it is a popular destination for adventurous sports. Try your hand at Bungee Jumping, Mountain Biking and more.
Manali - Encompassed by huge mountains and distant forests, it an ideal example of nature's beauty. Popular spots include Solang Valley, Rohtang Pass, Beas Kund among others.
Bir - Popular for hosting the World Paragliding Championship, it also houses Sherab Ling Monastery, Bir Tea Factory and more.
Nainital - Scenic lakes, historic temples and soothing scenery all around. The lake city is a destination unlike any other hill station. Nestled in the arms of Kumaon Hills, Nainital is great for a quiet holiday getaway with you and your family
Jim Corbett National Park - The dense forests of Jim Corbett harbour one India's top wildlife sanctuaries. Located in the state of Uttarakhand, Jim Corbett is known for its flora, fauna, and most importantly the Bengal tigers. A wide range of tropical bird species are also found here. Spend some time with your family near reservoir and enjoy a great weekend here.
Subscribe to receive our newsletter!
Find the best experiences happening out there in your city or enjoy handpicked content while sitting comfortably at home. Paytm Insider is your go-to place to figure out what to do today!