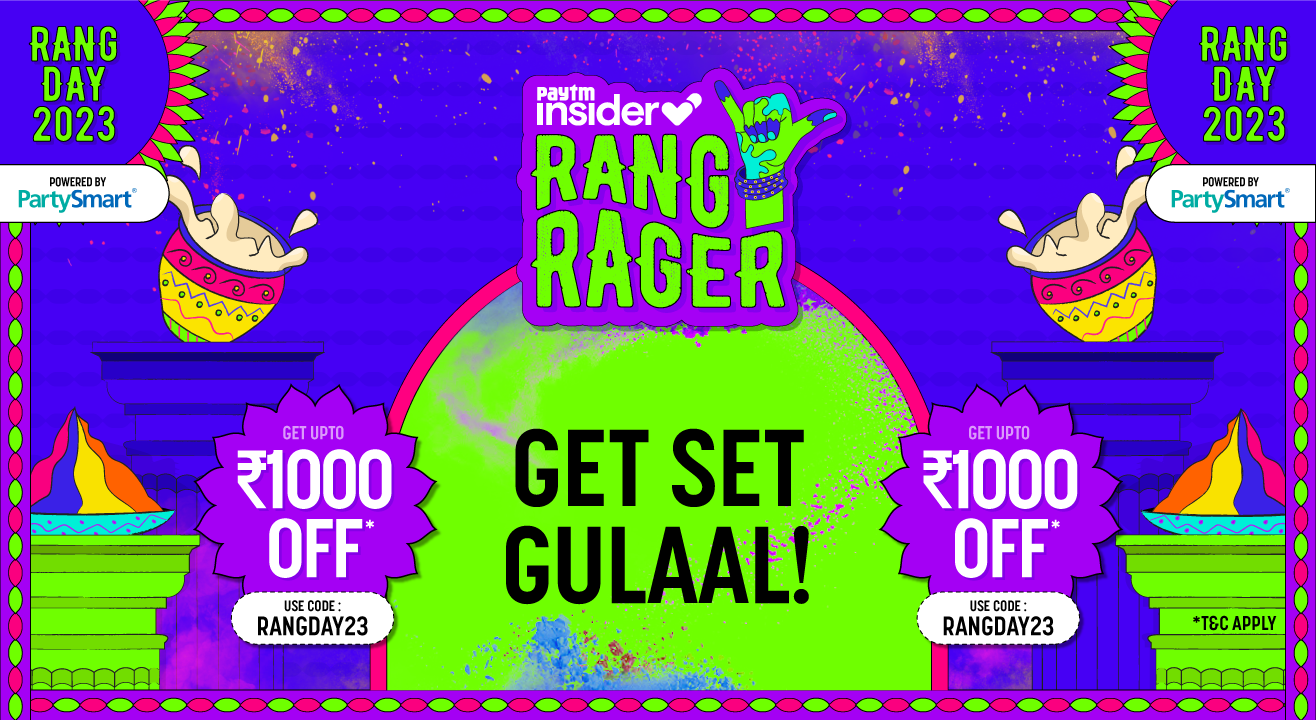 Yellow There! Check out Holi events & parties in Pune - Paytm Insider
Watch this space for awwwesome events, parties and Holi celebrations in and around Pune.
Invite your friends
and enjoy a shared experience
A dash of colour in Pune! Whether you like spraying colours or getting away from the city, we've got your back. Enjoy a splash of water fights and colours at fun parties in Pune this Holi, or hide from the colour smoke crackers at special getaways on 8th March.
Check out the best Holi events in Pune below:

What you can expect at the parties? Organic colours, rain dances, bhang, gourmet food, premium liquor, photo booths and tons of surprises. Groove to live thumping music as the best artists present multi-genre eclectic acts.

If dancing is not your thing, travel amidst nature and celebrate with a camping experience, colours, water, and a bonfire to top it off.
Word To The Wise: Make sure the Holi celebration is a fun one for you and for the planet too. Celebrate Holi responsibly with organic colours, limited water usage, lower volumes across sound systems and less trash.
What kind of a party person are you?
A-Lister
Can be easily spotted at a Radisson, Hyatt, Four Points, Marriott, or a Sheraton kind of a party place. You like to bring Holi in style, by maxing it out with the grandest 5 star Holi bash in Pune, partying with celebrities and famous personalities. You & your gang are most likely to end up hosting the party by the end of it, and have what one might call, a true blue Holi celebration.
Groover n Shaker
The newest beat plays on your phone even before it becomes the craze, and you know the hottest tracks like the kesar in the thandai. You've got an awesome collection of music and can be seen dancing it off at a Holi bash that's got has some of the best live acts playing non-stop music. The latest Bollywood songs (even old hits like Holi Khele Raghuveera, Holi Ke Din, Aaj Na Chhodenge) are always on your lips and you know each and every step of the song. Easily found vibin' in front of the stage, with a jalebi in one hand & thandai in the other.
Major Rager
Your Holi party gets preponed by a day and stars with you reaching the bonfire with a pack of colors in hand. Well known to enter with a loud chant of "Holi Hai" and surprise them. You can't stop playing unless the other person gets tired of applying color on you. You might not wakeup for a morning jog, but will be first to rise and head out to alert the neighbours that it's time for Holi. You believe that it's not really Holi unless you get hit by a balloon out of the blue. You bring a never-seen-before set of dance moves to the Holi celebration and everyone follows. Yes, stating the obvious - you always last to leave the venue at the Holi party every year.
The Planner
You're friends with Paytm Insider, and shortlist your kind of Holi celebration way in advance, while your gang tries to agree on one event. You find the best events before anyone else, that too with discounts, thanks to offers from the Holi 2022 Sale. As long as there's a party you're in on the Holi plan, whether it's a foam party at a lawn in Magarpatta/Viman Nagar or a pool party at a resort few kilometers away in Kolad, Kashid, Pen, Lonavala or Tarkarli. You're planning is so spot on that you bring two sets of music playlists to the Holi party. Really good stuff, you rock.

Missing one about the foodies, right? All the people we know from above absolutely love some good food and drinks to go with their vibe at the Holi party. Yes, the jalebis, laddus, malpua, karanji, puran poli and more puran poli.
Not a party person? Check out these places near Pune:
Pawna Lake
An artificial lake which has spellbinding beauty, is a perfect place to unwind. It features activities like overnight camping near the picturesque lake, lighting a fire near your tents, BBQ and much more.
Lonavala
Housing an evergreen blanket of greeneries and scenic peaks, it an ideal place to chill with your folks. Famous spots include Bhaja caves, Bushi dam, Karla caves, Rajmachi fort, Ryewood lake and more.
Kamshet
The most famous destination for paragliding. It also has options for trekking too.
Kolad
The laid back vibe at Kolad really brings in the Holiday mood for people looking to take a break from their busy lives. Celebrate with some water sports activities at Kolad which is only a few hours away from Pune. They too have trekking events if you're feeling adventurous.
Igatpuri
Besides the bustling number of adventure activities Igatpuri offers, it's also the perfect weekend getaway that involves a leisure stay. Get yourself a booking for a bungalow or a resort and you're sorted. The ones with an Infiniti pool overlooking the mountains are just the best.

Mahabaleshwar
The original hill station for the people of Pune and Mumbai, Mahabaleshwar makes up for the really cool weekend plan that you're looking for. Nestled in the chilly hills, the weather is great to feel the wind in your hair with horse riding activities. A leisure stay after some trekking helps you unwind really well with your friends and family.
Subscribe to receive our newsletter!
Find the best experiences happening out there in your city or enjoy handpicked content while sitting comfortably at home. Paytm Insider is your go-to place to figure out what to do today!