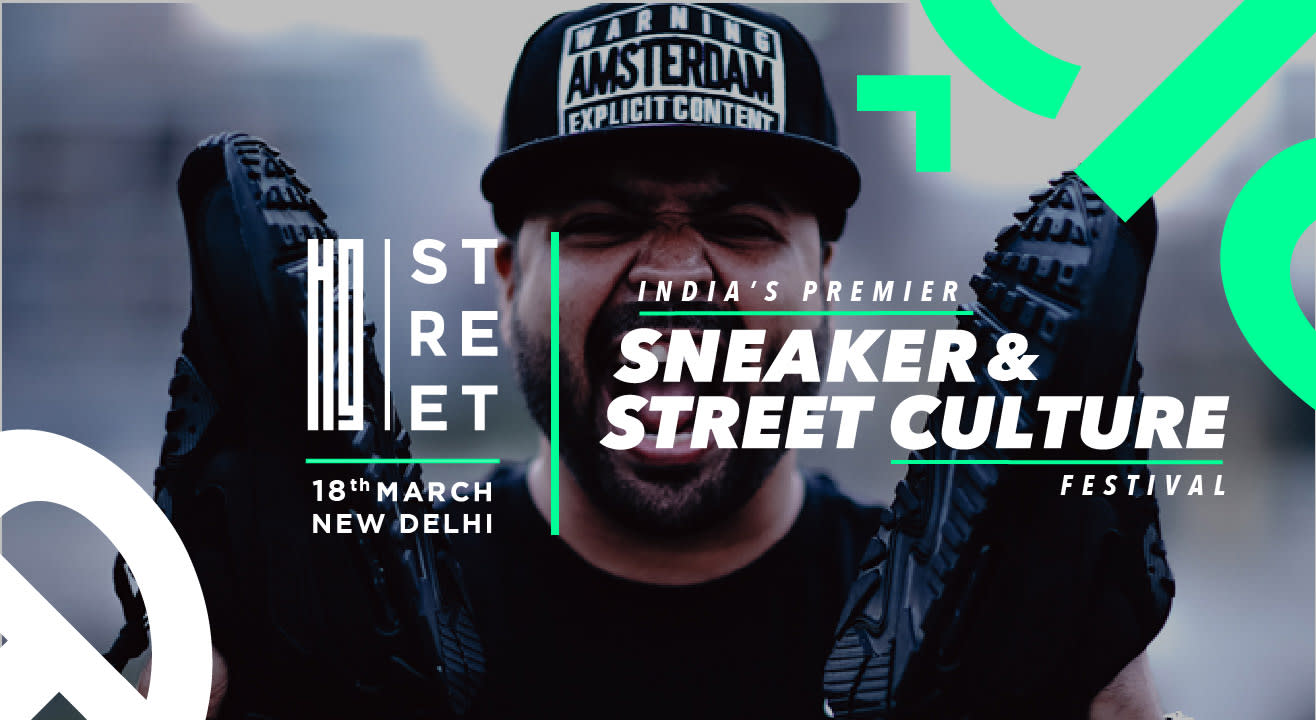 Homegrown Street Festival
Shed9, Dhan Mill Compound, Delhi
Invite your friends
and enjoy a shared experience

Homegrown Street Festival
Shed9, Dhan Mill Compound, Delhi
Invite your friends
and enjoy a shared experience
Invite your friends
and enjoy a shared experience
Believe The Hype: 12 HOURS | 8 WAREHOUSES | 4 PARTIES | 22 ARTISTS | 15 SPEAKERS | 20+ BRANDS | 1 PHOTO EXHIBITION | 3 ART SHOWS | Capsul | BOBO | Vardi by Delhiwear | NIXONBUI | Haul Apparel | RAD | STREY | Limited edition sneaker resellers | More TBA+
HGStreet by Homegrown is a definitive new sneaker and street culture lifestyle festival that's bringing together the best of local and international sneaker culture, hip-hop lifestyle, streetwear fashion, street art, skateboarding, music, food and straight up creativity and innovation. In our first edition, a massive multi-warehouse takeover in the heart of Delhi, we're pulling all stops to create a gateway—for the world into the motherland; and the motherland into the world.
Everybody is welcome.
With #HGStreet, we're creating a space for all people of all backgrounds who wear their hustle on their sleeves, to call home. A place where your authenticity and originality can stand up and be counted amongst the icons who represent this brave new world best. Think a no-holds barred display of sneaker culture, homegrown streetwear label showcases, fashion shows in alleyways, custom painted skate ramps, cutting-edge brand labs, live art and installations, rapper hunt contests, breakdance battles, film and documentary screenings, the best musical talent (local and international) puppeteering exclusive after-parties and the fashion-forward faces of the future.
This is no accidental mecca of all things up-and-coming, local, and street. This is a full-blown celebration of every Indian sub-culture that's dared to keep things fresh. Shimmy in the new era with us.
OG Brand Labs and Collaborations:
adidas | Nike | Puma | Reebok Classics | DC | Absolut | Jameson | Beefeater | THIRSTY | Nappa Dori | Saavn | More TBA

Homegrown Labels:
Almost Gods | Capsul | BOBO | Brown Boy | Dcyphr | Vardi by Delhiwear | Doodlage | NIXONBUI | Haul Apparel |Noire Company | RAD | Shia Rai | STREY | VegNonVeg | Limited edition sneaker resellers | More TBA+

Speakers & Showcases:
Futura | Living legend of the graffiti movement presented by PUMA X SneakerPimps
Brock Cardiner | Director of Content Strategy - Highsnobiety
Yassine Saidi | Head of Puma Select
Badshah | Rapper
Hussain Moloobhoy & Rajat Malhotra | Founders of Sole DXB
Benny Kusk | Founder of Le Fix
Jamil GS | Photographer
Bhavisha Dave & Meenakshi Singh| Co-Founders- Capsul
Mo Joshi | Azadi Records
Sumit Roy | Artist
Kennedy Ashinze | Globetrotter Lab
Nick Smith | BRGTN
Srikanth Seshadari | Saavn
Nehal Joshi | Artist
Dizzy | Artist
More TBA+

Performers:
DJ Neil Armstrong | Natasha Diggs | Preditah | Divine | Prabhdeep | Rajakumari | DJ Mocity | Film | Ben Yugen | DJ Uri | KaleeKarma | Zokhuma | Oceantied | Tarqeeb | Kumail | Rafiki | Spryk x Big Fat : Strange Movements | UP7T | Sumit Roy
The faces of the future. Think pioneers of our underground subcultures, leading local and international artists, musicians, designers, filmmakers, photographers, lifestyle influencers, young thought leaders and more.
What to expect at the festival?
Sneaker Pimps Powered by PUMA: The world's largest and oldest traveling sneaker exhibit makes its stop in India for the first time ever, partnering with PUMA to celebrate 50 years of the iconic Puma Suede featuring 500+ rare, vintage, and limited edition sneakers. Presenting living legend of the graffiti movement and OG street artist, illustrator, sculptor and culture creator 'Futura'; Yassine Saidi, PUMA's Head of Select - the man behind the mega co-creations like Fenty PUMA by Rihanna, 'Run The Streets' by The Weeknd and Big Sean; and Jay Z's tour DJ from 2008 – 2010 - DJ Neil Armstrong.
Brand Labs: Leading sneaker brand showcases from adidas to Puma. Drops, cops, interactive experiences, super fresh collaborations, exclusive after parties and much, much more.
Panels & Talks: Straight up conversations around sneaker x street culture, by and for the people who represent it best. From leading global streetwear platforms, media brands like Highsnobiety and labels to local designers and regional hip-hop icons like Badshah, we've got you covered through and through.
Pop-up Shops: Capsule collections, pre-orders, limited edition clothing x sneaker designs by homegrown streetwear labels and sneaker stores + pop-ups by global streetwear brands. Believe the hype.
Photo Exhibitions: Visual explorations of the origins and re-imaginations of sneaker culture the world over. Featuring the early days of hip-hop culture by Jamil GS's American Royalty series featuring Jayz's first press shot to studio sessions with Outkast and more.
Parties & After: 4 after-parties | 5 stages | 20+ Artists with 14 Hours of simultaneous programming ranging from hip-hop, grime, house and techno to everything in between, featuring local hip hop icons like Divine, Prabhdeep, Rajakumari to touring DJ of Erykah Badu- Natasha Diggs.
Cop, shop, drop, interact, inspire, be inspired, kick back, kick up, kick out.
Homegrown is a contemporary youth culture and lifestyle platform powered by a digital publication, creative agency and an event company. Over time, it has dug its heels deep and stood steady as trailblazers in presenting India's dynamic youth culture with authenticity; dismantling cultural agendas to create a space that is nonlinear and unshackled from stereotypes both online and offline.
Represented and read by those who cannot be defined or confined, it is fast becoming one of the most influential media companies in the country—always at the frontline of creating, curating and cultivating change.
Over the years, we've played a key role in documenting and building sneaker and street culture in the country via our journalism, events, campaigns and brand collaborations. We've learned the hard way that if you want to see something grow, find a little patch and make it fertile. That's why we're here with #HGStreet.
Shed9, Dhan Mill Compound
Shed9, Dhan Mill, 100 Feet Road, Chattarpur New Delhi
GET DIRECTIONS
Homegrown Street Festival
Shed9, Dhan Mill Compound, Delhi
Invite your friends
and enjoy a shared experience