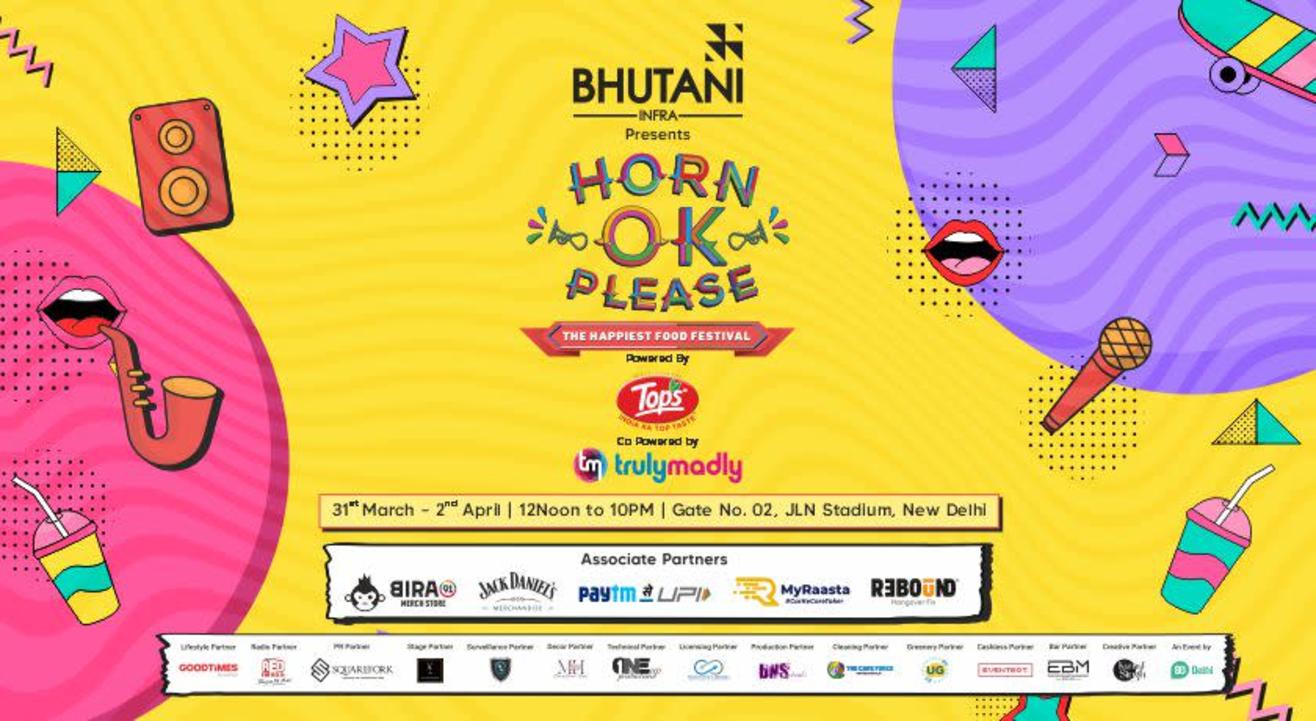 Horn OK Please Food Festival - 10th Anniversary Edition
March 31 - April 2 | 12 Noon -10PM
JLN Stadium Gate No. 2, Delhi
Invite your friends
and enjoy a shared experience
Horn OK Please Food Festival - 10th Anniversary Edition
March 31 - April 2 | 12 Noon -10PM
JLN Stadium Gate No. 2, Delhi
Invite your friends
and enjoy a shared experience
Invite your friends
and enjoy a shared experience
The much-awaited event of the summer is back by popular demand and it's going to be extra special this year! Horn OK Please - The Happiest Food Festival is returning with a bang to celebrate it's 10th edition together with all you foodies!
People say a way to a person's heart is through their stomach, well, Horn OK Please understood the assignment and is returning to win your hearts yet again this summer! From nukkad ki chat and momos, and iconic Delhi eateries from Chandni Chowk to trendy and gourmet world food, the list is unending. With over 200 food stalls at this epic food carnival, you can look forward to an epicurean journey to indulge in at Horn OK Please. Grab a chilled pint of beer, some refreshing cocktails and mocktails to wash all the grub down from the multiple bars and beat the summer heat.
Swing and dance to your heart's content to the groovy tunes by homegrown indie bands and artists, find treasures from charming pop-ups at the Quirk Bazaar flea market, and partake in exciting activities like face painting, hair braiding, tarot reading, and more that'll guarantee a gala time here!
Make the most of the vibrant decor, channel your inner fashionista and get all decked up to click some Insta-worthy pics at the numerous photo-ops scattered all over the venue.
So, Delhiites, gear up to witness the most exuberant food festival the city has ever known this March and make your friends and fam tag along for a memorable action-packed weekend!
P.S. Entry is free for kids below 8 years of age.
Artist Lineup
Day 1
1:00 - 2:15 Yash Jain
2:15 - 3:30 Cloud 7
3:30 - 4:45 Joy Band
4:45 - 6:00 The Lost Fireflies
6:00 - 7:15 Rooh The Fusion Project
7:15 - 8:30 Sanam Singh
8:30 - 10:00 Gurnazar
Day 2
1:00 - 2:15 Nargis Khatoon
2:15 - 3:30 Rajat Midha
3:30 - 4:45 Dr Prashant
4:45 - 6:00 The Limited Experience
6:00 - 7:15 Nooran Sisters
7:15 - 8:30 Kamal Khan
8:30 - 10:00 Nasha Boy Akhil Sachdeva
Day 3
1:00 - 2:15 Vatsal
2:15 - 3:30 Shreya Live
3:30 - 4:45 Navjot Ahuja x Waqt Ka Khel
4:45 - 6:00 Shivaya Band
6:00 - 7:15 Sameer Walizada Live
7:15 - 8:30 Bismil Ki Mehfil
8:30 - 10:00 Parmish Verma
JLN Stadium Gate No. 2
Jawaharlal Nehru Stadium, Pragati Vihar, New Delhi, Delhi 110003
GET DIRECTIONS
Horn OK Please Food Festival - 10th Anniversary Edition
March 31 - April 2 | 12 Noon -10PM
JLN Stadium Gate No. 2, Delhi
Invite your friends
and enjoy a shared experience