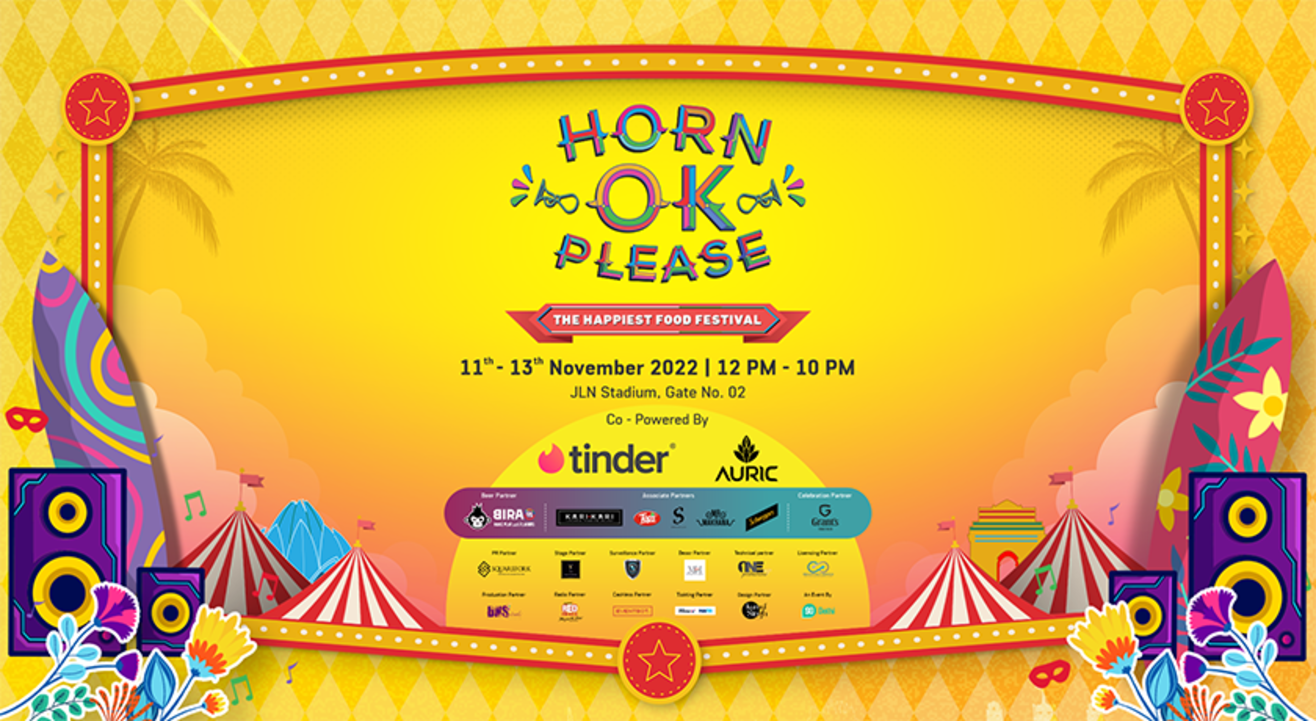 Horn OK Please - The Happiest Food Festival 2022 | Delhi Edition
November 11, 12, 13 | 12PM to 10PM
JLN stadium Gate No. 2, Delhi
Step out and enjoy this event
Event Guide
For Age(s)
Family Friendly
Celebration
Fun times ahead
Invite your friends
and enjoy a shared experience
Horn OK Please - The Happiest Food Festival 2022 | Delhi Edition
November 11, 12, 13 | 12PM to 10PM
JLN stadium Gate No. 2, Delhi
Step out and enjoy this event
Event Guide
For Age(s)
Family Friendly
Celebration
Fun times ahead
Invite your friends
and enjoy a shared experience
Event Guide
For Age(s)
Family Friendly
Celebration
Fun times ahead
Invite your friends
and enjoy a shared experience
This winter, get ready to jump out of bed rather than snuggling in your blankets as the 9th edition of Horn OK Please is going tropical this festive season and will straight up make you feel like you're on a dreamy vacation, right here in Delhi!
Expect to be transported to a tropical paradise with tiki masks, huge leafy palm trees, flawless beach vibes to give you full-blown island feels and a super laid back atmosphere!
Besides this, you can tuck into diverse & delicious food (as always), sip on tropical cocktails that pack a punch *think Piña Coladas and Caipirinhas*, live bands that'll make you groove under the golden sun, a charming flea market with hipster treasures and a splash of super fun activities that'll keep you entertained!
So if you're looking for a tropical hideaway right in your city, channel your BEST Hawaiian looks and head to Horn OK Please this November for an unforgettable experience with your fam jam & squad! Are you ready to be seen at the most lively & hippest fest this year?
FAQs:
Q. Are Covid-19 protocols mandatory ?
Yes, as per the current GOI guidelines.
Q. Can I cancel my ticket? Or Will I get a refund if I cancel my ticket?
No refunds on purchased tickets are possible, even in case of any rescheduling.
Q. Is there an age limit for attending the event?
No Age Limit to attend the event.
Q. What is the age limit to buy a ticket?
Children under Age 8 and below can enter free of charge.
Q. What is the venue and the gate number to enter from?
Venue is JLN Stadium. Event is taking place at Gate no. 2 however entry is from Gate no. 5.
Q. Will there be a parking facility at the venue?
Paid parking will be available at Gate 6.
Q. What time will the Gates open and shut?
Gates will open at 12 PM till 9 PM on all the three days.
Q. Is this a pet friendly event?
No pets allowed.
Q. Does the venue have ATMs?
Venue does not ATM machines. Please do carry adequate cash.
Q. Are there any artists performing?
Yes, we have amazing artists and live bands performing everyday.
JLN stadium Gate No. 2
H6MJ+29, Jawaharlal Nehru Stadium, Pragati Vihar, New Delhi, Delhi 110003, India
GET DIRECTIONS
Horn OK Please - The Happiest Food Festival 2022 | Delhi Edition
November 11, 12, 13 | 12PM to 10PM
JLN stadium Gate No. 2, Delhi
Step out and enjoy this event
Event Guide
For Age(s)
Family Friendly
Celebration
Fun times ahead
Invite your friends
and enjoy a shared experience