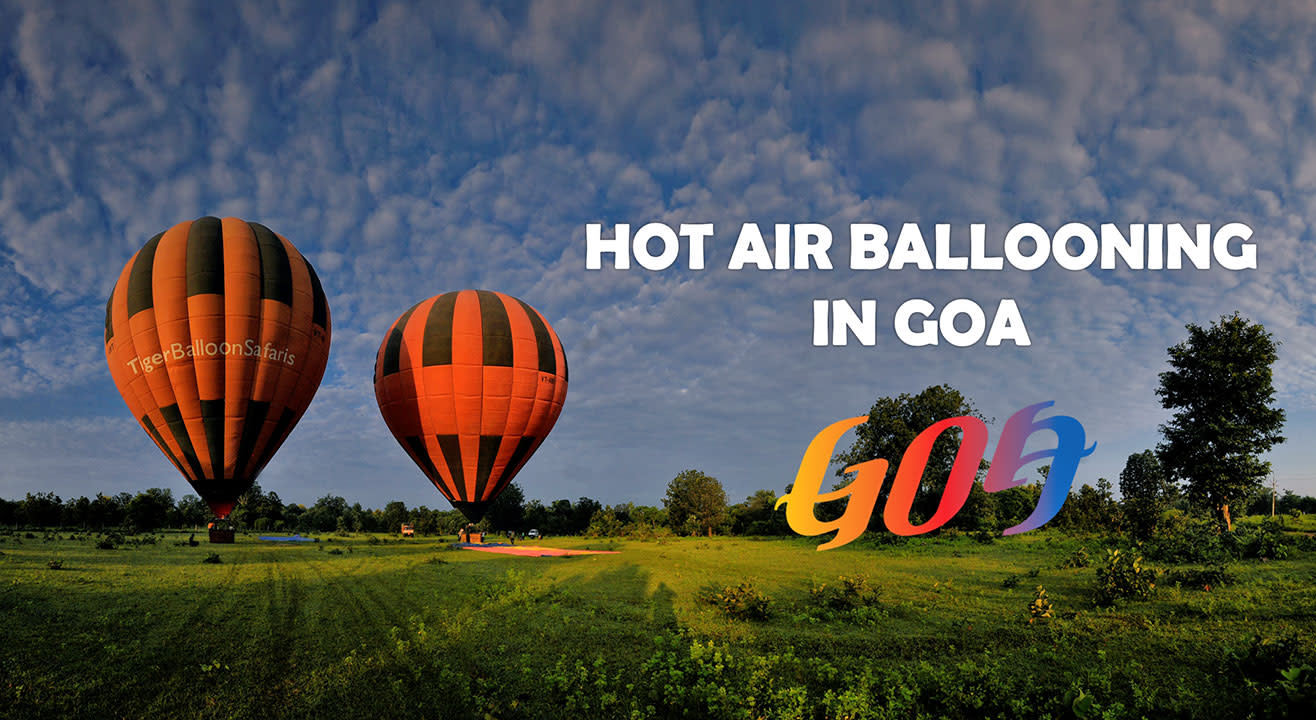 Adventure
Hot Air Ballooning in Goa
Multiple Dates | 6:30 AM - 8:00 AM
About
Offers:
1. Buy 3 tickets & get 20% discount upto ₹750 Use code: APINS20 (T&C apply)
2. Additional Rs.50 movie voucher for transactions made on the app.
Take a 1-hour hot air balloon flight over Goa to be treated to a bird's eye & 360 degree view of some magnificent beaches and hills.

Maybe you've driven past the state's beautiful fields, taken a walk across sun-kissed beaches, or soaked in the ocean's beauty while on a ferry. But you haven't truly seen it until you've gazed at the sunny state from a hot air balloon. Take in 360-degree views from a peak elevation of 2000 feet, and keep your camera ready to take some amazing shots! Your flight is chartered by a professional pilot who will give you a safety briefing before departing; balloons can accommodate up to 10 adults per flight. Tour includes transportation back to the launch site.
HOW LONG IS THE FLIGHT?
About an hour, depending on prevailing weather conditions and suitability of landing sites, but you should allow at least 2-3 hours for the whole experience; this also depends on location to location also on type of flight.

HOW HIGH WILL WE GO?
As high as 2,500 feet, although this does vary from area to area and depends on airspace restrictions.

WHAT SHOULD I WEAR?
Comfortable, casual clothing is always recommended on ballooning excursions. The temperature in the balloon is about the same as it is on the ground, so be sure to dress appropriately for the day's anticipated temperatures. On any given day, it is recommended that you wear closed toe shoes, sunscreen, hat, sunglasses, light jacket & bring a camera.

WHEN DO WE FLY?
Flights are scheduled only in the morning, seven days a week, during the Indian ballooning season, which is usually October to May.

CAN I GIVE IT AS A GIFT?
Yes! A balloon flight makes a wonderful gift for a relative or friend for birthdays, Christmas, anniversaries, etc.
The full colour gift vouchers are ideal to give them on the day and Home Counties and London vouchers are valid for 12 months from the date of purchase. The recipient then makes the flight at any time during the season. Or you may wish to arrange a complete surprise flight for a special date.

WHY DO FLIGHTS TAKE PLACE SO EARLY IN THE MORNING?
Balloons need stable winds to operate effectively and the hours just following sunrise are the best for finding these winds. Since balloons move with the air, the weather is very important in deciding on whether or not to fly. The pilot chooses a launch site to use the wind currents to fly towards a suitable landing site.

WHAT ARE THE CAPACITY OF PASSENGERS IN EACH BALLOON?
Generally, you will be sharing your experience with 4 to 12 people.

HOW ARE BALLOON PILOTS LICENSED?
Balloons are registered like any other aircraft and are subject to regular airworthiness checks. The DGCA will not allow a balloon to be certified as airworthy unless these inspections and checks are done by authorized maintenance personnel and certified by them. All pilots are licensed and have to pass regular flight checks.

WHO CONTROLS BALLOONING AND ENSURES SAFETY STANDARDS?
The DGCA controls ballooning with the same strict regulations that apply to airplanes.

HOW IS THE BALLOON INFLATED?
When the time comes to put the balloon up, the envelope is removed from the bag and laid out in a long line. The burners are attached to the uprights, and the basket is attached to the cables on the bottom of the envelope. An engine driven fan is used to inflate the envelope with cold air. When partially inflated, the air is heated by a burner and the envelope rises above the basket. With further heating, there is sufficient 'lift' for the balloon to fly.

WHERE WILL WE LAND?
The simple answer is that nobody knows, exactly! The pilot will have done flight planning before the launch to ensure that the forecast wind direction does not take the balloon towards an unsuitable area. S/he will use the different air currents at different altitudes to steer the balloon toward a good landing place. The pilot also closely follows agreements with local landowners. This means that the balloon won't fly too close to livestock or land in areas planted with valuable crops.

HOW FAR WILL WE FLY?
It depends on the wind speed. Hot air balloons travel with the wind and an hour flight can carry it up to 15 kilometers, sometimes more, sometimes less. The balloon also flies at different altitudes. Although the balloon is at the mercy of the wind when it comes to direction, the vertical control of a balloon can be very precise. It is not unusual for pilots to be able to brush the bottom of the basket across the tops of brush, or inches from the ground A leaf picked from a treetop is a very worthwhile souvenir of the flight!

HOW DOES THE CHASE CREW KNOW WHERE WE ARE?
Radios are used to stay in contact with the retrieval crew as well as with Air Traffic Control.

WHAT IF I'M AFRAID OF HEIGHTS?
Flying in a high sided balloon basket is not like standing in a roof or a high ladder. You don't get that vertigo feeling. It is more like the ground is unfolding beneath you, and, because you are moving with the wind, there is no wind blowing. The basket does not rock or sway so you can't possibly fall out.

I SOMETIMES GET AIRSICK IN AIRPLANES. IS A BALLOON THE SAME?
No. The turbulence which usually causes motion sickness is completely absent in a balloon ride. The flight of a balloon is almost too smooth to describe.

HOW DO YOU STEER A BALLOON?
The balloon goes wherever the wind takes it. However, pilots can seek higher or lower altitudes to find wind currents of various direction. It is referred to as the truest form of sailing.

IS IT COLD IN A BALLOON?
At high altitude, it is colder than at ground level, generally 3.5 degrees colder for each 1,000 feet of altitude.

WHAT DO I DO IF MY FLIGHT IS CANCELLED?
If your flight is cancelled, don't worry because you can just book onto another flight of your choice within same ballooning season or the organizers will initiate a full refund.

WHAT KIND OF EQUIPMENT DO YOU USE?
All the balloon equipment is to the highest standard and is manufactured by Cameron Balloons in UK. Cameron is the world's largest company of hot air balloon related equipments.

IS AGE A CONSIDERATION?
The organizers have no upper age limit but ballooning is an outdoor sport requiring a degree of agility. It is recommended that people should be fit enough to climb in and out of the basket and to stand for about an hour.
They use partitioned baskets specially designed to ensure safety, comfort and a superb view. Baskets are about 1.1 metres (42 inches) high, and have footholes to assist entry. Children under 16 must be accompanied by an adult on the flight and must be over 8 years old, and their height must exceed 1.4 metres (3'8"). In the interests of safety and operational requirements, the organizers cannot undertake the carriage of passengers whose declared weight exceeds 18 stone (114kg).

WHAT IF I HAVE MORE QUESTIONS?
For more information, please visit hotairballooningingoa.com or please email tigerballoonsafaris@gmail.com or call on +91 9999742000.

Venue
Assolda Football Ground
Assolda Football Ground in Chandor, South Goa is located at the Margaon-Chandor-Curchorem Road.