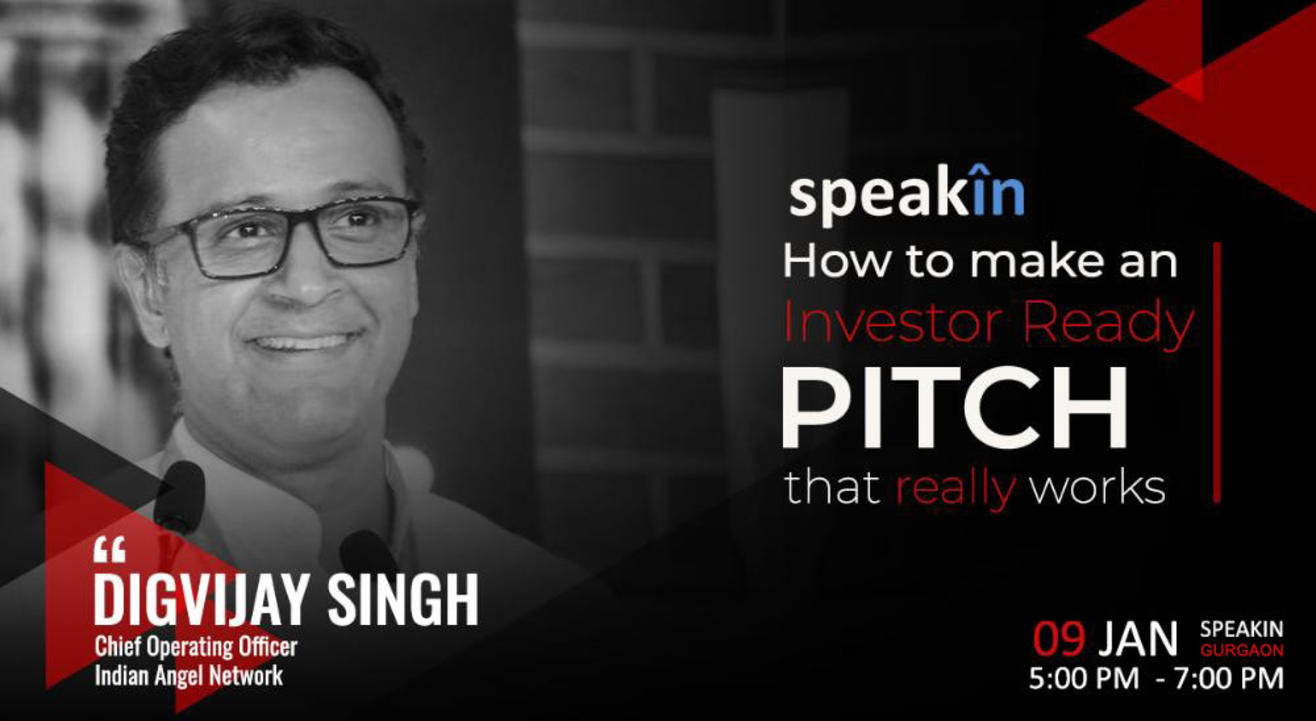 How to Make an Investor Ready Pitch that Really Works
Innov8 Coworking Golf Course Road
Invite your friends
and enjoy a shared experience
Invite your friends
and enjoy a shared experience
About the Event
Digvijay is a professional with over 17 years of sales experience in leading companies across sectors. He has continuously built a sales/distribution model from scratch in virgin territory and scaled it to national levels. Starting with an offline product company, Apollo Tyres, he built from scratch the company's distribution organisation in Uttaranchal which was driven by the dealer network. He built this in an entrepreneurial model and which has now become well entrenched in the state. He also opened up new accounts in the government sectors like UPSRTC (Uttar Pradesh State Roadways Transport Corporation) to become a fast tracker with the company. From tyres to Insurance, Digvijay helped build the Distribution Network of ICICI Lombard GIC Ltd. The distribution network included direct, agency and dealer distribution models. Again, he led from the front & built the team which took this distribution network nationwide.
Digvijay evolved with the digital environment and led the retail network of brokers in the NCR area for Magic Bricks.com. He was quickly awarded the Best Zonal Business Head for Q1 of 2014-15 as the conversions continued to increase. This quickly brought him the opportunity of a national role to lead 200 person feet on the street model with a management team of 15. This was a challenging role as it combined both user acquisition, conversion to sales, with sourcing and then providing quality data of brokers to the team. A year in managing a PAN India team for 15 managers and 200 Fleet on streets, in for sourcing primary data as well as curating it for efficient use by the company.
With the startup ecosystem growing, Digvijay decided to swivel his career by opting to join Indian Angel Network as Vice President moving from a corporate executive to player in the entrepreneurial world. IAN is Indias first and the worlds largest angel investor group with over 400 investors from 10 countries, over 100 company portfolio and growing spread across 7 countries and 17 sectors. It has been labelled as the Top Funder in India and providing perhaps the highest returns to seed / early-stage investors. Digvijay leads deal origination nationally as well as drives the operations of the organisation across multiple functions. He has been given additional responsibilities on his experienced shoulders to Handle the entire Operations Piece at Indian Angel Network now and he is now the COO (Chief Operating Officer) of the Network. Digvijay is a Postgraduate and is a hands-on business builder.
The workshop will cover topics ranging from How to Seek early-stage funding to how to pitch the idea and how the investors want to be pitched? Being an investor himself, Digvijay will give you some insights on what an investor actually look for in your Pitch.
Innov8 Coworking Golf Course Road
Rapid Metro Station, 3rd Floor, Orchid Centre Near IILM Institute, Sector 53, next to Sector 54, Gurugram, Haryana 122022
GET DIRECTIONS