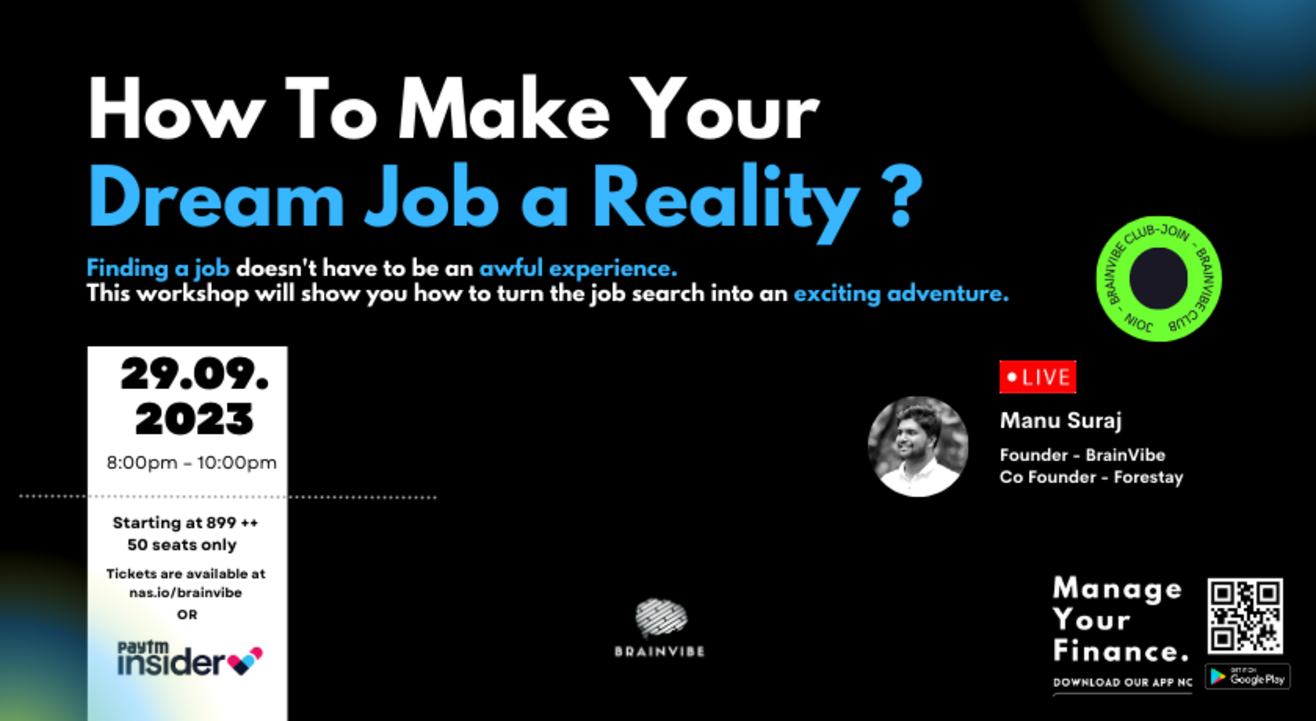 How To Make Your Dream Job a Reality ?
Invite your friends
and enjoy a shared experience
How To Make Your Dream Job a Reality ?
Invite your friends
and enjoy a shared experience
Invite your friends
and enjoy a shared experience


Are you tired of feeling stuck in your current job and yearning for a career that aligns with your passions and aspirations? If you're ready to take control of your professional journey and secure your dream job, then this 40-minute online workshop is designed just for you!


In this workshop, we will guide you through proven strategies and actionable steps to help you identify, pursue, and attain your dream job. Whether you're looking to switch industries, climb the corporate ladder, or transition to a completely new field, this workshop will provide you with the tools and insights you need to make it happen.
Workshop Highlights:
1. **Self-Discovery and Goal Setting:** We'll kick off the workshop by helping you uncover your strengths, values, and interests. By understanding your true passions, you'll be better equipped to identify the type of job that aligns with your aspirations.


2. **Crafting a Winning Resume and Cover Letter:** Learn the art of presenting yourself effectively on paper. We'll cover strategies for creating a resume that stands out and a cover letter that grabs the attention of employers.


3. **Job Search Strategies:** Explore various job search techniques, both online and offline. Discover hidden job opportunities and how to network effectively to get your foot in the door.


4. **Interview Mastery:** Nail your interviews by mastering common interview questions, developing your personal elevator pitch, and learning how to showcase your skills and experiences confidently.


5. **Building Your Online Presence:** In today's digital age, having a strong online presence is crucial. Learn how to optimize your LinkedIn profile and other social media platforms to attract recruiters and employers.


6. **Overcoming Obstacles:** We'll address common roadblocks and challenges that can hinder your job search progress. From imposter syndrome to lack of experience, you'll learn how to overcome these obstacles with resilience and confidence.


7. **Negotiating Job Offers:** Once you receive that dream job offer, it's important to negotiate a fair compensation package. We'll provide tips and strategies for successful salary negotiations and other benefits.


8. **Long-Term Career Growth:** Landing your dream job is just the beginning. Discover how to thrive in your new role, continuously develop your skills, and create a plan for long-term career growth and advancement.
By the end of this workshop, you'll be equipped with a personalized roadmap to navigate your way to your dream job. Our interactive sessions, real-life examples, and actionable insights will empower you to take charge of your career and turn your professional aspirations into reality.
Join us for this transformative 40-minute online workshop and start making your dream job a tangible and achievable goal. Your dream career is within reach – let's make it happen together!
How To Make Your Dream Job a Reality ?
Invite your friends
and enjoy a shared experience