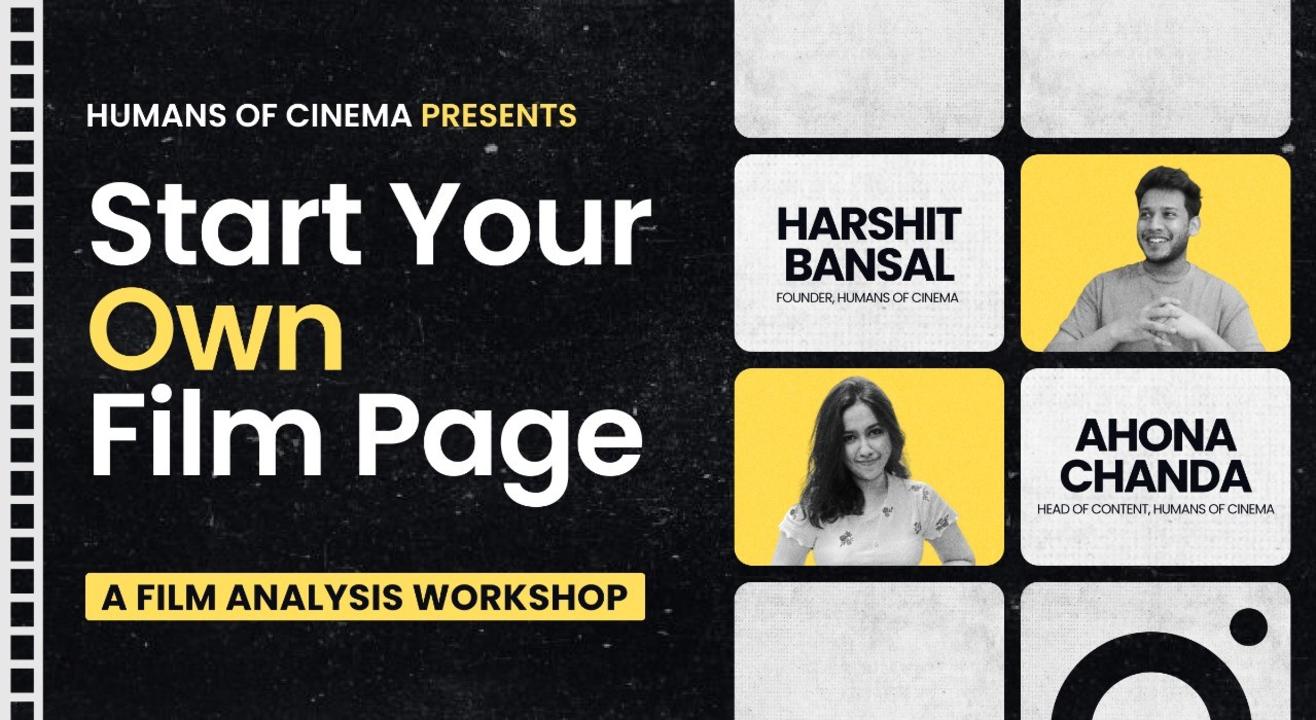 How To Start Your Own Film Page: A 3-Hour Film Analysis Workshop By Humans Of Cinema
September 24 | 6PM - October 30 | 2PM
Enjoy this event from your home
Event Guide
Masterclass
Learn from an expert
Invite your friends
and enjoy a shared experience
How To Start Your Own Film Page: A 3-Hour Film Analysis Workshop By Humans Of Cinema
September 24 | 6PM - October 30 | 2PM
Enjoy this event from your home
Event Guide
Masterclass
Learn from an expert
Invite your friends
and enjoy a shared experience
Event Guide
Masterclass
Learn from an expert
Invite your friends
and enjoy a shared experience
Starting Your Career in Film Analysis and Instagram Blogging : Humans Of Cinema's 3-Hour Crash Course Workshop
If you connect to cinema on a deep, personal level and are looking to create a career out of writing about your connection to films, this is the workshop for you. Creating a career out of something that you love is the definition of dream-come-true, and realizing your dreams requires a solid foundation – genuine knowledge, method and dedication. These are the areas that this workshop focuses on. The creators behind this workshop are so deeply passionate about film-watching and writing that their heart belongs to this art form (humans of cinema, quite literally). It is this profound connection to films that made us choose this as a career – and there are certain valuable learnings that have come with it. Through this workshop, we are trying to build a community of film-lovers who we can share these learnings with, so that the culture of discussing films gets wider and stronger.
Who can join this workshop?
As long as you are a person who loves films, someone who enjoys discussing or writing about them – you can attend this workshop. You do not need to have profound knowledge of cinema or a formal degree in film education or any such previous background. Learning and writing about cinema is a process, and this workshop is targeted at making that process easier for you so that you know how to create a career out of it. All you need to bring to the table is your passion for cinema.
Who are the instructors?
Harshit Bansal and Ahona Chanda, the faces behind the popular Instagram page Humans Of Cinema. Ever since its inception in 2018, Humans Of Cinema has pioneered conversations around film analysis in India, making a consistent effort to further the discourse around both Indian as well as international cinema.
Core Modules of the Workshop
The Ways of Watching: In which we discuss the ways in which you can approach a film and study it, so that what you write about it is unique and valuable.
Re-visioning a Film: In which we discuss the chief aspects of film writing, the areas you should focus on, the ways in which you can keep your writing relevant to the film and balanced. We would also discuss the formalities of publishing your articles.
Film-Blogging on Social Media: In which we discuss the DOs and DONTs of film-blogging on social media, and the kind of posts and articles that get better engagement from readers, which would ultimately help you figure out your niche as a creator.
Creating a Career: In which we discuss how you could monetize your work without sacrificing the integrity of it, such that you can build connections with both brands and your readers.
Learning through Activities: In which you can participate in some engaging activities related to film-writing so that you can test out the knowledge that you gained during the workshop.
Sharing Study Material: In the final segment, we will share documents with study material with you, which you can use as a guide or reference booklet when you write about cinema.
Certificate : A participation certificate would be awarded to every workshop attendee to mark the beginning of your film analysis journey.
The workshops will be hosted on Zoom.
Please make sure you have the Zoom app installed on your device. A PC/Laptop is recommended but you could login through any device.
How To Start Your Own Film Page: A 3-Hour Film Analysis Workshop By Humans Of Cinema
September 24 | 6PM - October 30 | 2PM
Enjoy this event from your home
Event Guide
Masterclass
Learn from an expert
Invite your friends
and enjoy a shared experience