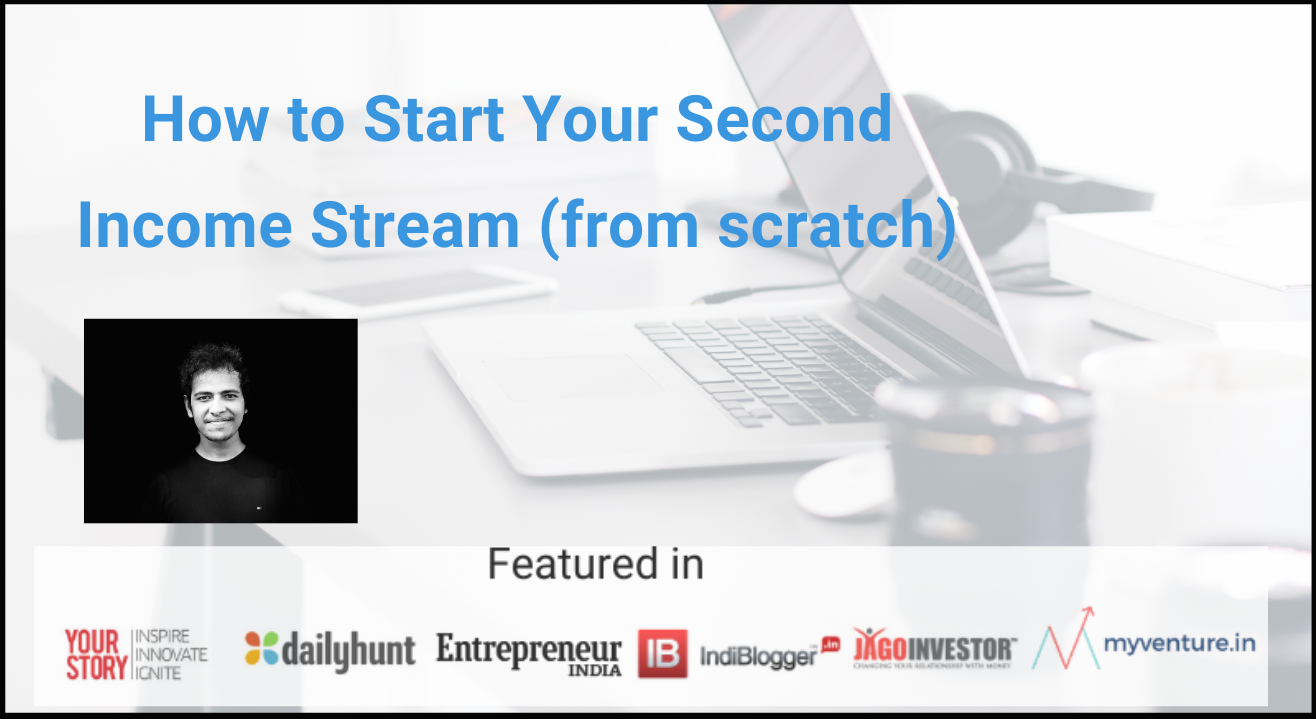 How to start your second income stream (from scratch)
Enjoy this event from your home
Event Guide
Digital Event
Watch on Insider
Masterclass
Learn from an expert
Invite your friends
and enjoy a shared experience
Event Guide
Digital Event
Watch on Insider
Masterclass
Learn from an expert
Invite your friends
and enjoy a shared experience
About the Event
As the new year 2021 comes in, let me show you a step-by-step method to -- earn more, diversify your risk, and start your own second income stream...(I'm only allowing 20 people for this workshop.)
The same process I used in the lockdown to earn 4.5 lakhs as an extra-income.
Even if -
you're a beginner.....(I am a working employee, and I started this on the side as a beginner myself)
you've no idea what and how to start..... (what I learnt was you just need 3 steps to start a second income, and not worry about anything else)
you've no experience or any special skills.... (this was my first time as well, with no previous experience or anything)
you're already working at a full-time job....(this is perfect since you can start multiple revenue streams)
You could begin earning 25-30K as an additional income and then gradually increase, depending on how much work you can manage and time you can commit.
And no, this is not any commission-based job, or telemarketing, or doing any paid surveys, or any that kind of B.S stuff.
Me and you both know that type of thing simply doesn't work.
What I want to show you is a simple 3-step process to get paying clients from scratch. The 3 steps are:
1. Find an idea (I'll show you a list of ideas you can pick from)
2. Validate it (one simple technique to check if the idea has potential to make money)
3. Get your first 1-3 paying clients (a tried-and-tested method to start getting your own clients)
That's it. No website, no office, no logo, or anything fancy needed. You can do all the 3 steps while working at a full-time job, or if you are currently working from home.
We'll cover all the 3 steps in detail inside the workshop. If you follow the exercises step-by-step which I show you inside the workshop, you start earning within 3-4 weeks.
These are the same steps I used to get 5 new paying clients in 4 months (and here's the surprising insight -- this was during covid, completely sitting in my house with a simple laptop/wifi access, and spending about 5-10 hours per week.)
These are also the same steps many of my readers (at progressandwin.com) have used to start earning more.
And I am not a guru, or a motivational coach or a trainer. I'm just a regular working employee who made about 3.5 lakhs on the side by doing few things.
So, to put it simply, if I can, so can you.
Who am I?
My name is Zubin Ajmera, a regular working employee, and live in Mumbai
I run progressandwin.com, and have been featured on YourStory, Entrepreneur India, and other brands for some of my articles
I like to avoid the B.S stuff, and give only actionable material (enough of those motivational content)
I am not a coach, trainer, consultant, or (insert any fancy word you can think of)
I am also not the guy who comes in your instagram or facebook feed to sell you a course or consulting
I'm just someone who works at a job, does multiple things on the side, (one of them is getting clients from sitting at my home), and WANTS to share with you how exactly I do that
Honestly, I hate words like "digital marketing", "funding", "blogging", "affiliate marketing", etc. Not that they are wrong, but they mislead many new people who are starting out.
Some problems with them -
It takes huge time (we are talking 6-9 months minimum before you start seeing any results)
It takes investment (time, cost and efforts)
It is very unpredictable (what if you spend 6 months on it, and you don't earn anything?)
So, in my experience of learning things, I have found few things that work and few that don't at all.
Let me show you what works in this workshop.
Few of my promises to you:
This will be a no sugar-coating, no motivational gyaan workshop. We have seen enough videos of such on Instagram and Youtube, so there are no fancy bells and whistles here
This will be a pure actionable workshop. You can start implementing from next day itself
I will also provide an option to reach out to me after the workshop at no charge to you, so all your questions will get answered
I believe with covid happening, now this is the perfect time for anyone to start a second income, given the uncertain times that might come ahead.
Some of the things this workshop covers -
How to get started to generating a second income (even if you have no idea or experience)
The exact roadmap to start earning 25K per month as a second income, then use my Dial-Up technique to increase it to 50K, and more
7 things to avoid when you begin (in my opinion, these are pure time-wasters)
3 hard-lessons I learnt in my journey of earning 5 lakhs
List of ALL mistakes I made (and how you can avoid them)
How do find an idea using 3 proven techniques (don't worry, no special skills or experience needed. Have a notepad and pen ready. Apply this technique as I say, and you have a ready-list of ideas right in front of you)
The DFY technique to quickly check if your idea will make money ever
The Surgical Strategy to start generating clients (within 3-4 weeks, with no website needed)
What you'll need:
· Your laptop and internet
· A notepad, pen, paper, etc.
· Your attention for 1 hour (this is not an entertaining workshop. It's a highly actionable one.
So, only attend if you can commit to take action on what I show, I guarantee you will get results. Otherwise, I do not suggest you take this workshop
Also,
This workshop is suited for working professionals, stay-at-home mothers, or anyone who has some ongoing job. I don't recommend anyone else take this workshop
I am only allowing 20 people since I want to keep this workshop super personalised, specific and extra attention to each of you
There will be a separate Q&A session, so I'll ensure all your questions after the workshop get answered
That's it from my side. For any questions, reach out to me directly, zubin@progressandwin.com
I look forward to see you inside!