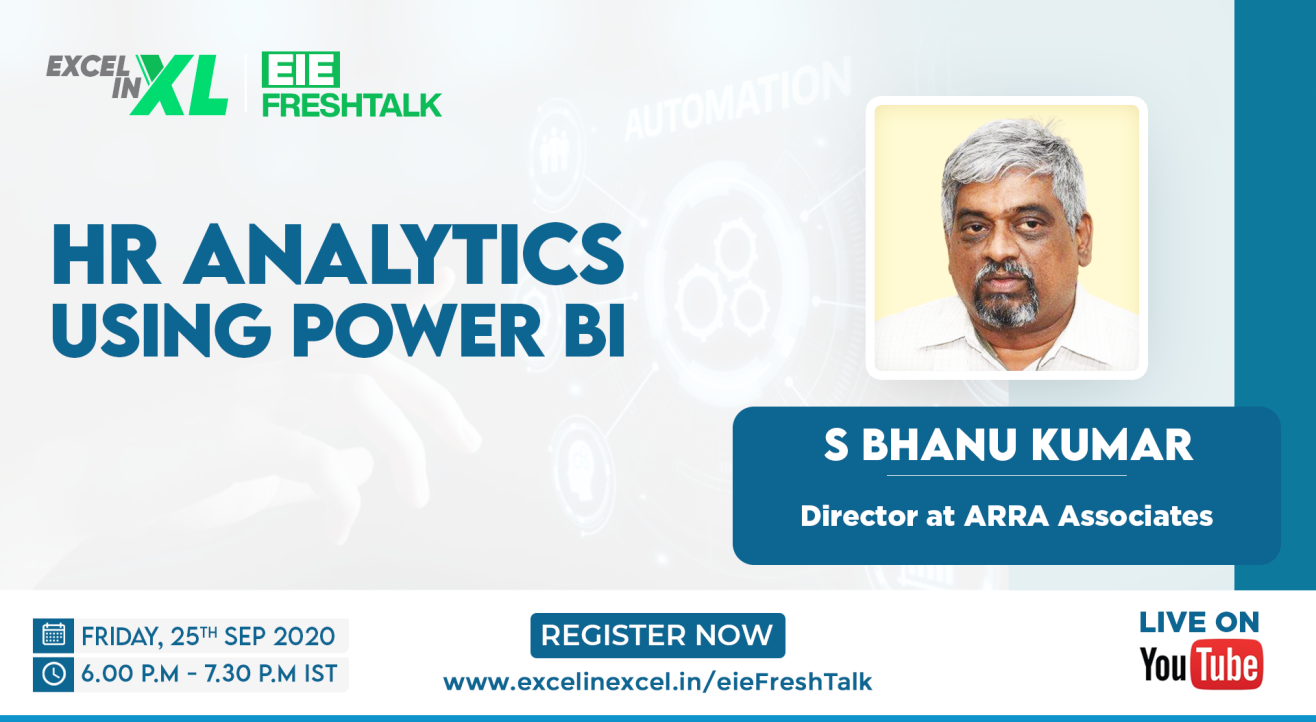 HR Analytics using Power BI by S Bhanu Kumar | #EiEFreshTalk by Excel in Excel
Invite your friends
and enjoy a shared experience
Invite your friends
and enjoy a shared experience
About the Event
Excel in Excel presents #EiEFreshTalk on HR Analytics using Power BI by S Bhanu Kumar (Director at ARRA Associates)
Date: Friday, 25th September 2020
Time: 6.00 pm to 7.30 pm IST
Key Takeaways:
Go Beyond Excel for slice and dice of data
Understand conversion of Data to Knowledge
Connect to multiple data sources to build reports and make it the single source of truth
Creating Interactive, Intuitive report
About Speaker:
S. Bhanu Kumar is a technology expert with over three decades of experience. He is a business consultant and the founder director of ARRA Associates.
He is an industry veteran with expertise in the niche areas of Clound, Analytics, DevOps, Agile, and Digital Marketing. He has trained and implemented processes around CMM, PCMM, TMM, Six Sigma, Service Design and Service Transition.
He is a mentor for entrepreneurs including YES, IIT-HIH Rural Entrepreneurship.
He is part of multiple social forums and special interest groups related to NIPM, ISTD and ISACA.
He is a visiting Faculty in Crescent Engineering College and and Adjunct Faculty in Karunya University. He is a Career Coach and Social contributor with NGO participations like Win Vinaya and Project Puthri.
REGISTER NOW
This is a free YouTube Live Event
About EiEFreshTalk:
#EiEFreshTalk is a Talk Show presented by Excel In Excel on its YouTube Channel (https://www.youtube.com/theexcelinexcel), where it will be hosting great leaders and subject matter experts (SMEs) from various fields to speak regularly on a variety of topics ranging from Excel to Analytics and Finance to Financial Modeling and many more.
These sessions are intended to offer the viewers the opportunity to listen to the esteemed speakers and interact with them to have their queries addressed.
Watch our past talk's at https://www.youtube.com/playlist?list=PLnsVzIf_J3fIMQTp7x7c4usgpeqYN9l1V
______________________
Register for Upcoming #EiEFreshTalk at https://excelinexcel.in/eieFreshTalk
Stay updated with us on our
Facebook Group @ https://www.facebook.com/groups/eiefreshtalk/
WhatsApp @ https://www.excelinexcel.in/whatsappupdate
Telegram @ https://www.t.me/ExcelinExcel
Watch other episodes of #EiEFreshTalk at https://www.youtube.com/playlist?list=PLnsVzIf_J3fIMQTp7x7c4usgpeqYN9l1V
Learn MS Excel: www.ExcelinExcel.in/ms-excel
Our Website: www.ExcelinExcel.in