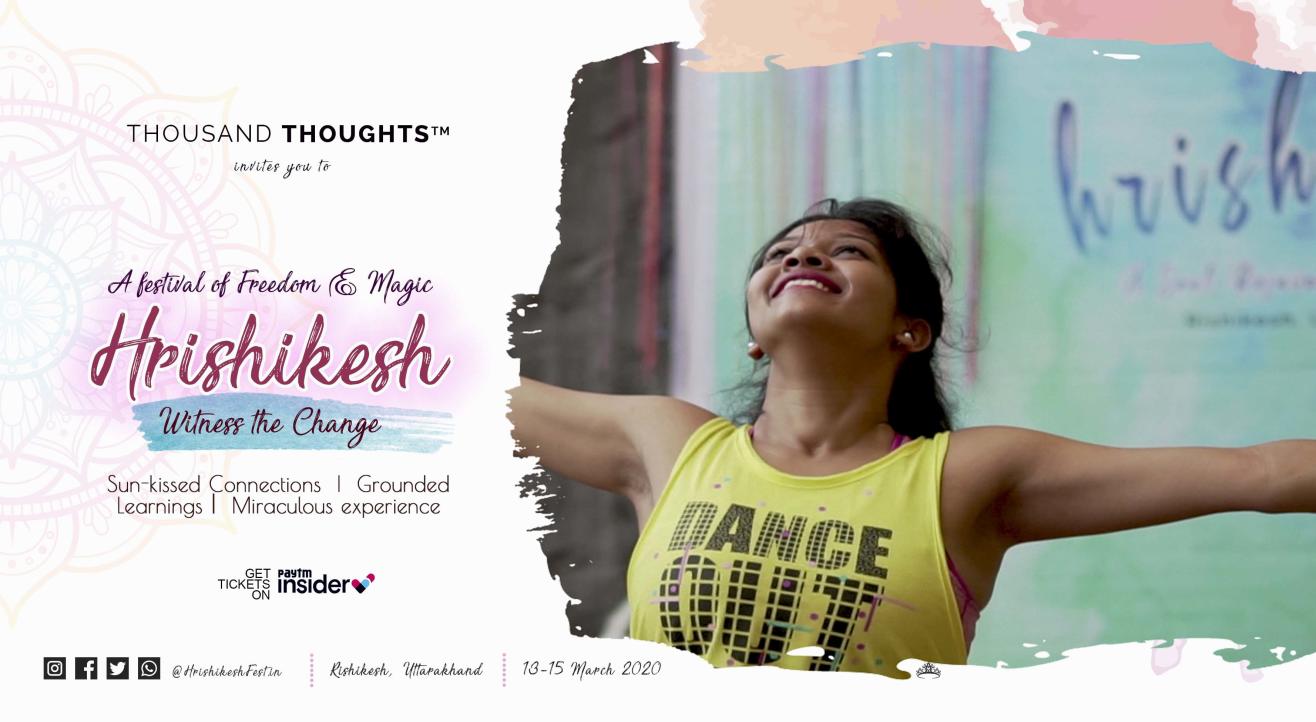 Step out and enjoy this event
Invite your friends
and enjoy a shared experience
Invite your friends
and enjoy a shared experience
About the Event
Experience a magical encounter with your real self in Hrishikesh - Witness the Change!
The universe showers the flowers of awakening and Thousand Thoughts has rebounded the energy with spring in the air and Love in the Hearts shrouded in the 5th season of The Hrishikesh Festival aspiring sun-kissed connections, grounded learning and a miraculous experience
.
Hrishikesh 5.0 - Witness The Change
The theme envisions to ignite the flying passion of the immortal power, beliefs, consciousness and potential that embraces the birth of a Holistic Life. The 3 refreshing days of the Festival are plugged-in to contended and playful workshops and sessions endeavoring –
Realization of Nothingness
Unboxing Reality
Celebrating Oneness and Acceptance
Recognition of Ecstasy
A warm and joyful welcome to all to join us in this safari of compassion, bliss, wholeness and adventure. Let's untie the knots of kindness and acceptance in a space brimming the true essence of life.
Sessions and Activities:
▬▬▬▬▬▬▬▬▬▬
Day 1 — Friday »
► Check-in at 1:00 PM
► Celebration of Life
► Break Free with Zumba Session
Day 02 — Saturday »
► Alchemy Sound Energy Healing
► The Shift Pattern – Sword of NLP
► Ecstatic Dance Meditation
► Walk through Divinity – Ganges & You Ganga Aarti
► Indo-Sufi Music
► The Silent Walk
Day 3 — Sunday »
► Channelizing Movements – Yogic Science
► Surprise Session #9
► A Tide of Expression
► Farewell :D
//The workshops, sessions and performances are being conducted by Subject Matter Experts and Internationally Certified Trainers.
IN THE TWISTS OF CHANGE, WE FIND THE DIRECTION! <3
Hrishikesh - A Festival of Freedom & Magic