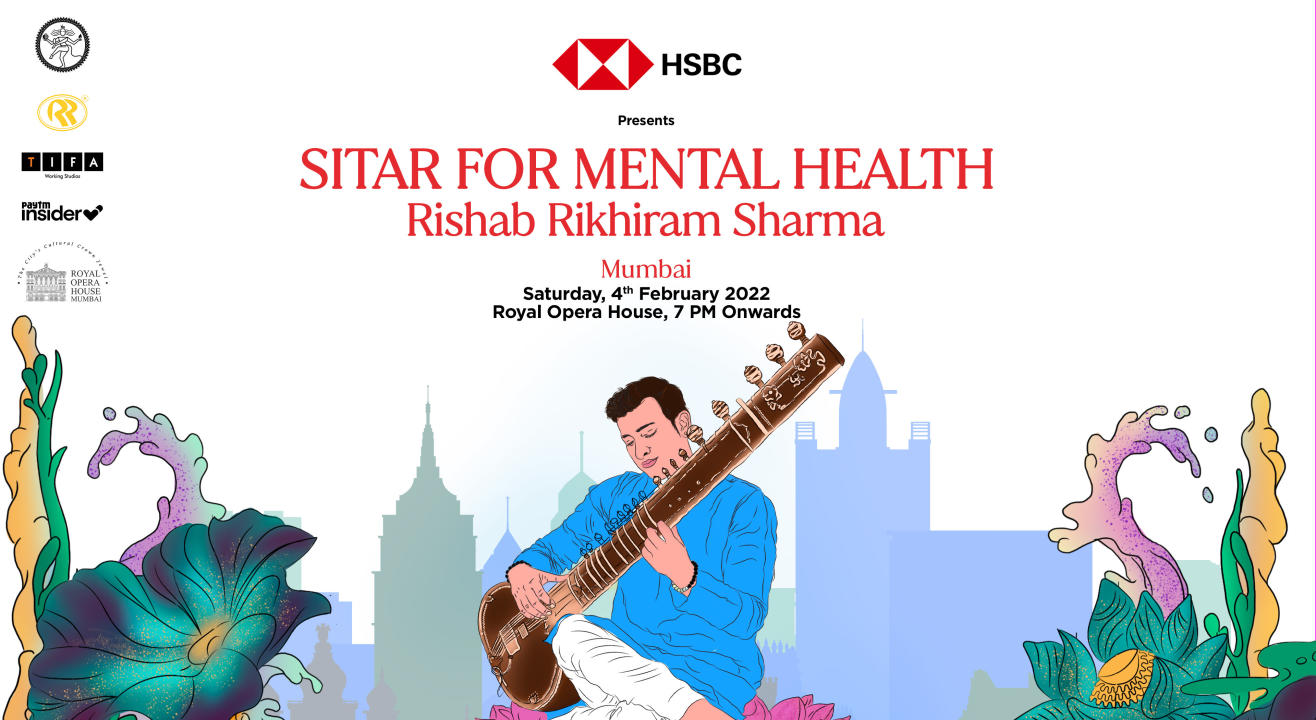 HSBC presents 'Sitar for Mental Health' by Rishab Rikhiram Sharma at Royal Opera House in Mumbai on 4th Feb, 2023
The Royal Opera House, Mumbai
Event Guide
For Age(s)
Family Friendly
Invite your friends
and enjoy a shared experience
HSBC presents 'Sitar for Mental Health' by Rishab Rikhiram Sharma at Royal Opera House in Mumbai on 4th Feb, 2023
The Royal Opera House, Mumbai
Event Guide
For Age(s)
Family Friendly
Invite your friends
and enjoy a shared experience
Event Guide
For Age(s)
Family Friendly
Invite your friends
and enjoy a shared experience
HSBC Presents Sitar for Mental Health by Rishab Rikhiram Sharma | Mumbai
Dear reader, After a series of performances across the United States and several ongoing integral sound therapy training studies it brings me immense joy & pleasure to invite you to Sitar for Mental Health experience.
Sitar for Mental Health events are multi-sensory-immersive experiences helping bridge ancient practices of sound and energy medicine using traditional Indian Classical music, designed to invoke states of deep reflection, receptivity, and introspection. Bringing awareness towards Mental health by inducing education and experiences of the auditory sensory processing system which Classical music brings forth and re-introduce the sound of the Sitar as a transformational tool.
The session will focus on silence and deep listening, and the gradual adoption of the development of musical improvisation and consciousness. It's how we experience the world, how we turn input into directions. Rishab navigates to use Sitar as a tool to put the audience through a journey, beginning by focusing on a personal intention, and taking time to sense their emotions. Visualizing them and feeling them. Letting go of all mental and physical attachments at that moment.
About Rishab Rikhiram Sharma
Sitarist, music producer and mental health advocate, Rishab Rikhiram Sharma, was made for the spotlight and his multi-faceted career is shaping up to be nothing short of iconic. Having been born into the world-renowned, Rikhi Ram family of luthiers from Delhi, Rishab was first introduced to the Sitar at the tender age of ten. His own father, the master luthier, Sanjay Sharma (Rikhi Ram), became his first Guru, and after a few years of unwavering dedication and commitment, Rishab was introduced, for the first time on stage, in 2011. It was on this occasion that his performance caught the attention of Sitar Maestro, Pt. Ravi Shankar, who took young Rishab on as his youngest and last disciple. Under his tutelage, Rishab was able to hone his natural talent with the utmost commitment and perseverance.
Rishab is an alumnus of Delhi Public School R. K. Puram. At the age of 17, he moved to New York City to study at City University New York, Queens College Campus; pursuing Music Production and Economics. Rishab has built a strong network in the US and is well-known for incorporating modern music elements into his classical training. He has also amassed quite a following on mediums such as Youtube, Instagram, Facebook, and most recently, Clubhouse. On social media, you can find Rishab regularly sharing his musical experiments, collaborating with other artists, and pioneering the formation of a global community of musicians and music lovers in generating awareness for mental health.


About TIFA
TIFA is a transdisciplinary platform for Creativity and Culture in India. We're an inclusive space for local involvement and global exchange, facilitating critical dialogue, cultural engagement and experimental practice relevant to our evolving context.
https://tifastudios.in/
The Royal Opera House
Mathew Rd, Charni Road East, Opera House, Girgaon, Mumbai, Maharashtra 400004, India
GET DIRECTIONS
HSBC presents 'Sitar for Mental Health' by Rishab Rikhiram Sharma at Royal Opera House in Mumbai on 4th Feb, 2023
The Royal Opera House, Mumbai
Event Guide
For Age(s)
Family Friendly
Invite your friends
and enjoy a shared experience