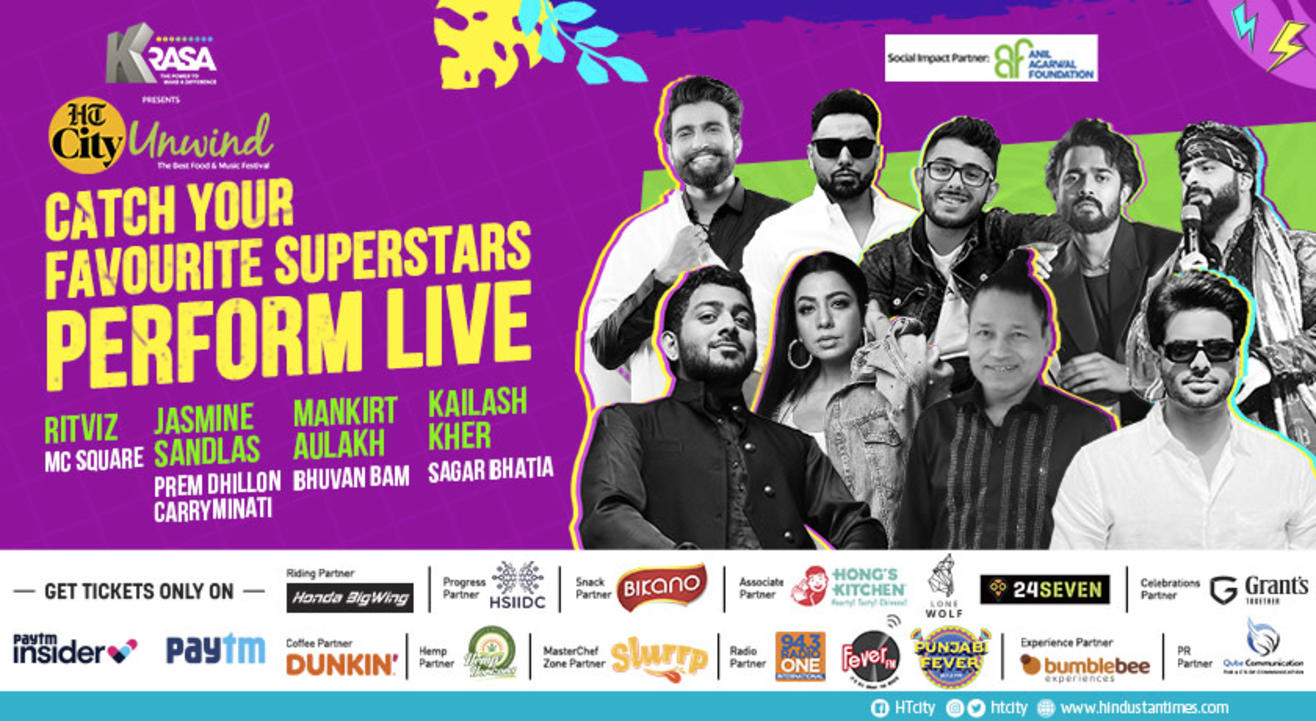 October 6, 7, 8 | 11 AM - 10PM
Gate no.13, JLN Stadium, Delhi
Event Guide
For Age(s)
Family Friendly
Invite your friends
and enjoy a shared experience
October 6, 7, 8 | 11 AM - 10PM
Gate no.13, JLN Stadium, Delhi
Event Guide
For Age(s)
Family Friendly
Invite your friends
and enjoy a shared experience
Event Guide
For Age(s)
Family Friendly
Invite your friends
and enjoy a shared experience
Welcome to the sensational second edition of HT City Unwind! Discover a world of delectable delights at our diverse food stalls and groove to a stellar artist line-up for non-stop entertainment. Elevate your culinary skills at our MasterChef zones and rub shoulders with influencers. This year, we're back bigger and bolder, promising an unforgettable fusion of food, music, entertainment, and culinary expertise!
Unwind Artist Lineup 2023
Friday:
MC square
Ritviz
Saturday:
Prem Dhillon
Jasmine Sandlas
Carryminati
Sunday:
Mankirt Aulakh
Sagar Bhatia
Bhuvan Bam
Kailash Kher
Q: Are the tickets transferable online or offline?
A: No
Q: Can I upgrade my ticket after booking?
A: Yes, tickets purchased can be upgraded.
Q: What time do the gates open?
A: Friday, Saturday & Sunday – 11 AM Onwards
Q: Is re-entry into the venue allowed?
A: This is a single-entry show. Once you exit the show area, you will not be permitted to enter again.
Q: Is there a minimum age requirement for the event or is it family friendly?
A: It's family-friendly, if you are under the age of 16, you will need to be accompanied by an adult guardian.
Q: If it is a family friendly event, please mention the age limit, above which a ticket needs to be purchased?
A: Children up to the age of 6 years can enter for free. Children above that age will require a ticket.
Q: Is there a facility to charge electronics at the venue?
A: No
Q: Is the venue wheelchair accessible?
A: Yes
Q: Are there any restrictions on permissible items in the venue apart from those mentioned in T&C's?
A: No
Q: Will food & alcohol be available at the venue?
A: Yes
Q: At what time will the event end?
A: 10 PM
Q: Is there a designated smoking area?
A: No
MC Square



Ritviz



Jasmine Sandlas



Prem Dhillon



Carryminati



Mankrit Aulakh



Sagar Bhatia



Bhuvan Bam



Kailash Kher



Gate no.13, JLN Stadium
Jawaharlal Nehru Std-Gate No. 13 Lodhi Road, New Delhi 110003
GET DIRECTIONS
October 6, 7, 8 | 11 AM - 10PM
Gate no.13, JLN Stadium, Delhi
Event Guide
For Age(s)
Family Friendly
Invite your friends
and enjoy a shared experience