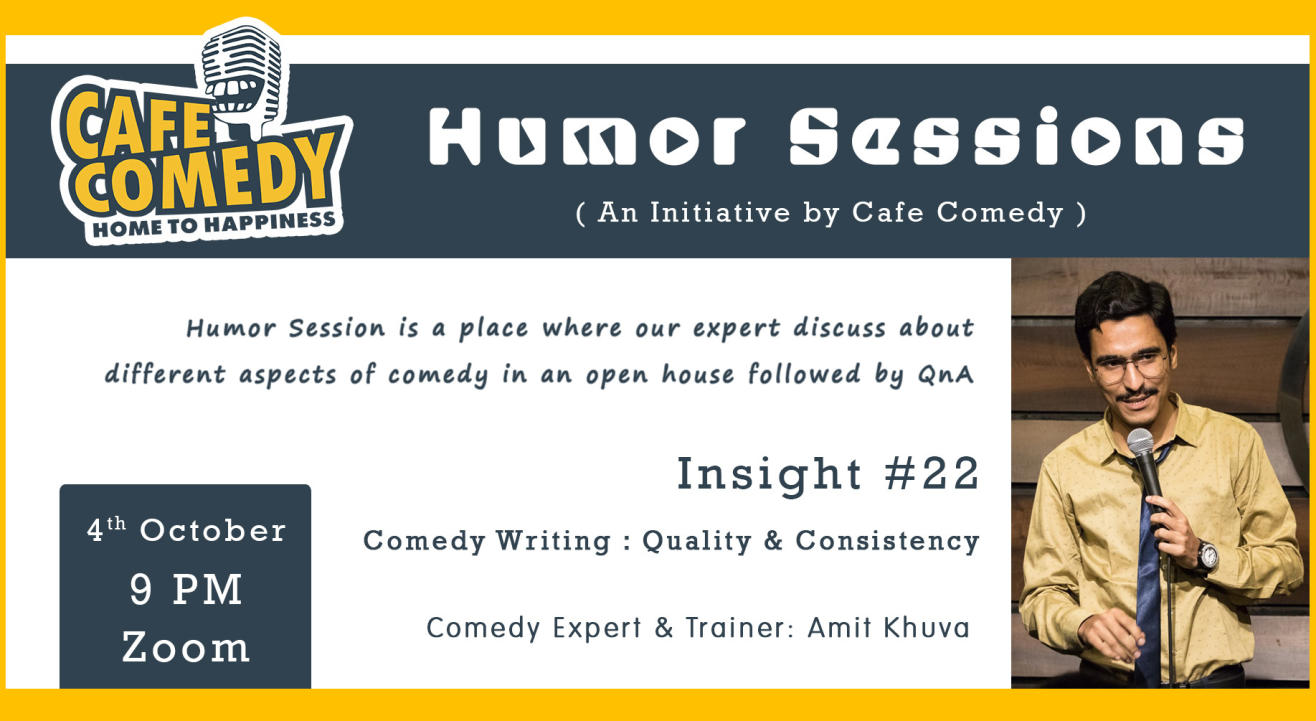 Comedy Writing : Quality & Consistency - Humor Session - Insight #22
Event Guide
For Age(s)
Family Friendly
Masterclass
Learn from an expert
Invite your friends
and enjoy a shared experience
Comedy Writing : Quality & Consistency - Humor Session - Insight #22
Event Guide
For Age(s)
Family Friendly
Masterclass
Learn from an expert
Invite your friends
and enjoy a shared experience
Event Guide
For Age(s)
Family Friendly
Masterclass
Learn from an expert
Invite your friends
and enjoy a shared experience
'Comedy Writing: Quality & Consistency' - In this Humor Session the expert will talk about maintain the quality/funniness of content while writing consistently.
Writing Regularly & Writing Funny Things Regularly Are Different Things. If Writing A Nice 5 Minutes Comedy Set takes months for a standup comic, imagine how tough it would be for a team of writers to write a bunch of comedy acts regularly for daily shows on television / social media channels. In this session, the comedy expert will guide you thoroughly about the process of writing funny consistently.
'Humor Sessions' is an initiative by India's Premiere Comedy Training Academy 'Cafe Comedy' for all the aspiring comics. This is where an expert shares an inside about comedy in a brief session.
Inviting all the people who are trying their hand in comedy into this open house followed by QnA.
Pre-requisites to attend the Session:
Interest in Comedy, Curiosity & Lots of Enthusiasm.
There is a small amount of registration charge to maintain the process of gathering a group of interested people discussing the Intellectual Comedy Subjects.
Registration is Must for the Entry.
For Details : +91 9512182874
Comedy Writing : Quality & Consistency - Humor Session - Insight #22
Event Guide
For Age(s)
Family Friendly
Masterclass
Learn from an expert
Invite your friends
and enjoy a shared experience