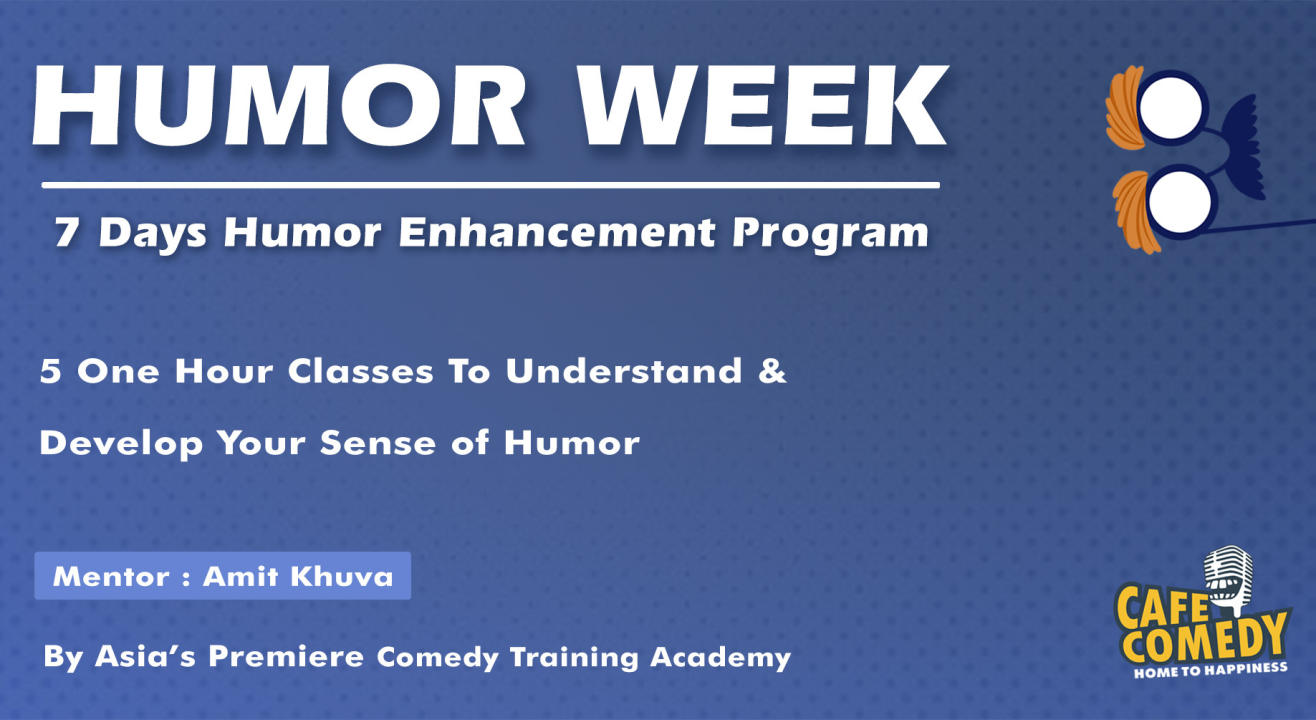 Humor Week : 7 Days Humor Enhancement Program by Cafe Comedy
Event Guide
For Age(s)
Family Friendly
Masterclass
Learn from an expert
Invite your friends
and enjoy a shared experience
Humor Week : 7 Days Humor Enhancement Program by Cafe Comedy
Event Guide
For Age(s)
Family Friendly
Masterclass
Learn from an expert
Invite your friends
and enjoy a shared experience
Event Guide
For Age(s)
Family Friendly
Masterclass
Learn from an expert
Invite your friends
and enjoy a shared experience
🌎 Asia's Only Comedy Training Academy 'Cafe Comedy' is Presenting 'HUMOR WEEK' Which is a One Week Practical Humor Enhancement Program to Understand & Develop Your Sense of Humor.
7 to 13 October 2022 | Zoom | 8:30 PM IST Onwards (India Time)
-: Here is the Schedule of the Program :-
Day 1 (7 Oct) : 1 Hour Session on Identifying Your own unique Sense of Humor Style
Day 2 (8 Oct) : 1-Hour Activity-Based Workshop To Find What's Funny! & To Learn How to Crack Some Structured Jokes
Day 3 (9 Oct) : Homework Day With Reading / Writing Activities
Day 4 (10 Oct) : 1 Hour Session About Spontaneity in Humor
Day 5 (11 Oct) : Homework Day With Whatsapp Group Based Activities
Day 6 (12 Oct) : 1 Hour Workshop About Timing and Coordination in Humor Along with Activities Where We Get Out of the Comfort Zone to be Comfortable
Day 7 (13 Oct) : 1 Hour Session For Finding a Purpose to Pursue Humor & Exploring Associated Opportunities
If you are a person who often hears that "you have a great sense of humor" or "you are funny",
then this one week - 5 sessions program is for you.
Let's together find your unique style of sense of humor & go through some activities to enhance it.
Once done with it, the mentor will also guide you with exploring opportunities to use it / practice it in your routine.
About The Mentor :
Mr. Amit Khuva Founder of India's Premiere Comedy Training Academy 'Cafe Comedy' is a well-known comedian of Gujarat & India's First - World's Youngest Standup Comedy Trainer as well. He has done more than 2500+ Live Shows along with around 500+ TV Episodes & Has 12+ Years of Experience In Comedy Performing & 6+ years In Comedy Training.
The Fees For The Program is : 529/- INR OR $12 USD
Limited Seats, Register Now!
For Details Or Queries : +91 9512182874 / 84
Humor Week : 7 Days Humor Enhancement Program by Cafe Comedy
Event Guide
For Age(s)
Family Friendly
Masterclass
Learn from an expert
Invite your friends
and enjoy a shared experience