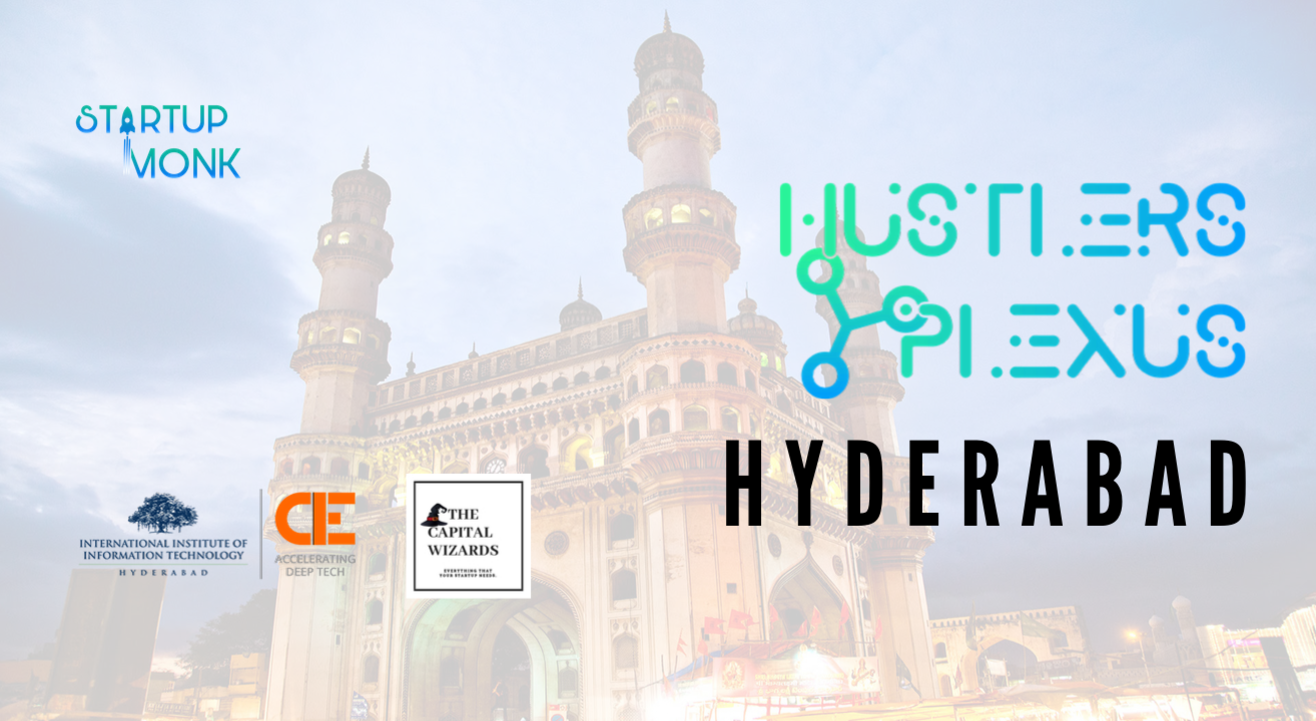 Events
Hustlers Plexus, Hyderabad
About
Hustlers Plexus is an initiative by Startup Monk to provide a bridging platform between the forthcoming entrepreneurs and industry experts, for the purpose of networking and learning through local meetups in metros and tier II and III cities across India.
We are making an effort to bring entrepreneurs, startups, technocrats, mentors, investors, corporates, professionals, and students from the local entrepreneurial ecosystem under one roof to share knowledge, exploring opportunities and forging meaningful relations and friendships among the stakeholders of the ecosystem.
We host esteemed speakers, which include seasoned and experienced entrepreneurs and investors to share their knowledge and experience with the other stakeholders of the ecosystem and help find answers to their questions.
It provides value to the community members by means of providing an opportunity to build more real individual connections and learn from those who have already proven their mettle in the ecosystem.
Hustlers Plexus, Hyderabad
A meetup opportunity for entrepreneurs, startups, technocrats, mentors, investors, corporates, professionals, and students from across Hyderabad and to discuss what opportunities and challenges lie ahead for the local entrepreneurial ecosystem.
We also bring an opportunity for early stage startups and entrepreneurs to pitch their product to esteemed investors from the ecosystem.
Event Timeline
11:30 AM to 12:30 PM
Panel Discussion
The speakers shall be:
Sanjay Jesrani. Founder & CEO at GoNorth Ventures
Sanjay Jesrani is the Founder & CEO of Go North Ventures. Go North is an angel investment and advisory firm, focused on investing in & mentoring Startups. It also provides Strategy inputs to high growth Early stage companies and SMB's moving to their next orbit.
Sanjay, an active member of the Indian Angel Network, the premier national group of Angel Investors – has investments in startups across the Healthcare, Education, Impact, Consumer and Tech sectors.
Madhur Goyal . CEO at OutWit Out Play and an Investor
Madhur is the Co-founder & CEO of Outwit Outplay, a Global, Award-Winning Technology & Innovation Research, Advisory & Consulting firm.
In his other avatar, Madhur is an Investor, Advisor, Mentor, Board Observer & Chief Strategist to The Board (for Digital Transformation decisions) of multiple US, Canada and India based various industries for solutions in & around the latest technologies like Cloud Computing, RPA, AI, IoT, Blockchain, AR, VR, MR, XR and 3D Printing.
Samrat Reddy. Founder of Drunken Monkey
Samrat is the founder of Drunken Monkey, India's first Smoothie Bar Chain brand. It delivers the best blended fresh-fruit smoothies and juices in over 170 special combinations. Reddy closed the March 2019-ended fiscal at a revenue of Rs 20 crore, with 65 outlets across 20 cities, against Rs 1.8 crore, and five outlets across Hyderabad in first year.
Rishabh Hurshan. CEO PalNesto (Digital Marketing and Branding Expert)
Rishabh is CEO at Palnesto, a social sharing and social networking platform that helps you understand more from others experience . Verify , Reviews , sharing and segregating information are some of the key functionalists of the platform , It also has a offline connect model to help reach out communities which are not so comfortable sharing their knowledge , experience and expertise online.
12:45 PM to 1:45 PM
Pitching Session
Startups and entrepreneurs, especially those in early stage, get an opportunity to pitch to the investors.
1:45 PM to 2:30 PM
Networking Session
Venue
CIE at IIIT Hyderabad
Ground Floor, Vindhya C4, IIIT-H Campus, Gachibowli, Hyderabad, Telangana 500032
GET DIRECTIONS