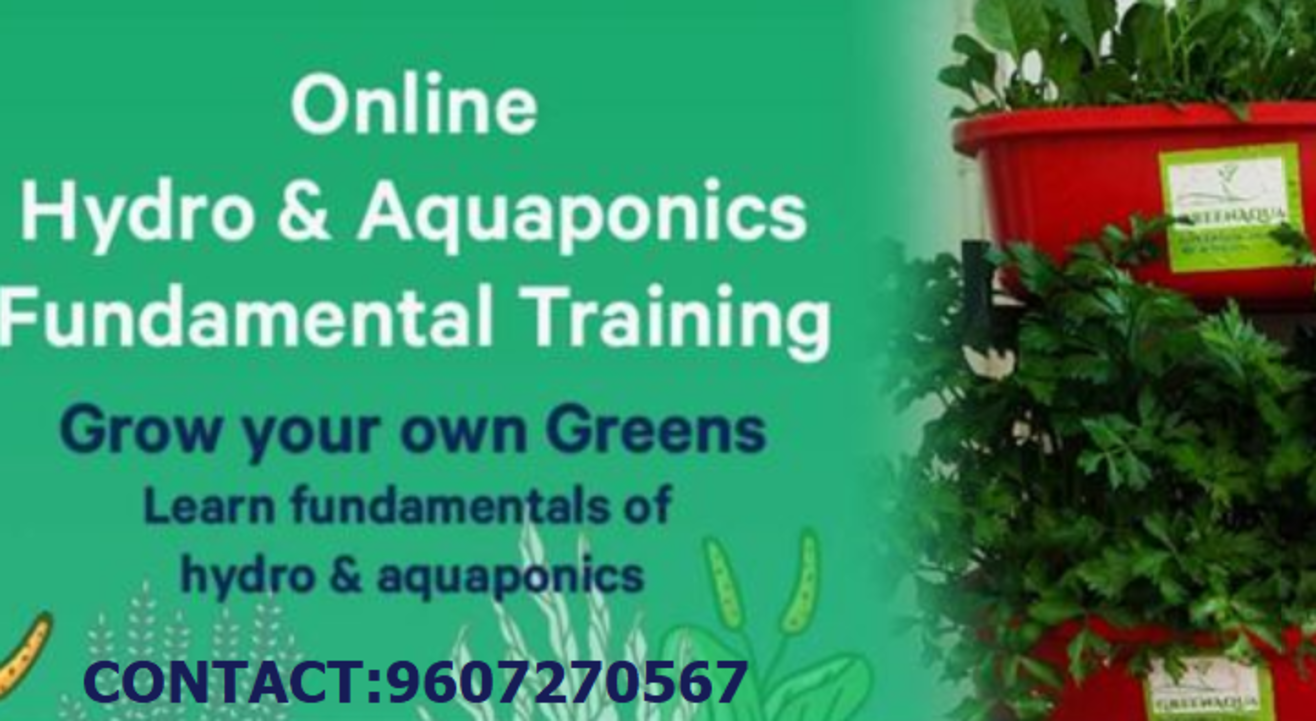 Hydroponics or Aquaponics? Learn both to decide wise!
September 27 | 9AM - October 4 | 1PM
Invite your friends
and enjoy a shared experience
Invite your friends
and enjoy a shared experience
About the Event
Get excited! 😊
All important 14 points in 1 comprehensive Soil-less Home Farming training!
Learn both Hydroponics and Aquaponics Fundaments to decide wise!
'Grow your own greens naturally-A learning session for home farming' is arranged by GreenAqua online.
Training will cover all 13 important points on different soil-less farming methods with fundamental and technical overview.
Certified expert team from : GreenAqua
Save the Date: 27th September, 2020 Or 4th October 2020
Time: 9.30 a.m. to 1.30 p.m.
Place: Online Google Meet
Fees: 799 Rs./person 🤩
(G-pay, Paytm at 9650011895 online bank transfer accepted)
Hurry! For Registration Call or Whatsapp @9650011895/9607270567
Take Away
Soil-less Smart Home FarmingTraining Agenda
1. Different methods of soil-less farming.
2. What is Aquaponics & Hydroponics.
3. Advantage, disadvantage of Aquaponics & Hydroponics (how to save 90% water than traditional gardening)
4. Important Considerations and parameters for Aquaponics & Hydroponics.
5. Site selection for home farming.
6. Germination process, what challenge you may face.
7. Microgreens growing.
8. Growing media selection for home system.
9. Different Aquaponics, Hydroponics system types.
10. Overview of fish tank management in aquaponics.
11. Overview of nutrients in hydroponics.
12. List of materials to start home system.
13. Pest Control- home remedies.
14. Starting your home system.
Get E-learning material and have a great experience!! :)
Workshop Facilitator: Abhishek Dutta & Moumita Mukherjee
Abhishek Dutta: With a degree from Annamalai University in Marine Biology, Abhishek completed an international Pvt. certification (from Australia) in Aquaponics and has been working for more than a decade in Aquaculture and IT consulting industry. He is very passionate about sustainable natural farming, integrating technology. He has been researching for more than 5 years on the modern techniques (Aquaponics and Hydroponics) of agriculture and putting his best effort to make it available for Indian farmers.
Moumita Mukherjee: Moumita has an M.Sc in Zoology and MBA in Marketing and IT. She quit her corporate job to dedicate herself to ' GreenAqua', with a mission to help people grow and eat safe food, save water, promote go-green and gain a sustainable living concept as a tribute to mother nature. She has been practising Aquaponics farming for 5 years.
For any queries reach out to us at:
GreenAqua
Email- greenaqua.consult@gmail.com
Phone- +91 9607270567, 9650011895
www.greenaqua.co.in
Facebook: https://www.facebook.com/Naturalfarmingatpune/
Note:
*Training will be on Google Meet. Passcode will be sent into participant's E-mail id, once registered.
*Viewers need to ensure good internet connectivity on their side for a seamless experience.
*The organizer will not be responsible for any issues pertaining to internet connectivity.