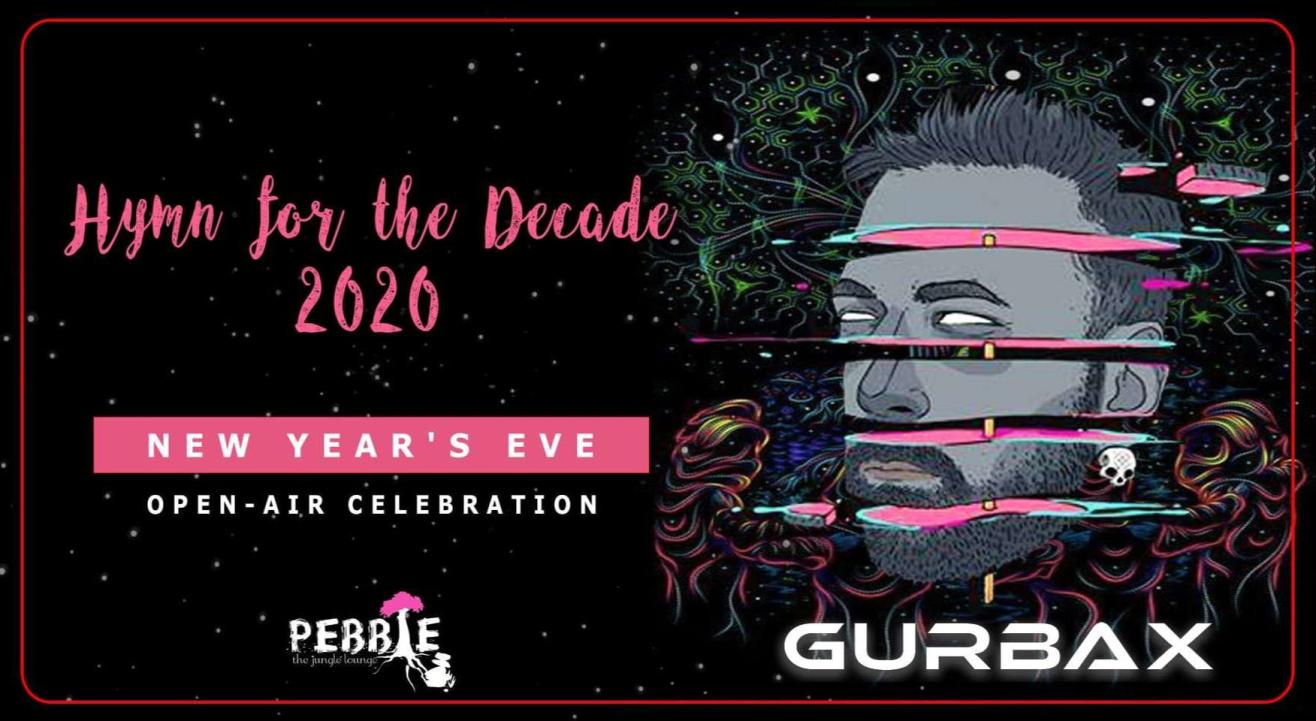 Hymn for the Decade 2020 ft. Gurbax
December 31 | 8PM Onwards
Pebble, Palace Grounds, Bangalore, Bengaluru
Step out and enjoy this event
Invite your friends
and enjoy a shared experience
Hymn for the Decade 2020 ft. Gurbax
December 31 | 8PM Onwards
Pebble, Palace Grounds, Bangalore, Bengaluru
Step out and enjoy this event
Invite your friends
and enjoy a shared experience
Invite your friends
and enjoy a shared experience
Quick HighFactors:
Biggest New Year Concert In Bangalore
Featuring most popular DJ in Indian bass music scene - GURBAX
Open Air jungle theme venue - Pebble
An experience like no other - Concert feel in a jungle theme venue
Countdown to New Years
And the perfect way to end 2019!
If it's music, EDM, and bass that moves you, then the New Year Party at the beautiful Pebble featuring Gurbax is the best place for you to be at!
One of the freshest DJ/producers to watch out for in the Indian bass music scene, Gurbax has won the hearts of Indian millennials like no DJ has ever been able to do. From metal- head to bass-head, his journey started in the city of Bengaluru where he played guitar in punk rock and thrash metal bands, and he his back to the city again this NYE 2020 to put up a show thats going to rock Namma Bengaluru like never before!
And in a place as beautiful as Pebble, with its Open Air jungle ambience and chilled out vibe, you can definitely not think of a better way to end your year than this.
Artists: Gurbax, Damini
Gurbax
Kunaal Gurbaxani aka GURBAX is one of the freshest & ubiquitous DJ/producers in the Indian electronic music scene. From metal-head to bass-head, his journey started in the city of Bengaluru where he played the guitar in punk rock and thrash metal bands. Moving to Atlanta for college was like a blessing for him since it was there that he discovered his love for bass music. "It really was an easy transition," he says, "They both encompassed my love for heavy music, however, I could never really relate to the metal culture of angst and destruction. With the bass scene, on the other hand, it was more than just the music – there was a sense of family in the underground culture of pure energy, love and happiness that really resonated with me and drew me in".
Damini
DJ DAMZ is an upcoming DJ from Pune. Her passion for dancing, singing and music drove her to learn mixing from DJ Lemon Academy to make people groove to her music. When DJ DAMZ is not spinning she is a Model, Actress and Interior Designer. She has completed her course in performing arts from London and aspires to be Boom in her industry.
FAQs
Kids allowed: Yes
Kids Age: 0-5 Years is Free, 6-12 kids pass is available, above 12 years normal tickets would have to be purchased
A table reservation or first come first serve (Availability): First Come First Serve
Any Dress code (yes/no): Men must wear closed footwear (Shoes) and full length bottoms.
Venue Landmark – Palace Grounds Gate Number 9
Tickets will allow entry only or its inclusive of F&B: Entry Only, a component of ticket includes cover charge which will be completely redeemable on Food & Beverages. Please read the ticket description on checkout for more details.
Pebble, Palace Grounds, Bangalore
#3 Princess Academy, Ramanna Maharishi Road, Palace Grounds
GET DIRECTIONS
Hymn for the Decade 2020 ft. Gurbax
December 31 | 8PM Onwards
Pebble, Palace Grounds, Bangalore, Bengaluru
Step out and enjoy this event
Invite your friends
and enjoy a shared experience