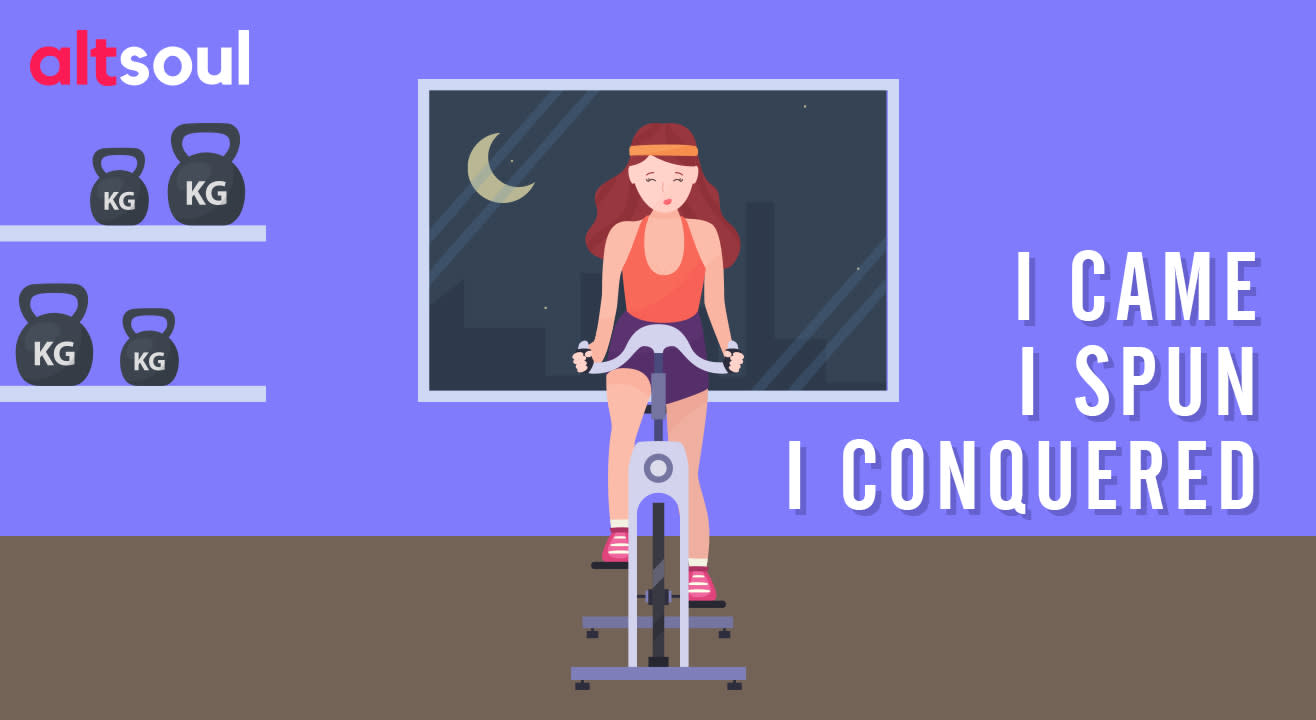 Workout
I came I spun I conquered
October - November | 8:15AM
About
Spin Cycling is a group indoor cycling workout where you control the intensity. It's fun, low impact and you can burn up to 675 calories a session*.
With great music pumping and the group spinning as one, your instructor takes you on a journey of hill climbs, sprints and flat riding. In an spin cycling workout you repeatedly spin the pedals to reach your cardio peak then ease back down, keeping pace with the pack to lift your personal performance and boost your cardio fitness.
Spinning is a great way to build up your sense of personal achievement. You can draw on the group's energy and find your rhythm in the music. You control your own resistance levels and speed so you can build up your fitness level over time. It's a journey, not a race!
Altsoul.in & Volt Energy Club bring to you Spin Cycling
You can also attend this event, by purchasing Altsoul.in 1 week pass, and getting access to unlimited fitness, wellness & dance classes from the best gyms and studios around you.
This activity is being conducted by Altsoul & Dhurii.

Altsoul.in is a membership platform which gives you Free access to unlimited dance & fitness classes from the best gyms, studios & trainers in Bangalore.

Dhurii -Dhurii is a pioneer in the movement & wellness space. They conduct some of the highest rated Yoga, Meditation and Movement classes in Bangalore
How do I access other classes, if I purchase the 1 week pass?

Once you purchase a 1 week pass, an account will be created for you on Altsoul.in . You will receive your login details via email and sms. Using those login credentials you can book any class on the platform for free for 7 days from the day you try the first class."
Book any workshop ticket and get a 7-day cult.fit pass FREE. Offer valid till 31st September. (T&C apply) Click here for more information