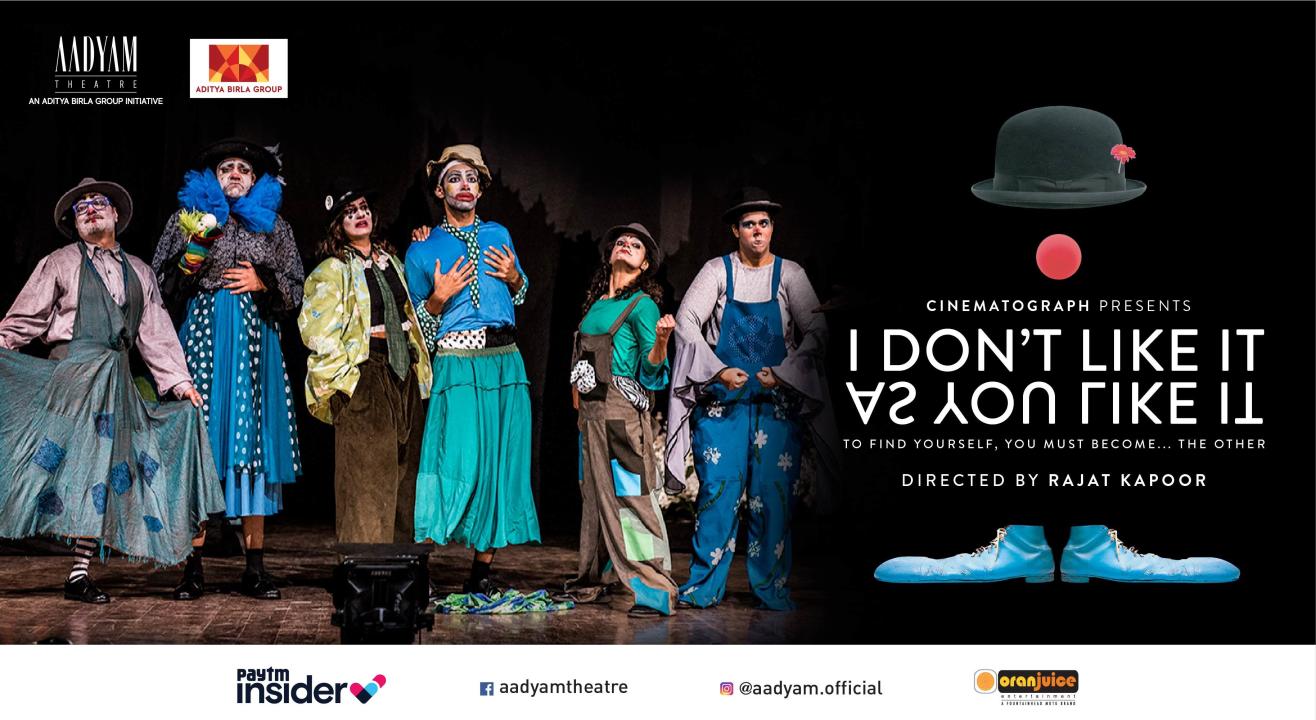 I Don't Like It, As You Like It
November 7th, 21st & 22nd | 6:45PM
Enjoy this event from your home
Event Guide
Digital Event
Live On Insider
For Age(s)
Family Friendly
Interactive show
Be a part of the show
Invite your friends
and enjoy a shared experience
Event Guide
Digital Event
Live On Insider
For Age(s)
Family Friendly
Interactive show
Be a part of the show
Invite your friends
and enjoy a shared experience
About the Event
Synopsis:
A group of clowns are trying to put up Shakespeare's 'As You Like It'. The director of the troupe is distressed because he neither likes the play (which he says, is not a comedy – just two laughs and a death away from tragedy), nor is he very fond of the inept clowns who insist on hamming. Plus, they don't have a rehearsal space anymore. They decide to move to the forest.
As if things were not bad enough, the director has a moment of epiphany. 'Shakespeare made Rosalind Ganymede. What an underachiever. I will make all the men play women, and all the women play men.', he says.
What follows is a recipe for a perfect disaster.
PLEASE NOTE - THIS IS A PRE-RECORDED SHOW.
THIS PLAY WAS SHOT AND RECORDED LIVE IN AN EMPTY AUDITORIUM IN KEEPING WITH PANDEMIC-RELATED RULES & REGULATIONS SET FORTH BY THE GOVERNMENT OF INDIA.
THE RECORDED PLAY STREAMING WILL BEGIN AT 7:00 PM. PLEASE FEEL FREE TO JOIN 15 MINUTES EARLY TO DISCOVER THE AADYAM EXPERIENCE DIGITALLY
Cast & Crew:
Produced by
Cinematograph
Directed by
Rajat Kapoor
Cast (in alphabetical order)
Aadar Malik
Cyrus Sahukar
Faezeh Jalali
Joy Fernandes
Rytasha Rathore
Shruti Vyas
Vinay Pathak
Crew
Production Design: Meenal Agarwal
Production Design Assistant: Naveen Iohara
Executive Producer: Sachin Kamani
Costume Design: Tanya Sharma
Lights Design: Arghya Lahiri
Lights Operation: Asmit Pathare
Assistant Directors: Aditya Kelgaonkar & Sameer Sheikh
AV Recording & Edit: Sameer Sheikh
Production Assistant: Hussain Zaidi
Music Design: Naren Chandavarkar
Sound Operation: Aditya Kelgaonkar
Video Shoot Production & Editing: Dishkyao Entertainment
Rajat Kapoor is a film and theatre director. He is a three-time national award winner for his film work. Films like Raghu Romeo, Mixed doubles, Mithya, Ankhon Dekhi, Kadakh and rk/rkay are among a few credited to his name.
When it comes to theatre on stage, Rajat has directed The Maids, Deathwatch, Who Is Afraid Of Virginia Woolf, Baal, C For Clown, Jacques and His Master, Hamlet The Clown Prince, What's Done Is Done, Nothing Like Lear among others.
Rajat has also actively acted in a string of films.
Aadar Malik is an actor, musician, stand-up comedian, improviser, having performed all over India and internationally for his shows. He is a headlining comic at The Comedy Store, and The Canvas Laugh Club in Mumbai. Being a singer-songwriter, he often mixes songs and musical comedy as part of his standup routines. Starting off in theatre with Barry John's Baghdad ka Ghulam, he also co-wrote the play Papier Mache Petals, which was one of the four plays selected from all over India for the Thespo festival. Aadar's comedy group also produced the Indian version of Reduced Shakespeare Company's, The Complete Works of William Shakespeare Abridged, which premiered at the NCPA's Centrestage festival in Mumbai.

Cyrus Sahukar is known for his brilliant comic wit, satirical comedy shows and his ability to not just hold but also engage an audience; whether on radio, television, films or live events — Cyrus Sahukar has always been a popular face in the Indian media, well-loved by audiences and industry alike. Cyrus had carved his own niche and literally spearheaded the youth comedy genre, by hosting and fronting some of the best comedy content on Indian television.
From hosting numerous television shows to acting in full-length feature films, he has endeared himself not just to fans and Indian audiences, but to the television and film fraternity as well.

Faezeh Jalali is the Founder and Artistic Director of FATS Thearts, Mumbai. She is an actor, director, writer, teacher, choreographer, activist, aerialist, and a very cool person. After her BA and MFA degrees in theatre in the USA, she acted in several plays in India and abroad, some of which include, Jatinga (Susanne Miller), I Don't Like It, As You Like It (Rajat Kapoor), A Midsummer Night's Dream (Tim Supple), Arms and the Man (Naseeruddin Shah), The Djinns of Eidgah (Richard Twyman), Thook (Abhishek Majumdar) and As You Like It (Blake Robison), among many others.
She has written and directed several well acclaimed plays, like, Shikhandi-The Story of the Inbetweens, Bone of Contention and 777 among others. She has also done some films, ads and web series too but theatre is her first love, always.

Joy Fernandes has over three decades of experience on stage, both nationally and internationally. His international work includes playing the comic lead 'Nick Bottom' in the internationally acclaimed version of Shakespeare's 'A Midsummer Night's Dream' directed by Tim Supple which ran for over 250 successful shows in India, US, UK, Canada, Europe and Australia. He also played the principal character of 'Shantilal' in the commercial hit 'Merchants of Bollywood' directed by Toby Gough and was part of their successful tours in UK, China, Australia, New Zealand & Singapore.
Joy has also acted for, worked, and workshopped with theatre stalwarts like Dame Cicely Berry, Irshad Panjatan, Catherine Dubois, Naseeruddin Shah, Rajat Kapoor, Ramu Ramanathan, Danish Hussain and others. He has acted in, written, directed and produced several successful plays over the years. He has acted in several feature films (Jajantaram Mamantaram, Paanch, Dasvidanya etc.), and directed, scripted, and acted for several TV shows, ads, web-series, stand-up gigs, conceived and hosted events etc. He has trained every age and personality profile in voice and drama and is a member of the Guest Faculty for Comedy, Voice, Breath, Speech, and Improvisation, at the prestigious Films and Television Training Institute in Pune. He conducts theatre therapy for corporates under his brand, EnterTrainment. Humour, comedy, wit and satire are an integral part of Joy and passionately show up in most of his work.

Rytasha Rathore is an actor, creator, and podcast host based in Mumbai. Armed with a BA (1st Class Honours) Acting from LASALLE Singapore, she has acted in several plays since returning to India in 2015. On screen, she is best known for her work in shows like Masaba Masaba, Badho Bahu, and Sex Rated: The VICE Guide to Sex in India. She is an active voice for body and sex positivity on social media and speaks about the triumphs and tribulations of adulthood on her podcast, Agla Station Adulthood, which just completed 50 episodes. She's a highly talented actor as well as an all-round awesome human bean and you should follow her story on and off screen.

Shruti Vyas is an actress, who has been part of theatre, ad commercials, movies, short films, web shows and television too. She appears in Ila & Shikaar by Patchwork Ensemble that is currently running and was also a part of Noises Off by Atul Kumar and 'Aurat Aurat Aurat' written by Ismat Chugati and directed by Naseeruddin Shah which is currently running and has received lot of love and good reviews. Learning, being aware of good playwrights and working in a team is a significant part of this job that Shruti enjoys and it inspires her to pursue theatre even more.

Vinay Pathak is a theatre, film, and a television actor. For films he debuted with a cameo in Deepa Mehta's FIRE, and have done various films ever since. Khosla Ka Ghosla, Bheja Fry, Chalo Dilli, Johnny Gaddar, Dasvidania, Rab Ne Bana Do Jodi, Pappu Can't Dance Sala, Badlapur, Gaur Hari Dastan and Island City are some of his well-known films. His latest film, Chintu Ka Birthday was both a critical and commercial success.
On stage he's largely collaborated with Rajat Kapoor and Atul Kumar. C for Clown, The Blue Mug, Nothing Like Lear, Hamlet The Clown Prince and 'What's Done is Done' are some of his theatre plays that he's done.
Vinay was born in Bhojpur, Bihar, and grew up in a boarding school in Ranchi. He studied literature in Allahabad University, and later did his BFA from SUNY Stony Brook.
As You Like It, I Don't Like It' is his latest play with his longtime friend/collaborator Rajat Kapoor.
Support for Purchase on iOS
If you are trying to buy this ticket on an IOS device, copy the link and open it on your Chrome / Safari mobile browser or on your desktop browser. We're working on getting this up and running at the earliest. Reach out to help@insider.in for any further assistance.