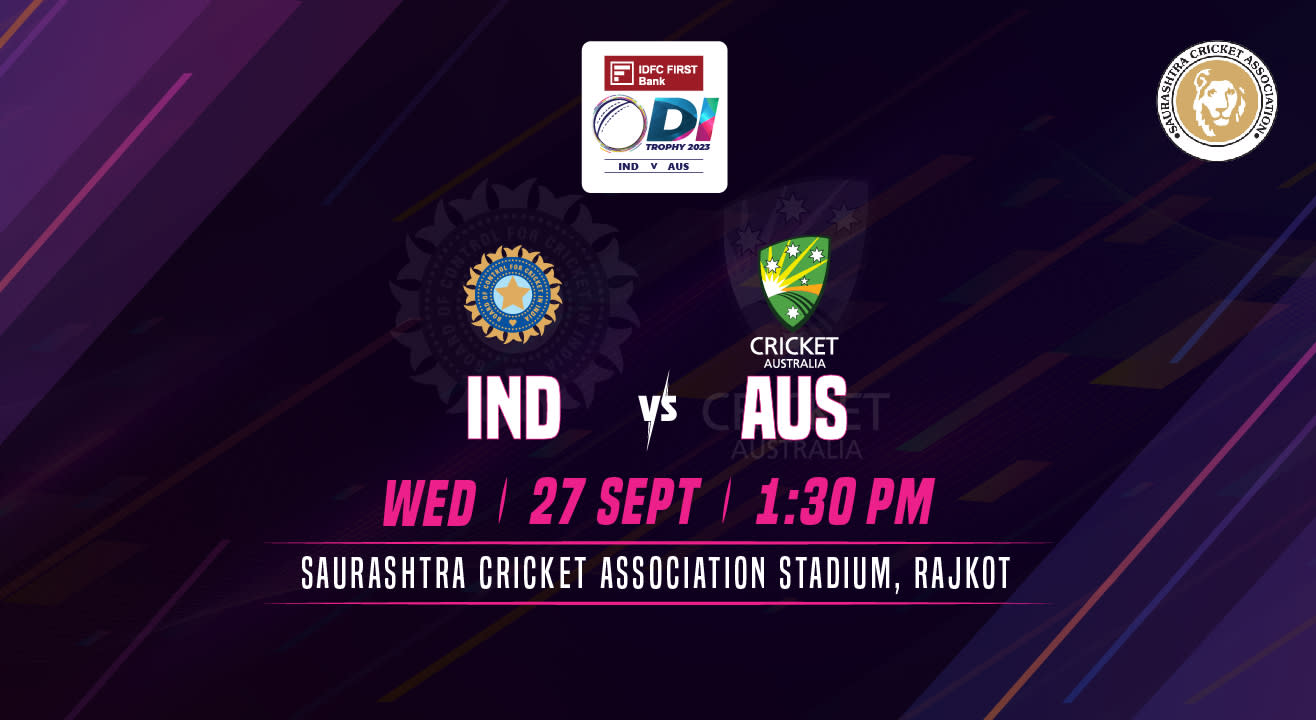 IDFC FIRST Bank ODI Trophy 3rd ODI: India v Australia, Rajkot
Saurashtra Cricket Association Stadium, Rajkot
Invite your friends
and enjoy a shared experience
IDFC FIRST Bank ODI Trophy 3rd ODI: India v Australia, Rajkot
Saurashtra Cricket Association Stadium, Rajkot
Invite your friends
and enjoy a shared experience
Invite your friends
and enjoy a shared experience
Rivalry braces for another match as the 3rd ODI of the three-match ODI Series 2023 between India and Australia sets to ignite the cricketing world once again.
This clash, with its legacy of fierce competitiveness and unwavering passion for the game, is a testament to the rich cricketing history shared by these two giants of the sport. As the World Cup looms on the horizon, both teams are determined to use this series as a platform to fine-tune their strategies, solidify their form, and showcase their strengths.
Expect nothing short of a cricketing spectacle at the Saurashtra Cricket Association Stadium, Rajkot. With star-studded lineups on both sides, this match promises to be a display of impeccable skill and unyielding determination.
So, mark your calendars, secure your tickets, don your team's jersey, and be prepared to cheer your favourite team to glory as they battle it out on the hallowed grounds of Rajkot on Sept 27th. See you at the stadium!
Physical Ticket Pick up
Timing: 11am - 5pm (23 September to 26 September)
Stadium Box Office
Saurashtra Cricket Association, Jamnagar, Rajkot Hwy, opp. GETCO Gujarat
Q. When will I receive my physical tickets?
A. Tickets will be delivered at least 2 - 3 days before the Match.

Q. Are International Payments allowed while buying tickets?
A. You can make payments using International Credit Cards only. One's Credit card should facilitate the International purchase. Do check this with your Bank/Service provider/Card settings for the same. While using the credit card:

Verify that the International purchase facility is on
Transaction limit on the card is checked

Q. What is the required age limit to purchase a ticket and gain entry to the stadium?
A. Children of 3 years and above will require a physical ticket to gain entry to the stadium.
Children below the age of 3 can enter the stadium but will not be provided a separate seat at the match.
Q: Are Transfers/shifts/upgrades allowed?
A: No

Saurashtra Cricket Association Stadium
9P65+MJX, Saurashtra Cricket Association, Jamnagar - Rajkot Hwy, opp. GETCO, Gujarat 360110Hf
GET DIRECTIONS
IDFC FIRST Bank ODI Trophy 3rd ODI: India v Australia, Rajkot
Saurashtra Cricket Association Stadium, Rajkot
Invite your friends
and enjoy a shared experience