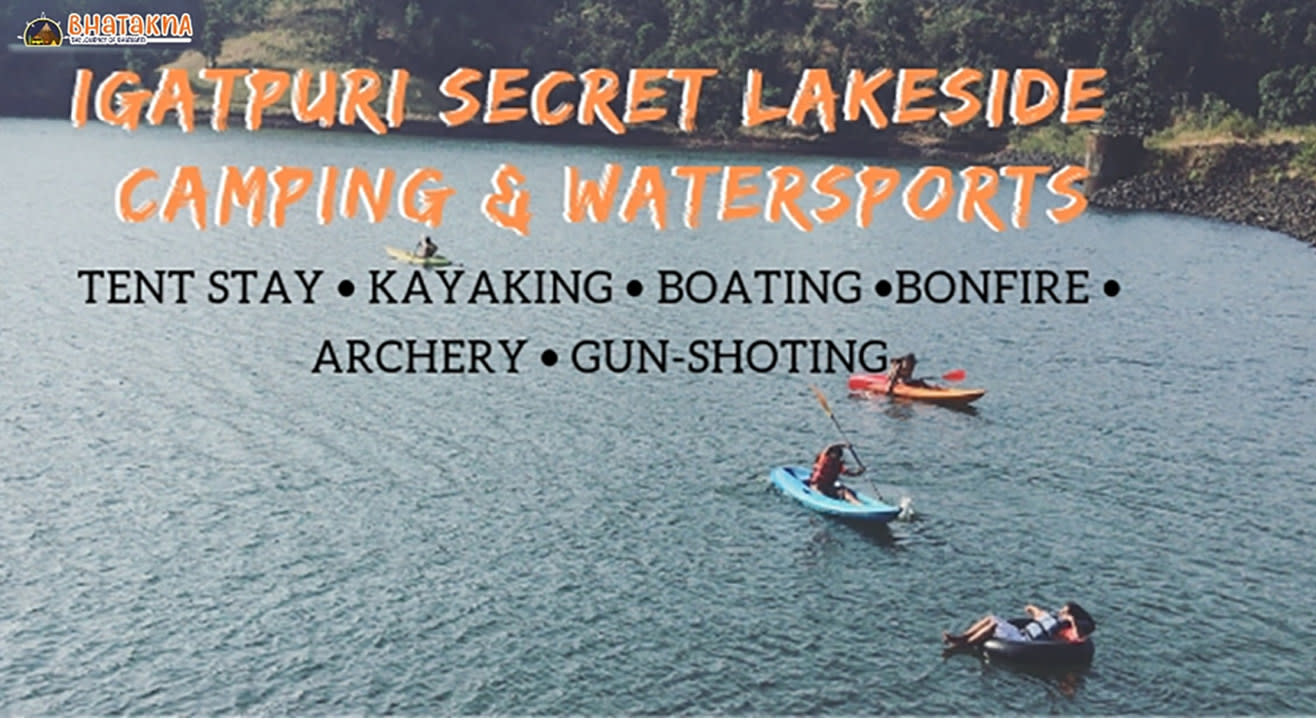 Camping
Igatpuri secret lakeside camping & watersports
About
Camping on the edge of the lake is a truly pleasurable pursuit that will land you right in the lap of stunning scenery and relaxing environs.
A journey to your own peace.
When the green wood's laugh with the voice of joy and the dimpling stream runs laughing by; When the air does laugh with our merry wit, And the green hill laughs with the noise of it. Nightclub of nature couldn't be better than this...!
You must be wondering where possibly can this place be? It's surrounded by the turquoise pristine water, tranquil serenity and unspoiled nature, with a punch of thrill & adventure - Lakeside camping
What about its ambiance?
Pitching up the tent right beside the lake and gathering wood for the campfire surely would make up for the awesome ambiance of this place!!
MIDNIGHT MUSIC | CAMPING | BONFIRE | KAYAKING | BOATING | ARCHERY | GUN SHOOTING | SWIMMING |
Day 1 -
Meeting point: kasara stn Meet bhatakna team
(03:00 pm)

03:15 pm: will Board towards campsite will make a halt on the way to get Refresh.

04:30 pm: We reach campsite & have yummy snack and free time to explore the lakeview

07:00 pm: Enjoy the camp night with your friends & love one.

09:00 am: Prepare for a night under the sky, have a delicious local cuisine of dinner, & let the Arijit Singh in you come out, play a few games, share stories, make new friends and enjoy the campfire.

11:45 am: Off to the tents for a sound sleep (For those who are very sleepy :P). Day Ends.

DAY 2 -
07:30 am Wake up call, get refreshed by a hot cup of tea and breakfast

08:00 am Move towards Lake and get ready for kayaking boating and swimming those who would like to do. Others can enjoy their morning in Tents.

10:30 am done with the watersports activities and swimming allotted time will be given to change and dry

11:30 am Check out from campsite & leave towards Kasara.

03:30 pm: Adios! Back to the mundane city life. Until next time, Bhatakna


Tent stay
traveling from kasara to kasara
Evening Snacks
Dinner
Breakfast
Watersports activities
Boating
Kayaking
Tubing
Swimming with life jackets
Games and activities
Archery
Air Rifle shooting
Jungle trail

Extra meals cold drinks.
Water bottles
anything not mentioned above in inclusion
Confirmation only after full payment on first come first serve basis.
So please register at earliest and book your tents in advance!
Booking is Non-Refundable.
Note entry will be confirmed only after the full payment.

1. Is alcohol allowed?
We do not serve/supply alcohol but you can carry your own stuff.

2. Is the campsite safe for women?
The campsite is completely safe for women & children. The campsite staff is present at the campsite at all times to assist you.

3. Will the food be enough & can I order if I need more?
The food we provide is in a very good quantity & does not fall short. In case you want to order something extra it can be done by paying at the campsite directly.

4. How is the mobile network at the campsite?
The mobile network is good for calling. Data network is average.

5. Are there wild animals nearby?
There are no wild animals around.

6. Are unmarried couples allowed?
Camping is meant for all to experience hence we do not have any such restrictions.

7. Are the washrooms clean?
As camping is an outdoor activity, the washrooms are cleaned & maintained regularly.

8. Who are the staff at the campsite?
The staff at the campsite are locals who manage & maintain the campsite. They will be there throughout your stay to assist you. We believe camping is best experienced when you get to know the locals & their culture.

9. Is transport included?
Yes, included depending on the package you Book.