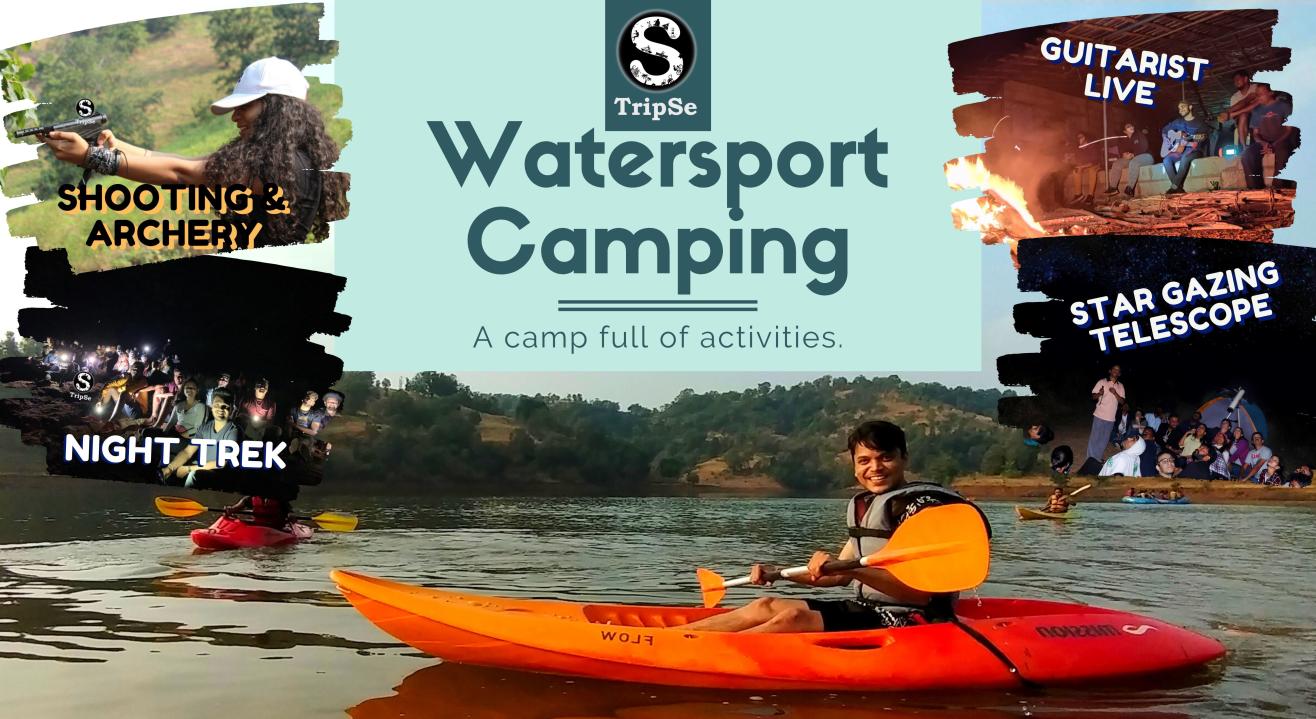 Camping
Igatpuri Secret Lakeside Camping and Watersports | TripSe
February 29 | 10:16AM - March 29 | 10:30AM
About
Water sports camping with LIVE GUITARIST near Bonfire.
| STAR GAZING-TELESCOPE | KAYAKING | BOATING | ARCHERY | GUN SHOOTING |NIGHT TREK | LAKE FACING PRIVATE TENTS | BONFIRE | LIVE MUSIC
(All Inclusive in Package)
Let's rejoice in the beautiful moments in the woods. Join TripSe to Invest your precious time to create magical memories with amazing souls. Try your hands on some thrilling water-sports at our very own beautiful lake. kayaking, water tubing, boating and Lake swimming all under the guidance of our experts. Enjoy the mesmerizing sunset on one side while you see the silver moon shining on the lake on the other side of your camp. Enjoy LIVE MUSICIAN and campfire. See the skies changing their shades from blue to orange. Take a night walk into the deep jungle to explore the Night life which we aren't aware of, sleep under the billion star sky. Wake-up to take an early morning, open your tents window to witness a mesmerizing sunrise over the cliffs and calm water. Let's leave the routine road and take the trails of perfect camping.
HIGHLIGHTS:
1) Lake raft (boating)
2) Lake Personal Kayaking
3) Lake swimming with life jacket (Body Surfing)
4) Air Gun shooting
5) Archery
6) Night Trek
7) Star Gazing with TELESCOPE and an expert
8) Guitarist Live performance
9) Pure Veg, Jain, Non Veg Desi Cuisine
ITINERARY :
Day 1 :
10:16AM Kasara Fast Train from CSMT.
12:29PM Reach the Kasara station.
12:30PM Meet our Leader at Station.
12:35PM Get into the vehicle and start your journey for the destination.
12:50PM En route take a halt at a dhaba for some lunch(Self Sponsored)
02:00PM Continue your journey for the destination.
03:00PM On arrival put your bags in the preinstalled tents.
03:30PM Get ready and Start Enjoying water sports.
06:00PM Evening refreshments. (Tea, Bhel, Potato Vada)
07:30PM Stargazing and Galaxy observations through High power TELESCOPE with a Subject Expert
10:00PM Dinner Time. (Veg, Non Veg, and JAIN (Mention it Prior)
11:00PM Night Trek (Optional)
12:30AM Bonfire, Dumb charades, Guitar Jamming, Antakshari OR Peaceful Sleep
Day 2 (Sunday) :
08:00AM Wake up and Enjoy the Sunrise with morning Trail (Optional)
08:30AM have Breakfast. (TEA, Poha with Shev)
09:00AM Enjoy Archery & Rifle Shooting.
10:30AM Pack your Bags and start your journey back to Mumbai.
HOW TO REACH?
OPTION 1
Mumbai Local: Board 10:16am Kasara Local from CSMT, which will halt at
10:23 AM BYCULLA
10:29 AM DADAR
10:36 AM KURLA
10:40 AM GHATKOPAR
10:57 AM THANE
11:19 AM KALYAN
12:32 PM KASARA
After reaching Kasara, we will arrange a pickup and Drop till the campsite in a 10 Seater sharing vehicle.
OPTION 2
Own Transport: Campsite is approximately 130 kms from Ghatkopar. Google location and assistance will be provided post booking through what sapp 837 088 098.
INCLUSIONS:
1. Water Sports Activities (One Trip).
2. Dinner, Breakfast, Evening Refreshment.
3. Tent Charges.
4. Leaders Expertise Charges
5. Night Trek
EXCLUSIONS :
Day 1 Lunch
Extra Meals not mentioned above
Mineral water
Expense occurred due to unforeseen and unavoidable circumstances Anything other than mentioned above.
THINGS TO CARRY :
1. Id Proof Compulsory
2. Good quality Sports Shoes or Trekking shoes.
3. Water Bottles
4. Dry Snacks (dry fruits. biscuits, plum cakes etc).
5. Personal First Aid kit / Medics as per prescriptions if any.
6. Toiletries (Napkin, face wash, tissue paper etc.).
7. Backpack to carry all stuffs.
8. Extra Pair of Clothes (as a backup if you need a change).
9. Camera (Optional).
10. Torch with Extra pair of Batteries.(Mobile flash wont be entertained)
11. Bed sheet (Optional)
12. Warm Clothes
Basic Hygiene :
• TENT: Tents will have basic arrangements. Half Inch foam Mattress, Bedsheet and a Blanket
• We have dedicated concrete 4 Indian washrooms available, kept neat and clean before campers arrive.
NOTE :
• Strictly adhere to the train Timing, If you miss the train you miss the camp
• Camping is an outdoor activity DON'T EXPECT STAR SERVICES
• All activities will be performed on given time (Unless told otherwise), Its individuals responsibility to attend
• Washrooms are basic and keeping it clean is individual's responsibility (UTILIZE WATER AFTER EVERY USE)
• Food provided at camp is served Hot at Mentioned Time
• Cuisine is prepared in Desi style by Local people and it is loved by all the Genuine campers, Food has its Own taste, DO NOT COMPARE it with Pre-made gravy's of restaurants
• Do not use tent bedding to seat outside tent
• We have watersports, Telescope gazing, Night Trek, Shooting as our signature events, BBQ is not available
• Seats are booked on first come first serve basis, Booking is Non-Refundable.
• You can carry your own Drinks
• Unmarried couples are allowed
• Campsite is completely safe for Solo women Traveller
• Non Swimmers can enjoy all the activities
• Parking space is available