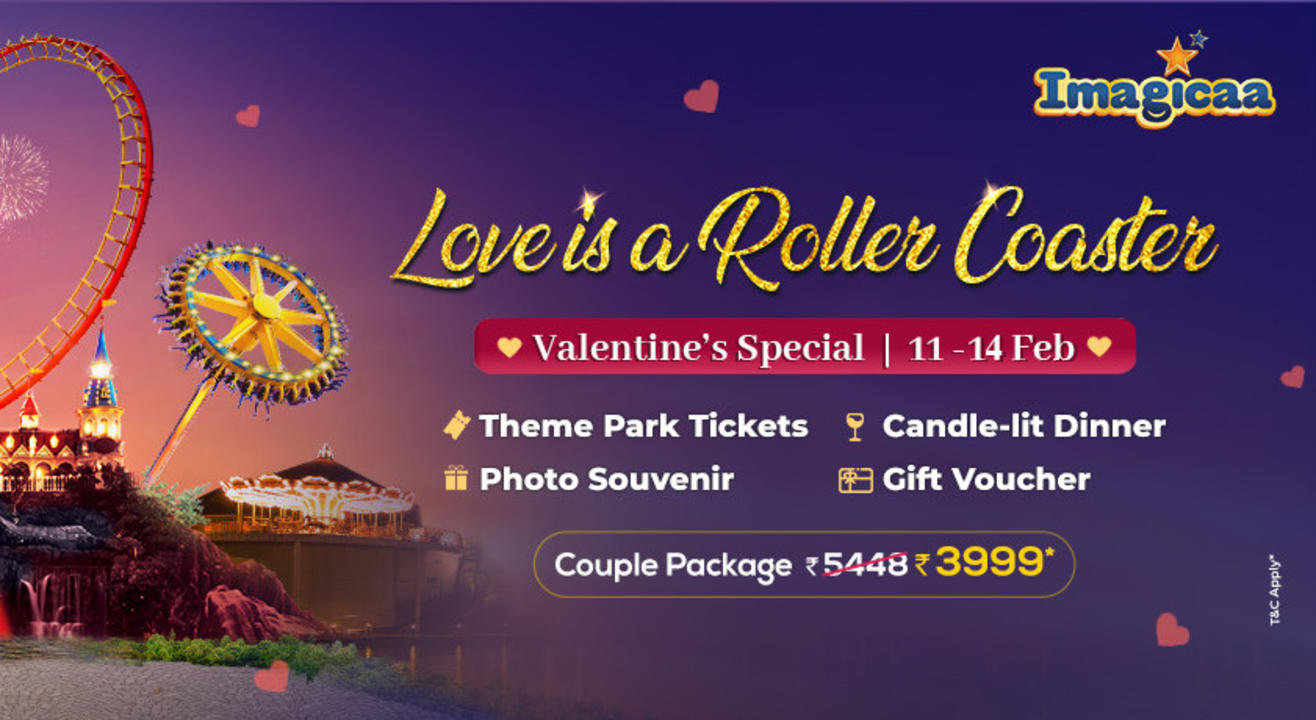 Imagicaa - VALENTINE'S DAY SPECIAL
11th - 14th February 2023
Step out and enjoy this event
Invite your friends
and enjoy a shared experience
Imagicaa - VALENTINE'S DAY SPECIAL
11th - 14th February 2023
Step out and enjoy this event
Invite your friends
and enjoy a shared experience
Invite your friends
and enjoy a shared experience
Package Inclusions –
· Regular Theme Park tickets for 2 guests
· Candle-lit dinner for 2 guests at Arrmada between 7 - 8.45 PM
· Choice of either 2 glasses of wine or mock-tail
· 1 Hard Copy of Photo Souvenir - 6*8 photo with Imagicaa branded sleeve
· 1 Merchandise voucher worth ₹200
NOTE:- Limited inventory package i.e. 125 packages will be available per day
Offer Terms :
Candle-lit dinner terms:
· Valentine Candle Light Dinner
· The coupon will be valid at Arrmada only
· Table pre booking will not be done
· Glass of Indian wine/mocktail served with coupon
· Dinner Timing – 7.00 PM to 8.45 PM
· Offer valid only for the day the Coupon is issued.
· The coupon will be valid for one couple only and for one time use only .
· This coupon is not transferable, refundable in cash, or replaceable if lost, destroyed or stolen.
· Imagicaa reserves the right to amend these terms & conditions without prior notice.
· Dispute/s subject to Mumbai jurisdiction.
Merchandise Voucher Terms
· Merchandise Voucher will only be available to redeem on Imagicaa branded merchandise
· In case user spends lower than voucher value balance cannot redeemed in cash
· If the purchase value exceeds the voucher value then guest will have to pay the balance amount
· Not allowed to redeem against candies or chocolates
· Voucher is non-transferable, non-refundable.
· Incase of the Voucher damaged/Stolen or Lost, Imagicaa will not be responsible for the replacement or compensation or misuse
· No two offers can be clubbed together
· Multiple vouchers cannot be clubbed
· Imagicaa reserves the rights to amend the terms & conditions at its discretion without prior notice
Photo Souvenir Terms
· Redeem at Delightful Memories/Sugar Buzz Store at Theme park
· Photo Hard Copy to be provided 1 hour after the photo has been clicked and selected
· No Change or Cash can be taken in exchange of this Voucher
· Coupons should be validated to ensure all photographs are ascertained at the time of leaving the park
· Photography is done on best effort basis and output of the same is subject to capture and storage conditions
· Voucher is non-transferable, non-refundable.
· Kindly retain coupons provided by Photographers and ensure that you verify your photographs
· Incase of the Voucher damaged/Stolen or Lost, Imagicaa will not be responsible for the replacement or compensation or misuse
· No 2 offers can be clubbed
· Park T&Cs Apply
· Available for booking on B2C / CCT
Imagicaa
30/31 Sangdewadi, SH92, near Lonavala, Khalapur, Maharashtra 410203, India
GET DIRECTIONS
Imagicaa - VALENTINE'S DAY SPECIAL
11th - 14th February 2023
Step out and enjoy this event
Invite your friends
and enjoy a shared experience