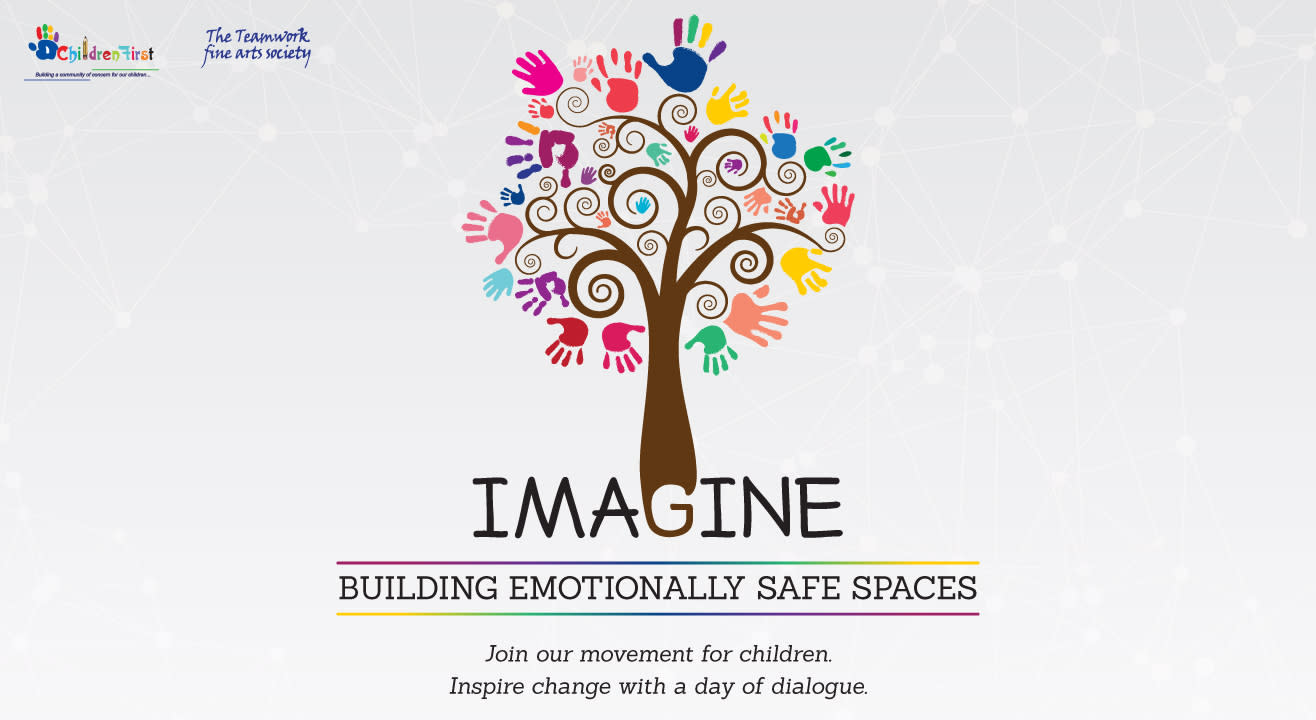 IMAGINE - Building Emotionally Safe Spaces
October 26 | 9AM - 6:30PM
Invite your friends
and enjoy a shared experience
IMAGINE - Building Emotionally Safe Spaces
October 26 | 9AM - 6:30PM
Invite your friends
and enjoy a shared experience
Invite your friends
and enjoy a shared experience
The Teamwork Fine Arts Society, in association with Children First is organizing IMAGINE- a first-of-its-kind conclave to help find solutions to mental health issues impacting children and adolescents.

The one-day forum aims to begin a critical and much-needed conversation around building emotionally safe environments for individuals from birth to 25 years of age, especially within the disquieting context of marginalizing experiences like mental illness, disability, sexual orientation and gender issues.

IMAGINE's gathering of influencers will include psychologists, occupational therapists, educators, special educators, psychiatrists, pediatricians, NGOSs and policy makers, participating in debates and discussions, identifying hurdles and seeking solutions. Young people and parents too will join in to share their perspectives.
For more details about this event visit www.imaginewithcf.com
Dr Vibha Krishnamurthy
Prof Shekhar Seshadri
Ms Jo Chopra McGowan
Dr Sue Jennings
Dr Nandita de Souza
Mr Sanjoy Roy
Dr Shelja Sen
Dr Kavita Arora
Dr Amit Sen
Ms Gurmehar Kaur
Schools That Care (STC) Team
Communities That Care Team (CTC) Team
Conference
- Access to all sessions
- Conference Kit for all participants
- Refreshments and snacks during the conference + Lunch

Conference + Dinner
- Access to all sessions
- Conference Kit for all participants
- Refreshments and snacks during the conference + Lunch
- Open mic and Networking Dinner
How do I travel from railway station/airport to the venue?
There are multiple modes of public transport from railway stations and airports to the venue. You can find cab services everywhere. You can also travel by Delhi Metro to reach the venue. The closest Metro Station is Sultanpur on the Yellow line.

New Delhi Railway Station to Zorba: Distance 19 kms approximately.
Nizamuddin Station to Zorba: Distance 17 kms approximately.
Domestic and International Airport: Distance 15 kms approximately


I have registered for Package A and I wish to convert it to Package B or vice-versa. How do I go about it
Kindly contact our registration team and they will assist you. Please inform us at least 1 week prior to the event for any change in package. On the spot changes will not be encouraged. Also, possibility of changing from Package A to Package B is subject to availability.

How can I check if my registration has been successful?
You will receive a confirmation via email and/or SMS for the same.


Zorba, New Delhi
166, MG Road, Sultanpur, Near Sultanpur Metro Station, New Delhi, Delhi 110030
GET DIRECTIONS
IMAGINE - Building Emotionally Safe Spaces
October 26 | 9AM - 6:30PM
Invite your friends
and enjoy a shared experience