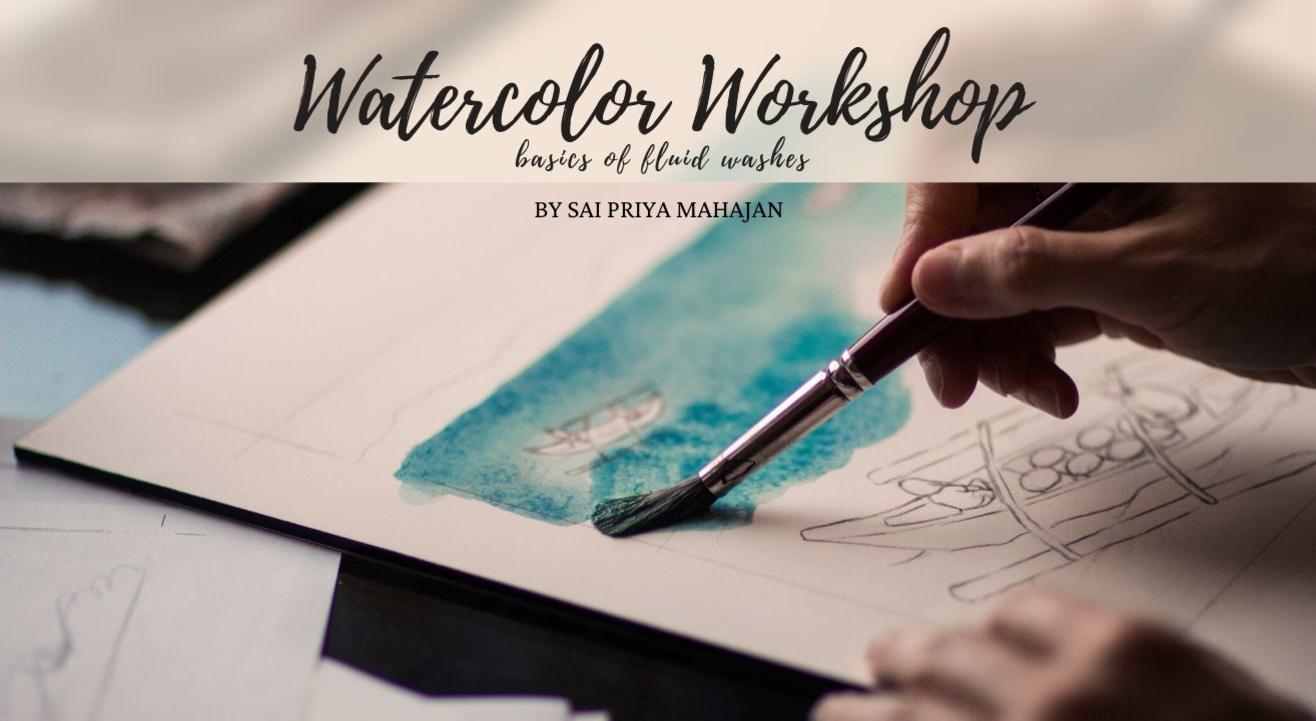 Immersive Fluid Watercolors Workshop by Sai Priya Mahajan
Invite your friends
and enjoy a shared experience
Invite your friends
and enjoy a shared experience
About the Event
They say that there is a mystery and charm in painting with watercolors. But that specific quality in watercolor paintings comes out only if you can understand and apply the fluidity of the medium. Learn these techniques starting with the absolute basics, from an award winning watercolorist. This is a guided session, the artist will guide you and paint along with you. You don't need to have painted before. Just a love for colors and an eagerness to learn and have fun is enough for this. Great for both beginners as well as artists, to learn the most important techniques in fluid watercolors.
About the Instructor: Sai Priya Mahajan is an Indian Contemporary Artist who recently won the Outstanding Watercolor Award at the Boldbrush Contest. An engineering graduate from IIT Bombay, she has now exhibited in India (Mumbai, Bangalore, Chandigarh) as well as internationally (NY, Philadelphia - USA, Toronto-Canada, Taipei-Taiwan) and is part of several Art Associations including the International Watercolor Society, Philadelphia Watercolor Society, National Watercolor Society, USA and a lifetime member of the Art Society of India. Sai loves to share the joy of painting by teaching various art forms and has conducted many art workshops in the past.
Rough Schedule
First 5 mins - Introduction & Demo
Next 2.5 hrs - Fluid watercolor techniques
Last 5 mins - Wrap up and photos
Material: you have to arrange for this on your own. You will need some watercolors, 1 medium size round brush about size 8-12, 1 small size round brush about size 2-5, 1 half inch wash brush or big flat brush, watercolor paper preferably 250+gsm or equivalently thick paper/ sketchbook paper about A4 or 9X12 inches in size, a pen, a pencil, eraser, masking tape, hair dryer (optional) and some basics like tissues, water, some rough papers, and a plate/palette. To get the best results it is preferable to use 300gsm watercolor paper and artist grade watercolors.
Please be ready with all required materials at least 5-10 mins before the start of the session. The ticket price is per user per session. For example, if two people are attending using one login, please pay for 2 people. Tickets once booked, cannot be cancelled/ rescheduled.
To simplify communication, please register using the participants name and phone number (on which whatsapp is functional). Please note the all timings are in IST (which is GMT+5:30hrs).
Because of logistical reasons, it will not be possible to take in late entries. Also, we would recommend you familiarise yourself with Zoom and its usage so you have no trouble during the session. We will be sending you a link 10 mins before the start of the session, on whatsapp, on the number you provided during registration. You can join in to the session through that Zoom link.