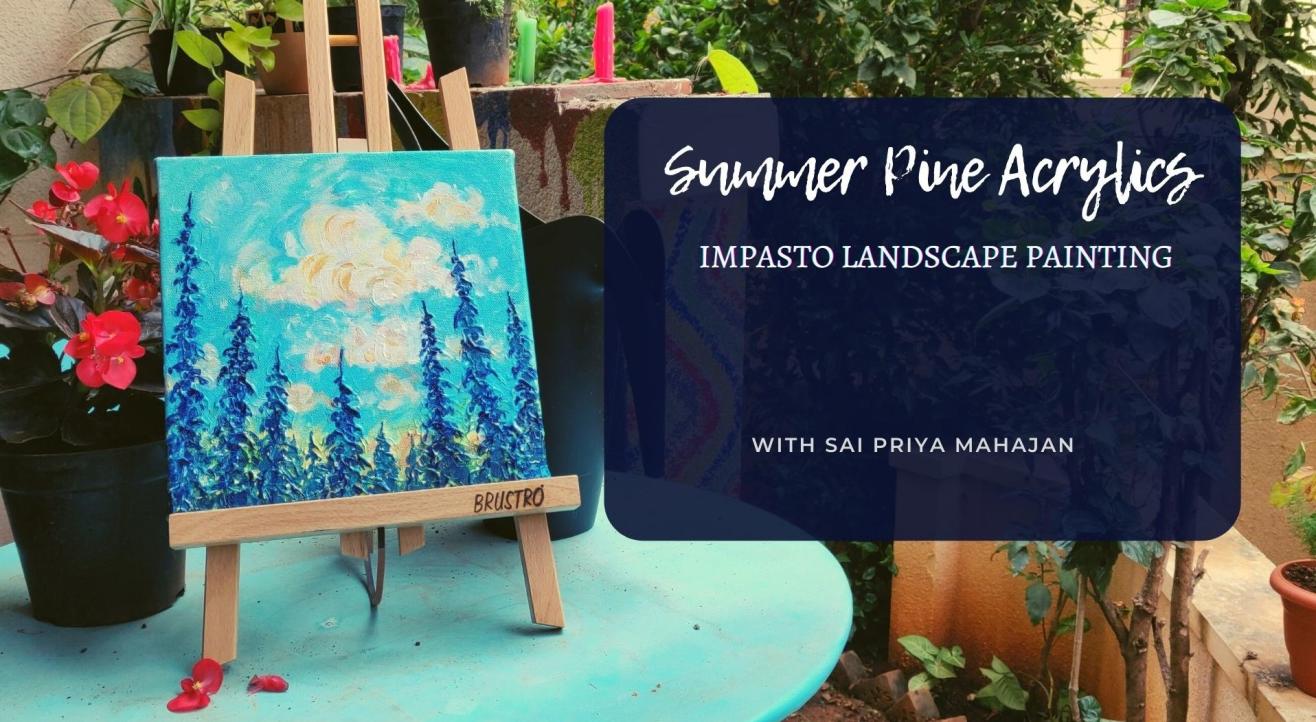 Impasto Painting Summer Pines with Acrylics
Invite your friends
and enjoy a shared experience
Invite your friends
and enjoy a shared experience
About the Event
Come and experience the joy of using colors and textures to paint these pine trees against a cool summery sky using the impasto technique of painting. We will apply thick color strokes to get textures in the painting. This Painting Party is good for all levels - beginners to advanced. Whether you're picking up a brush after many many years, or you paint regularly, you can have a great time making this while learning a new painting style. You don't need to have painted before. Just a love for colors and an eagerness to learn and have fun is enough for this.
About the Instructor: Sai Priya Mahajan is an Internationally acclaimed, Indian Contemporary Artist who recently won the Outstanding Watercolor Award at the Boldbrush Contest. An engineering graduate from IIT Bombay, she has now exhibited in India (Mumbai, Bangalore, Chandigarh) as well as internationally across 20+ locations (including NY, Philadelphia, San Diego-USA, Toronto-Canada, Taipei-Taiwan, Zurich-Switzerland, Vietnam, Seoul-South Korea, Malaysia) and is part of several Art Associations including the International Watercolor Society, Philadelphia Watercolor Society, National Watercolor Society, USA and a lifetime member of the Art Society of India. Sai loves to share the joy of painting by teaching various artforms and has conducted several art workshops in the past.
Rough schedule
First 5 mins - Introduction & Drawing
Next 30 mins - Background Colors
Next 1.5 hours - Detailing
Last 5 mins - Wrap up and photos.
Material: you have to arrange for this on your own. You will need a canvas panel about 10X12 inches or 10x10 inches in size, acrylic colors, 1 flat brush about size 8, and 1 round brush about size 4 and 1 round brush of about size 0, palette knife (optional), hair dryer (optional) and some basics like tissues, water, pencil, scale, eraser and a plate/palette. Colors required are light blue or sky blue, prussian blue, black, white, yellow, orange, light green. Please make sure the canvas size is approximately the size mentioned above.
Please be ready with all required materials at least 5-10 mins before the start of the session.
Make sure to enter correct email address and phone number (on which whatsapp is functional, this is where workshop link will be sent) and use the participants name while booking. Please note the all timings are in IST (which is GMT+5:30hrs).
Late entries are not allowed. Please familiarise yourself with Zoom and its usage so you can join in on time, and have no trouble during the session. We will be sending you a link 10 mins before the start of the session, on whatsapp, on the number you provided during registration. You can join in to the session through that Zoom link.
Important T&C: The ticket price is per user per session. For example, if two people are attending using one login, please pay for 2 people. This ticket is valid only for the said date and time and cannot be used for other workshops. Videos not included. Non-refundable. Tickets once booked, cannot be cancelled/ rescheduled/refunded.