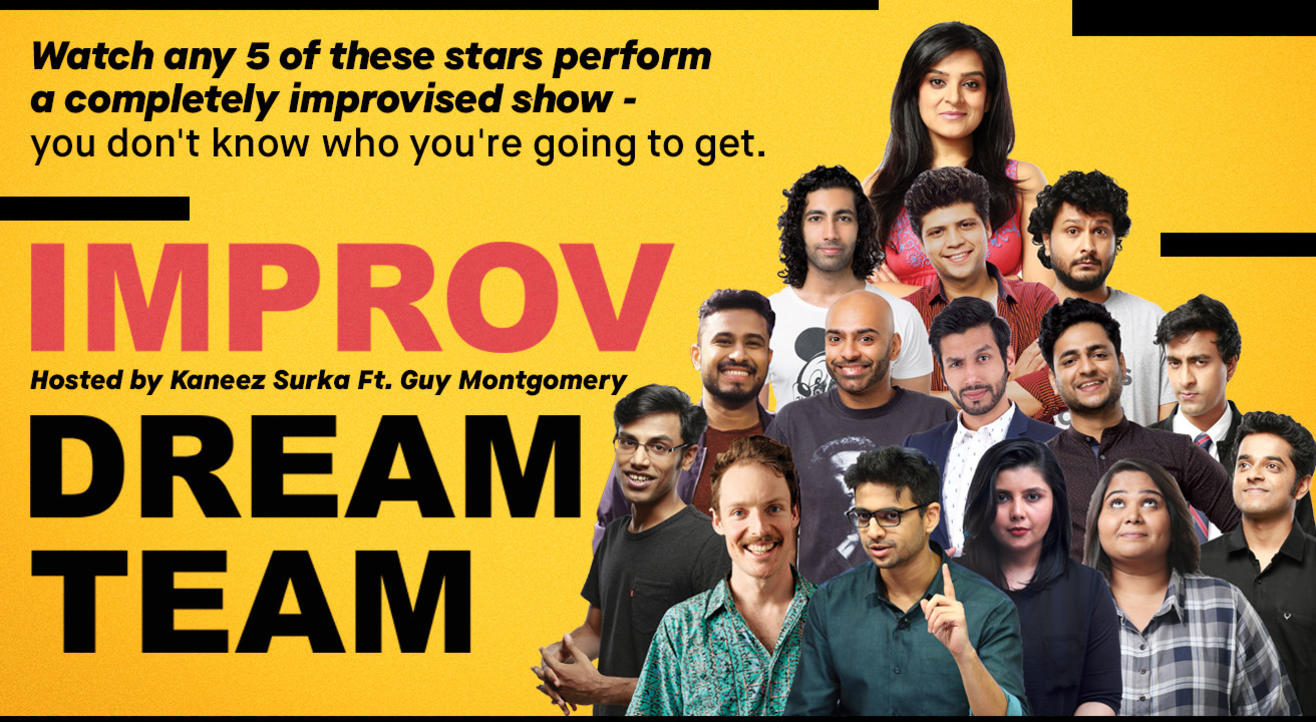 Invite your friends
and enjoy a shared experience
Invite your friends
and enjoy a shared experience
About the Event
Kaneez is back and this time she's got a star-studded lineup. Join Kaneez along with Biswa Kalyan Rath, Aadar Malik, Jahnavi Dave and Guy Montgomery.
Biswa Kalyan Rath
Remember the Pretentious Movie Reviews on YouTube? Good. Now forget them. That was just a warm-up to comic Biswa Kalyan Rath's full comedy prowess. The comedian has moved up a few notches since his YouTube glory days and is using his IIT-Bombay education, along with his knowledge of mathematics, language and life, to make jokes that have never been cracked before. He recently released his comedy special, Biswa Mast Aadmi, to rave reviews, with which he toured every pocket in India. Soon after, he released 'Laakhon Mein Ek', a surprisingly dark web-series on the IIT coaching industry. One of the most-followed comedians in the country, Biswa's angry rant-styled delivery and his unique perspective turns every topic he touches into comedy gold, making audiences crack up instantly. The stand-up comedian, writer, actor, size-zero enthusiast and blogger, has done countless shows across all sorts of venues in the country and has managed to garner 14+ million views on YouTube. Currently, Biswa is part of a panel of judges in Comicstaan, a nine episode series, to mentor and find India's next comic sensation! Need we say more?

Aadar Malik
Performing since the age of 7, comedian, musician and actor Aadar Malik was born to rule the stage - best manifested with his 2016 Amazon Prime Video special, Standup The Musical, a unique comedy show which included a guitar and piano. A trained actor with over 10 years of experience in Indian theatre, Aadar lives to perform for audiences across the world. He was also trained in music at the prestigious Trinity College in London, and his composition 'Goat Song' was shortlisted at the Worldwide Comedy Short Film Festival, London and was a rage on social media. He is a member of SnG Comedy, a popular comedy collective that has amassed 470K subscribers and 61 million views. Their content consists of sketches, stand-up, and a candid interview-cum-chat series, The Big Question, which has featured several popular guests. They also focus on Improv comedy and have done several shows around the country.

Kaneez Surka
Kaneez Surka is an improviser, comedy actor, sketch artist and stand-up comedian. She is India's first female improviser and has been associated with The Improvisers collective since 2009, along with comedians Abish Mathew, Kanan Gill and Kenny Sebastian. She's been invited to four international Improv Festivals, ones in Amsterdam, Berlin, Seattle and Toronto. Currently, she hosts a game-show called The General Fun Game Show, which has featured popular comics Kanan Gill, Biswa Kalyan Rath, Tanmay Bhat, Rohan Joshi, Abish Mathew, Zakir Khan and several others. In 2014,Kaneez began conducting improv workshops all around the country, expanding the improv scene in India. She is also a part of the popular TV segment The Week That Wasn't with Cyrus Broacha on CNN IBN. Presently, Kaneez also hosts the Improv All Stars: Games Night on Amazon Video.

Jahnavi Dave
Jahnavi Dave is a voice and theatre artist from Ahmedabad. She has since 2015 been an improviser with the first Improv company of India - Improv Comedy Mumbai. As one of the first students of ICM's educational program to make it to the ensemble cast, she has also travelled across the American North West during the Improv Tour conducted by ICM in 2017. In this tour she performed in front of house full audiences in Seattle, Portland, Salem, Bellingham, etc. She was the lead in ICM's showcase of IMPROVISED BOLLYWOOD.

Guy Montgomery
Guy Montgomery is an award-winning comedian, improviser and screenwriter, best known as co-host of the international smash podcast 'The Worst Idea of All Time'. (LA Podfest 2015, Now Hear This Fest 2016, over 6 million downloads, features on AV Club, VICE, BBC4, the Guardian (UK) and sold out shows in LA, New York, Portland and San Francisco). A stand-up comedian with a surreal take on the everyday, Guy has won praise and awards in his native New Zealand and across Australia. Guy has featured in Just For Laughs Sydney, the New Zealand Comedy Gala, Melbourne International Comedy Festival, Edinburgh Festival Fringe, and toured with the Melbourne International Comedy Festival Roadshow across Australia. He has been on TV, the radio and the internet, a genuine triple threat.
The Cuckoo Club, Mumbai
5AA, Pali Hill Road, Next to Candies, Bandra West, Mumbai, India 400050
GET DIRECTIONS