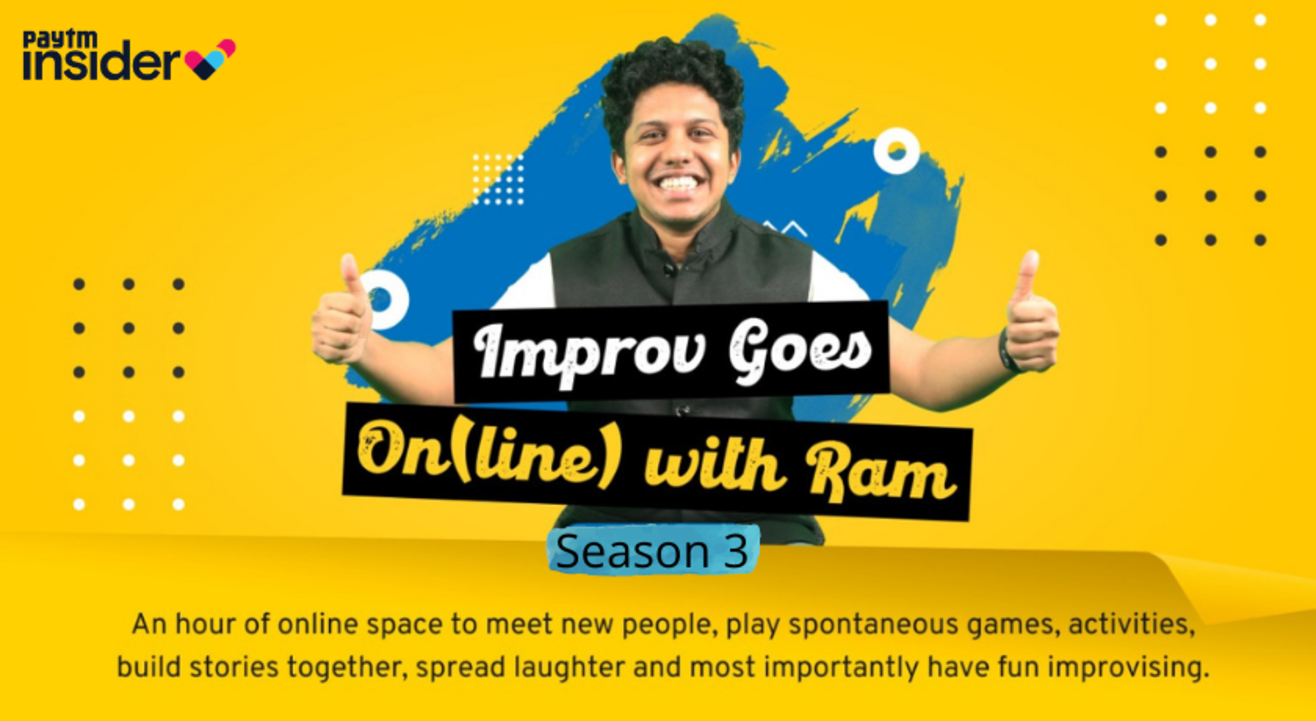 Improv Goes Online - Season 3
January 12 | 7:30PM - February 23 | 8:45PM
Event Guide
For Age(s)
Family Friendly
Invite your friends
and enjoy a shared experience
Improv Goes Online - Season 3
January 12 | 7:30PM - February 23 | 8:45PM
Event Guide
For Age(s)
Family Friendly
Invite your friends
and enjoy a shared experience
Event Guide
For Age(s)
Family Friendly
Invite your friends
and enjoy a shared experience
After successfully completing 30 weeks of Improv sessions during 2020 , we are back with Season 3 . With new games, new scenarios and doubled up fun.
For the first timers,
What is IMPROV?
Improv or Improvisation is exactly what it sounds like. A type of performance art that is created at the moment, spontaneously — on the fly — without any preparation at all.
Sounds Tough ?
Not at all. Lets' bring the joy of improv to everyone. We aim to make improv fun, friendly, sociable, open and accessible to all.
Improv for everyone!
We'll meet in a virtual room to play, create and connect. It will be all fun and games.
Lets' also use this hour to give ourselves a break from things, meet some new people, and have a massive laugh with improv! ✌️
About the Workshop:
No experience is necessary and all are welcome to participate!
The workshop will be conducted online through Zoom platform.
The link to join the workshop will be shared on the day of the workshop
Anyone over the age of 15 is welcome
About the facilitator:
Ramalingam is the cofounder of Learnsville - A training company that focuses primarily on theatre . He started out as a theatre artist in 2013 and has been taking the roles of actor, director, scriptwriter and more. He has been training students in Improv, theatre and life skills.
He is also the Director at Volunteer for India- A pan-Indian Non profit organisation working towards building volunteerism as a national value.
Register now! and say Yes to IMPROV.
Improv Goes Online With Ram | Fun Games | Employee Engagement | Small Group Activities |
Improv Goes Online - Season 3
January 12 | 7:30PM - February 23 | 8:45PM
Event Guide
For Age(s)
Family Friendly
Invite your friends
and enjoy a shared experience