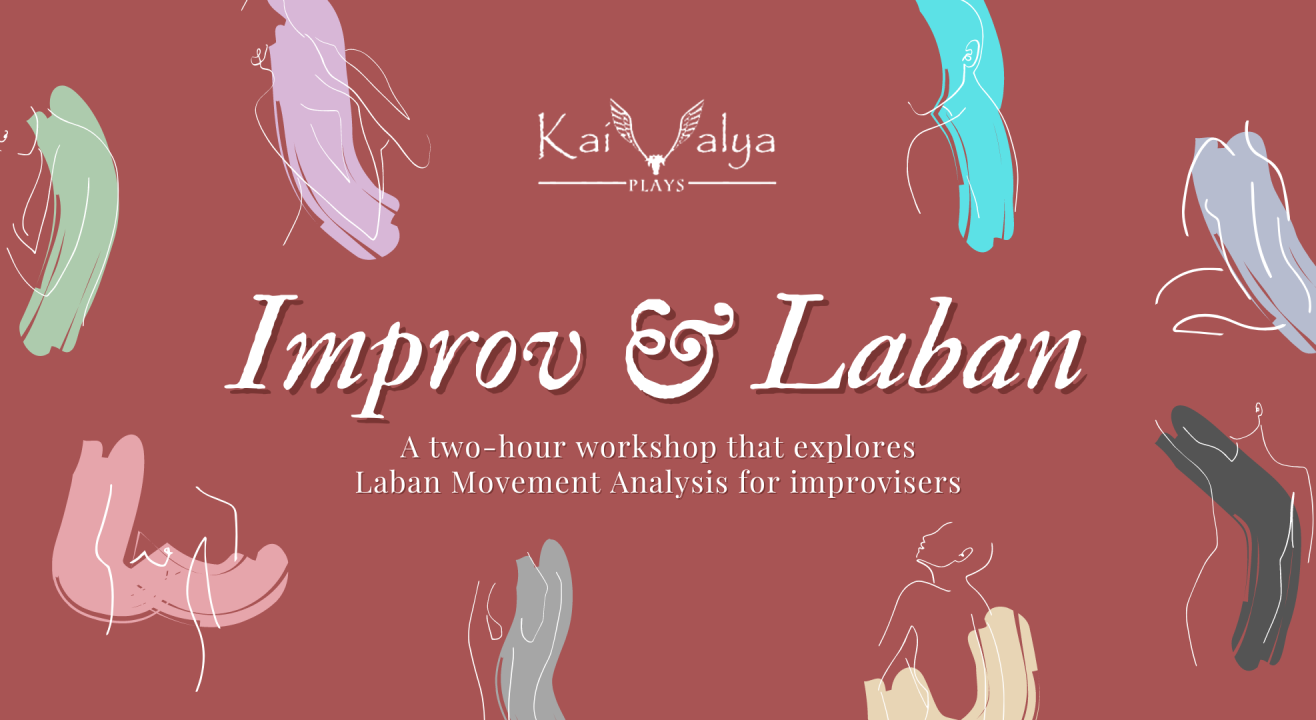 Improv & Laban - An Online Theatre Workshop
Enjoy this event from your home
Invite your friends
and enjoy a shared experience
Invite your friends
and enjoy a shared experience
About the Event
Kaivalya Plays presents
Improv & Laban
A two-hour workshop for improvisers and actors to explore and apply Laban Movement Analysis and the eight efforts for characterization, movement and sculpting of improv scenes.
Suitable for improvisers and actors with any level of prior experience.
About The Workshop
Speaking through a fully realized character can make improv scenes fulfilling and satisfying for performers and engaging and memorable for audiences. Many times we find ourselves repeating catchphrases or putting on a funny voice to play someone we might know without really being able to dig deep enough into how they behave or think.
Improv & Laban harnesses the teachings of Laban/Bartenieff movement analysis to guide improvisers to create richer and fuller characters for spontaneous scene work. Laban is divided into 4 categories of movement - Body, Shape, Space and Effort. This course will primarily focus on applying the Eight Efforts which factor in weight, time and flow with eight actions to allow you to make more choices quickly in your scenes. Simply put, Laban can help you make a series of quick decisions about how to inhabit a character and carry it through the scene by focusing on your voice, rhythm, movement and size while performing.
Laban can sound unnecessarily complex but, in this 2 hour session, the facilitator will introduce the main concepts, their application in scene work in improv and offer you the opportunity to test out how to make it work for you. The facilitator will explain the terminology and concepts and guide you using straightforward language to get results that may surprise you.
After this workshop, you will be able to:
Think of red, a circle, or slashing action as a person you can play
Sustain a character through a sketch or a longform performance
Keep building ideas in a story using the character as your source
Feel comfortable, safe and full of ideas as a character in a scene


Duration: 2 hours
Requirements: The class is open to anyone. The facilitator will ask you to stand and move for several exercises but these exercises will be adapted for anyone with different needs. Dress comfortably and keep a bottle of water within reach.
Price: INR 1500/- for the session, maximum of 16 participants.
About The Facilitator
Varoon P. Anand is Delhi's most experienced Improv trainer and performer. Beginning his career under the guidance of Danielle Miles, of Fortetheatre UK, he co-founded Improv8 at Panama's renowned Theatre Guild of Ancón in 2008. In Delhi, Varoon began teaching Improv in 2012 through Kaivalya Plays, the theatre company he founded, and in 2014 formed CueLess Improv, the capital's most prolific team of short-form improv performers. Varoon trained in Laban Movement with Gilles Chuyen in 2013. Varoon continued training in improv with teachers including Saif Ali, of Batlahouse theatre, learning and collaborating from 2015-16. In 2018, in collaboration with the Goethe Institut / Max Mueller Bhavan and medical practitioners, Varoon created Unravel, an improv show about mental health. Along with being the Artistic Director of Kaivalya Plays, CueLess Improv, and El Clavileño (India's only Spanish language theatre group). As of 2020, Varoon has trained more than 200 performers in spontaneous improvisation, facilitated workshops for over 500 people in improvisation for mental wellnesss and collaborated with institutions like Embassy of Spain, Embassy of Argentina, Embassy of Ecuador, Indian Habitat Centre, Little Theatre Group (LTG), Oddbird Theatre & Foundation amongst others. He continues to explore new ways to present and teach the techniques of improv, along with his other specialties.
About The Organizer
Kaivalya Plays is an Indian performing arts and production company known for their work in spontaneous improvisation, adaptation of foreign language texts and innovative theatrical experiences. With multilingual shows and performances in their calendar every month, they also offer a slew of training opportunities in improvisation, acting and arts management for individual professionals, schools, institutions and corporates. Learn more about their work on their website or follow the latest updates on Instagram.