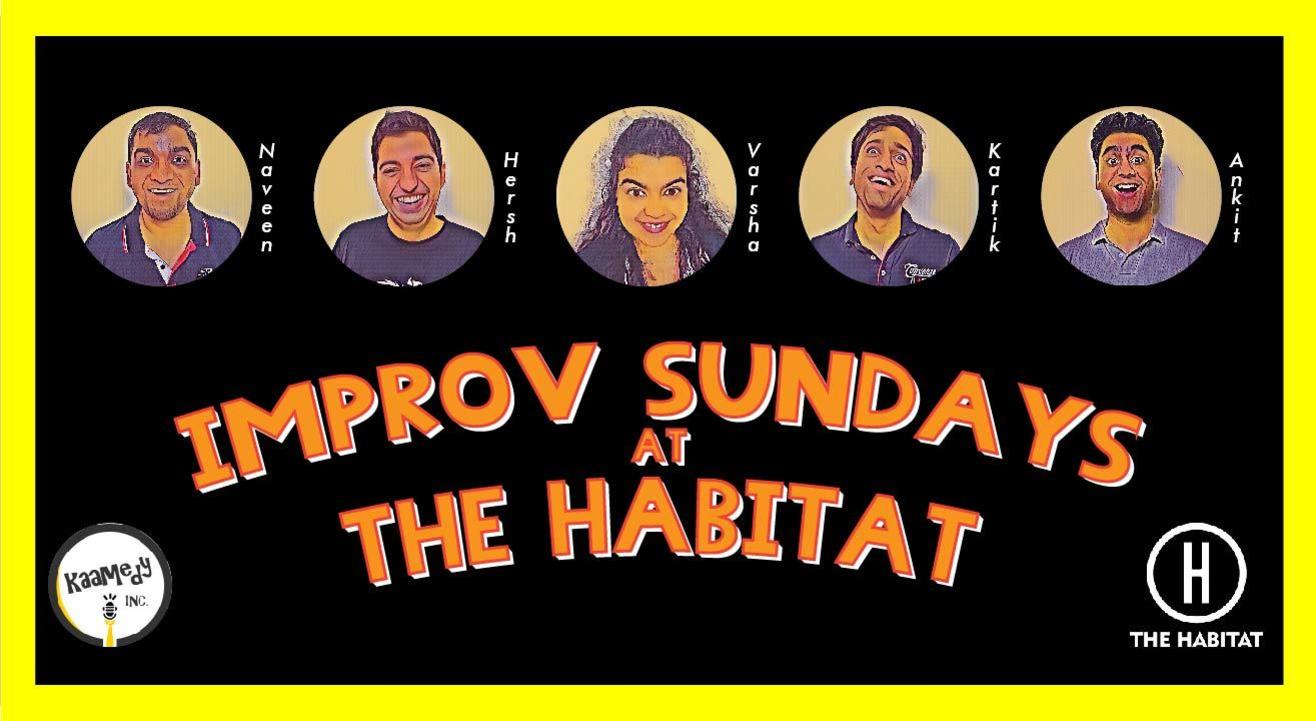 Improv Sundays at The Habitat ft. Kaamedy Inc.
Invite your friends
and enjoy a shared experience
Invite your friends
and enjoy a shared experience
About the Event
Hailed as "India's most feel-good comedy group", Kaamedy Inc. combines the wit and hilarity of stand-up comedy with the art form of theatre.
The group's captivating, fast-paced performances leaves audiences uplifted as Kaamedy Inc. blends improvised humour, creativity and good-natured fun.
The show is completely interactive and everything is made up on the spot based on suggestions from the audience.
This high laugh density show is the perfect way to spend an evening, whether with some friends for a girl's night or for a spontaneous date night
Team Members :
1. Unkit Sharma
2. Hersh Tolani Invests
3. Naveen Tiwari
4. Kartik Poddar
5. Varsha Kini
Individual Intros
Unkit Sharma - The Flag bearer of the group, An engineer by education, data scientist by profession and an entertainer by passion. Unkit has trained and performed improv comedy internationally over the last 5 years. His guilty pleasure is breaking into dramatic monologues during scenes
Hersh Tolani Invests- Hersh Tolani is one of India's most eligible bachelors. He's got the looks of Mukesh Ambani, the sense of humour of Arbaaz Khan and the money of Arvind Kejriwal. When he is not on stage Hersh runs a successful investment fund.
Naveen Tiwari - aka the lightning bolt, He's a bundle of infinite energy and a subject of research for psychologists, for how he can be an upstanding MBA type boss in the financial sector before 6:00 PM and suddenly transform into a livewire on stage.
Kartik Poddar - A tech entrepreneur/ startup guy by the day and a laughterpreneur by night. When he's not spreading charm with his Chandler Bing like wit on stage, you'd find him morphing into characters, accents or genders all at the same time.
Varsha Kini - The Yin to the four Yangs in the group. She is a product manager in her office and a pandora's box on stage. She is yet another mystery for science and audiences alike. She can transform from responsible Corporate Lady, to Tapori Mulgi, to the girl next door to doting mother in law all in under a minute.
Ninad Naik - There is nothing more cliched than an engineer turned comedian, but there is nothing cliched about Ninad's puns and one-liners. His characters involve a blend of char"actors". When Ninad is not on stage he is catching up on his sleep. He has also shared the screen with few celebs, just to "ad" something to his resume. A very interesting guy. So don't no him. Know him.
The Habitat
1st Floor, OYO Townhouse (Hotel Unicontinental), Road Number 3, Khar West, Mumbai, Maharashtra 400052
GET DIRECTIONS