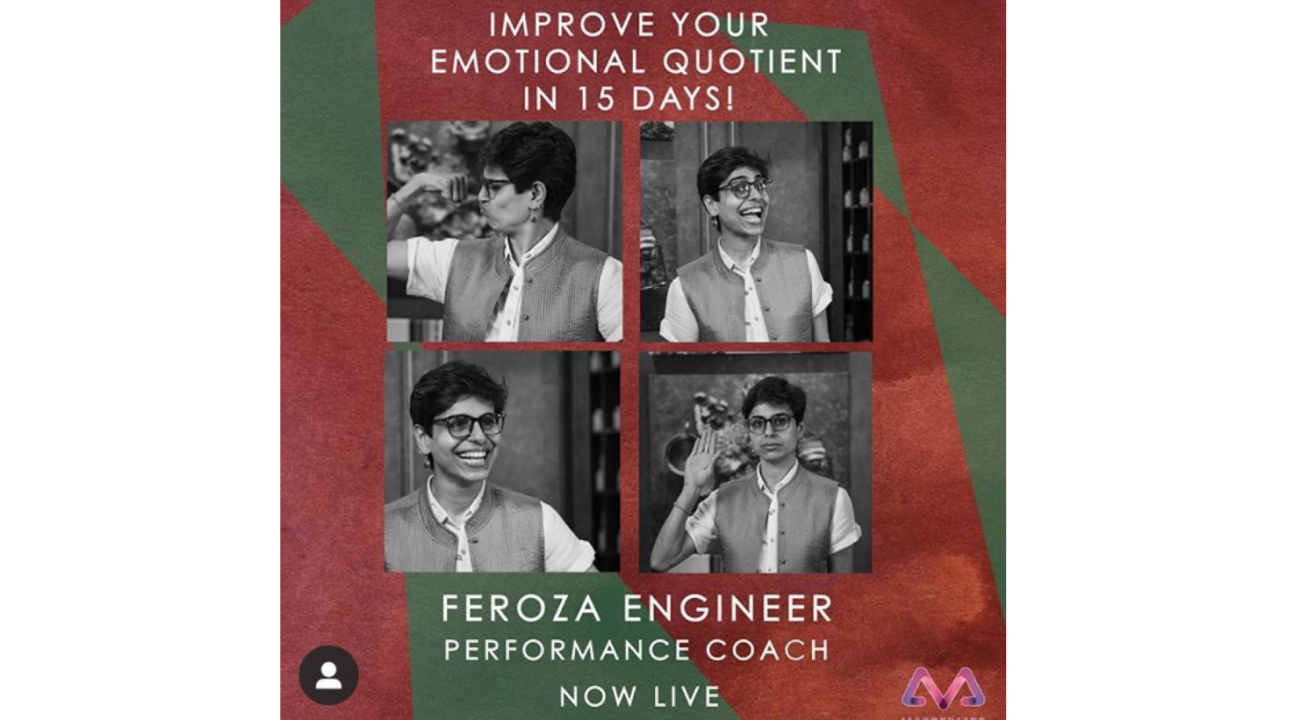 Improve Your Emotional Intelligence
Event Guide
Masterclass
Learn from an expert
Invite your friends
and enjoy a shared experience
Improve Your Emotional Intelligence
Event Guide
Masterclass
Learn from an expert
Invite your friends
and enjoy a shared experience
Event Guide
Masterclass
Learn from an expert
Invite your friends
and enjoy a shared experience
Ask yourself this: am I emotionally intelligent?
If you answer NO or NOT SURE - then maybe you need to take a closer look into your thoughts, feelings, and general approach to life.
If you answer YES - then are you sure you're at a place where you believe it's enough? Maybe. Or maybe not.
What's clear is that we need to take stock of how we handle ourselves - in public or in private and understand WHY we react to situations the way that we do. We need to understand the behavioural patterns that have so far governed our lives so far and see how we can move towards a more nuanced, aware approach.
This is where the amazing Feroza Engineer comes in. Join her on this journey of deep diving into our minds, our thoughts, our reactions, and the science and history behind who we are and why we are the way that we are.
THE COURSE COVERS
Getting comfortable with your emotions.
Understanding what EQ, IQ, EI are all about.
Honing your emotional intelligence.
Understanding the journey these concepts have taken through history.
Leaning the science around the brain functions and impacts on emotions.
Learning to step out if your comfort zone.
How to manage your emotions.
Daniel Goleman's Mixed Model of Emotions.
The 7 Mindsets: A Feroza Original.
Emotional intelligence at the work place.
ABOUT THE COACH
Feroza is known in the industry as a learning leader who capitalizes on her 16 years of experience that has spanned across 130+ organizations, completely agnostic of industry. Using authenticity, humor and real-life problems, her facilitation and coaching style is easy to relate to and leads to a high degree of learning stickiness.
She has coached CXOs, start-up founders, pro-athletes, artists & LGBTQ professionals, is the youngest member to be included in the strategy team at Dale Carnegie, India and has received the Most Valuable Trainer Award for three consecutive years there.
PREVIOUS WORK ROLES
Practice Head – Leadership Development, JOMBAY
Senior Manager & Consultant – Leadership Development TARGET
Consultant & Trainer, Dale Carnegie Training India
Manager, Training & Development, Big 92.7 FM
Some of the clients she's worked with:
J.P. Morgan | Swiggy | Bank of America | Glenmark | VISA | Royal Bank of Scotland | LIC | Birla Sun Life | SONY | TATA Motors | Ernst & Young | Capegemini | Schneider Electric | AIRTEL | AXIS Bank | Vodafone | Mahindra | McDonald's | LUPIN | TISS | NOVARTIS
Feroza's core areas of expertise lie in CXO coaching and development, building organizational learning architecture, measuring impact through learning analytics & neuro-science based Leadership Development.
Improve Your Emotional Intelligence
Event Guide
Masterclass
Learn from an expert
Invite your friends
and enjoy a shared experience