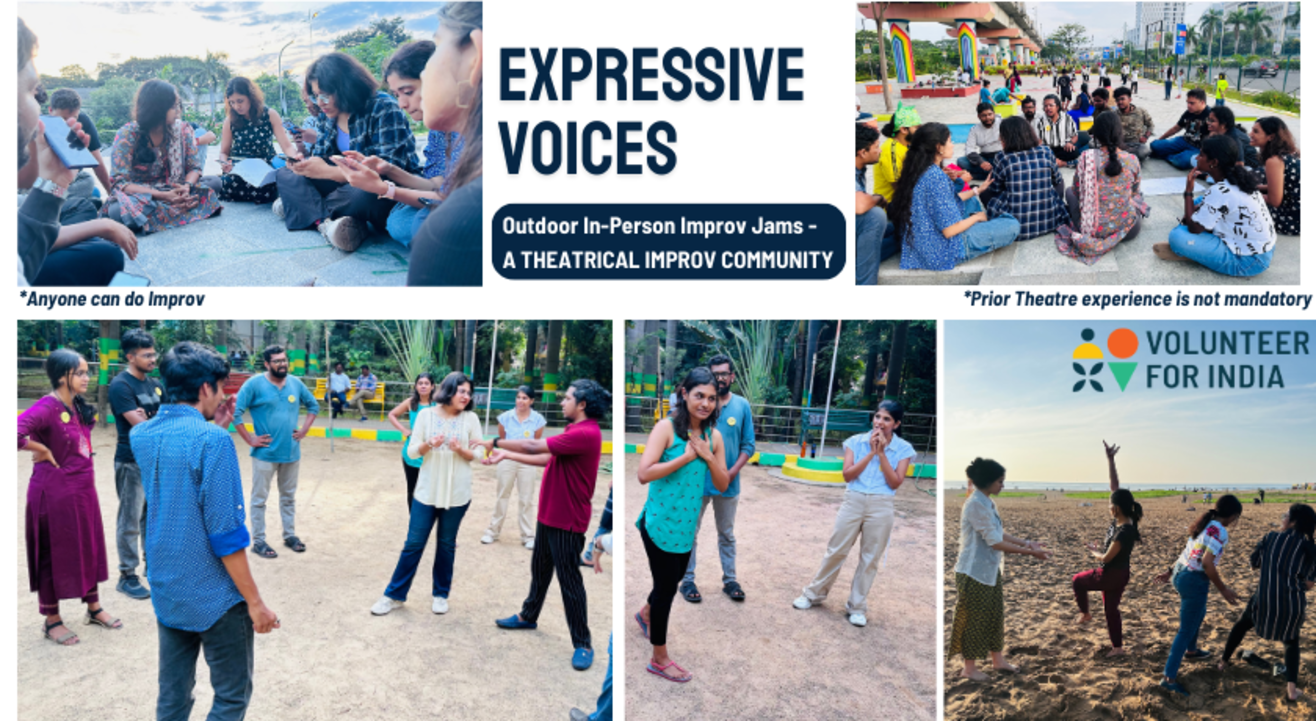 In Person IMPROV JAM - Expressive Voices
Independence Day Park Children Play Area, Chennai
Event Guide
Language
English, Hindi, Hinglish, Bengali, Telugu, Tamil, Kannada, Malayalam
Live Performance
Enjoy a unique experience
Invite your friends
and enjoy a shared experience
In Person IMPROV JAM - Expressive Voices
Independence Day Park Children Play Area, Chennai
Event Guide
Language
English, Hindi, Hinglish, Bengali, Telugu, Tamil, Kannada, Malayalam
Live Performance
Enjoy a unique experience
Invite your friends
and enjoy a shared experience
Event Guide
Language
English, Hindi, Hinglish, Bengali, Telugu, Tamil, Kannada, Malayalam
Live Performance
Enjoy a unique experience
Invite your friends
and enjoy a shared experience
Unleash Your Creativity - Weekend Improv Jam Sessions!
Join us for a series of exciting and spontaneous improv jam sessions that promise one hour of laughter, creativity, and pure entertainment. Whether you're an improv enthusiast or a complete beginner, these weekend jams are your ticket to a whole lot of fun!
Who Are We?
All of us are Volunteers of VOLUNTEER FOR INDIA. A passionate group of improv enthusiasts dedicated to spreading the joy of improvisational theatre. Our mission is to create a welcoming space where everyone can experience the thrill of spontaneous storytelling and unleash their inner performer.
Who Can Join?
Anyone and everyone! Whether you have prior improv experience or it's your first time, these jam sessions are open to all. All you need is a willingness to let loose, be spontaneous, and have a blast.
What to Expect:
Fun and Laughter: Get ready to laugh your heart out as we dive into hilarious scenarios and unexpected twists.
No Pressure: There's no judgment here. Just come as you are and enjoy the moment.
Expert Guidance: Our experienced facilitators will lead you through the exciting world of improv.
Community: Join a diverse group of people who share your love for improv and spontaneity.
Language: We keep it simple and inclusive. English is the primary language of communication to ensure everyone can participate and have a great time.
Let's Jam Together: Your weekend just got a whole lot more exciting! Join us for an hour of unscripted fun and creativity. No strings attached, no experience required. Just bring your enthusiasm, and we'll handle the rest!
Improv Jamming - Where Laughter Meets Creativity
Independence Day Park Children Play Area
165, Valluvar Kottam High Rd, Ponnangipuram, Tirumurthy Nagar, Nungambakkam, Chennai, Tamil Nadu 600034, India
GET DIRECTIONS
In Person IMPROV JAM - Expressive Voices
Independence Day Park Children Play Area, Chennai
Event Guide
Language
English, Hindi, Hinglish, Bengali, Telugu, Tamil, Kannada, Malayalam
Live Performance
Enjoy a unique experience
Invite your friends
and enjoy a shared experience