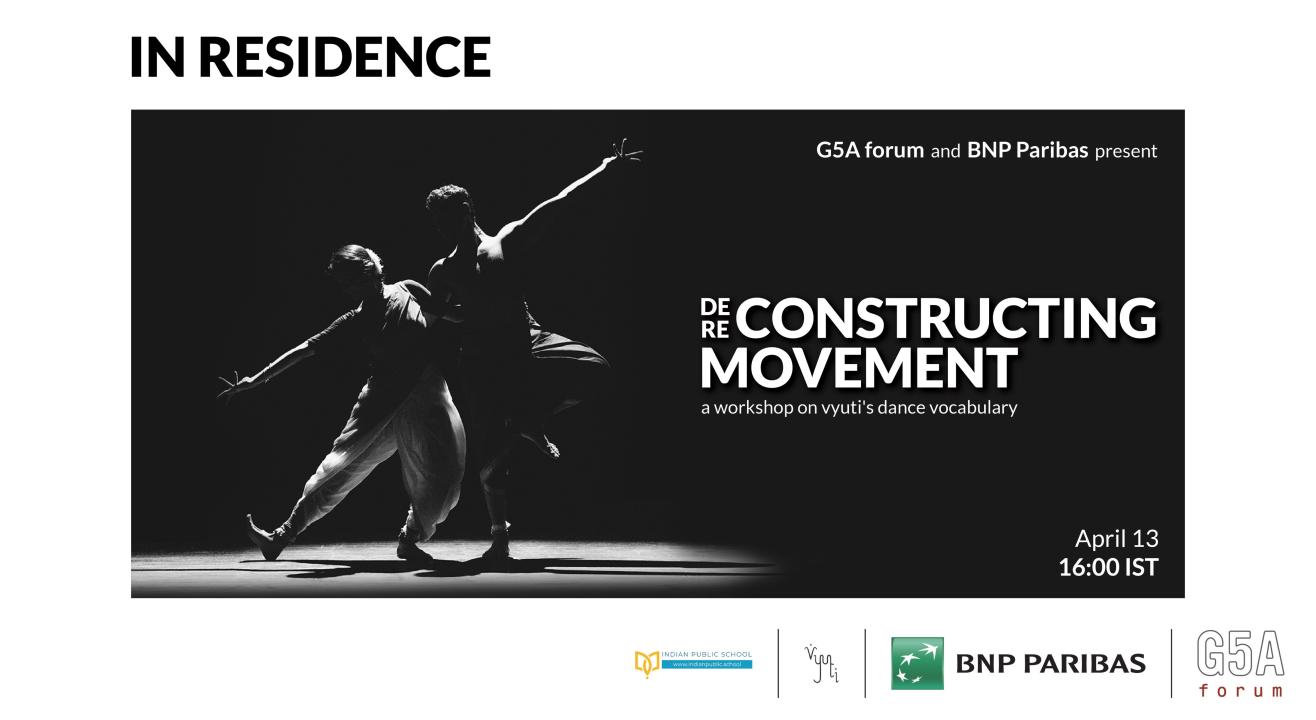 In Residence | De · Re · Constructing Movement by Aranyani Bhargav
Event Guide
Masterclass
Learn from an expert
Invite your friends
and enjoy a shared experience
In Residence | De · Re · Constructing Movement by Aranyani Bhargav
Event Guide
Masterclass
Learn from an expert
Invite your friends
and enjoy a shared experience
Event Guide
Masterclass
Learn from an expert
Invite your friends
and enjoy a shared experience
De · Re · Constructing Movement by Aranyani Bhargav: A workshop on Vyuti's dance vocabulary.
Vyuti Dance Company believes it is crucially important to reimagine classical dance to continue to improve and evolve. Instead of rejecting valuable traditions, it has been Vyuti's continuous endeavour to breathe new life into bharatanatyam.
The workshop will focus on exploring new possibilites of movement within bharatanatyam, by deconstructing and reconstructing the form. The participants will also be taught a section of repertoire from G5A forum's The Endless Mind by Vyuti Dance Company.
G5A forum
produces and co-creates interdisciplinary and multidisciplinary work that is bold, experimental, and just.
Through In Residence, we work with contemporary, visionary artists to bring their ideas and concepts to life through conversations, space for rehearsals and workshops, along with presenting long runs of their work.
This workshop is open for dancers and non-dancers of all levels.
G5A Warehouse
G-5/A, Laxmi Mills Estate, Shakti Mills Ln, Mahalaxmi West, Worli, Mumbai, Maharashtra 400011, India
GET DIRECTIONS
In Residence | De · Re · Constructing Movement by Aranyani Bhargav
Event Guide
Masterclass
Learn from an expert
Invite your friends
and enjoy a shared experience