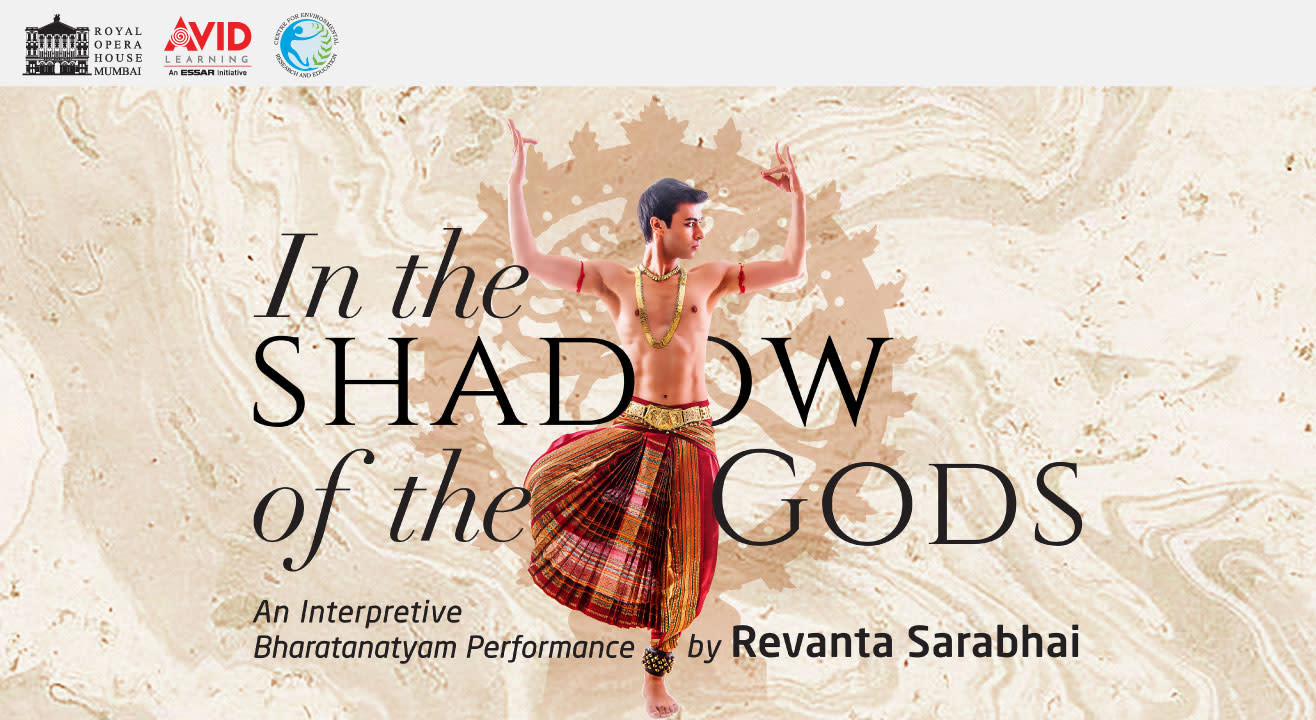 Dance
In the Shadow of the Gods : An Interpretive Dance Performance by Revanta Sarabhai
The Royal Opera House, Mumbai
About
Royal Opera House, Mumbai and Avid Learning present In the Shadow of the Gods, an interpretive solo Bharatanatyam Performance by Dancer and Choreographer Revanta Sarabhai.
The performance will consist of five pieces in the classical Pandanallur style of Bharatanatyam, telling both traditional stories from mythology as well as modern stories with themes relevant to the 21st century.
Sarabhai, who carries forth and builds on the legacy of his matriarchs Mallika and Mrinalini Sarabhai, has developed a unique repertoire of Bharatanatyam pieces, breaking outside the boundaries of tradition, and tackling themes that are relevant to the society and times we live in — presenting the classical form in a refreshing manner to young and modern audiences the world over. Press reviews from around the world hail Sarabhai as a dynamic aesthete who isn't afraid of treading new terrain and who breaks open the language of Indian classical dance.
Employing a refreshing approach to the authentic Pandanallur-style margam, Sarabhai takes the versatility of Bharatanatyam well beyond classical themes, redefining gender roles, upturning the deva-bhakta paradigm, and telling contemporary tales, exploring subjects as diverse as long-distance relationships, globalisation, climate change and environmental degradation. In breathing new life into the Bharatanatyam form, Sarabhai has been successful in bringing a fresh context to the classical dance and making it popular among a younger modern audience both in India as well as abroad.
Join us for an avant garde performance that evocatively uses the language of classical Indian dance to give expression to contemporary narratives.
Revanta Sarabhai is a dancer and choreographer par excellence. Born into a rich legacy of dance, he received his early training from his grandmother Mrinalini Sarabhai and mother Mallika Sarabhai, and made his solo Indian classical dance-debut at age 8. Bringing tremendous energy, masculinity and charisma to the stage, along with excellent technique in both nritta and abhinaya, Revanta is a rare treat in the world of male Indian classical dancers. Breathing fresh life into the ancient art form, his recent Bharatanatyam work breaks outside the boundaries of tradition, tackling themes that are relevant to the society today, taking the dance world by storm and receiving national and international acclaim across India, Europe and the United States. Rooted in traditional dance and performance forms, Revanta strives to create cutting-edge work that is immersive and responsive to the society and times we live in.
The Centre for Environmental Research and Education (CERE) is a Mumbai-based not-for-profit organization established in 2002 that works to promote environmental sustainability through research and innovation, formal education, government and corporate partnerships and publications. CERE has successfully completed many rural and urban, national-level research and environmental restoration projects such as Urban Afforestation, Rainwater Harvesting and Watershed Management, Schools on Solar and Green Financial Literacy. CERE has also helped integrate environmental education into mainstream curriculum having published 28 titles, produced educational short films, developed online e-courses and conducted numerous training workshops and seminars for schools, teachers and students. CERE is a pioneer in developing Carbon Management and Environmental Sustainability Systems for corporate India under the Carbon Map & CapTM Initiative and have undertaken turnkey CSR projects for many leading companies in India such as IndusInd Bank, Tata Capital, Apollo Tyres, Wipro, Toyota Motors, SP Group, Ambuja Cement, Tata Power and many others. For further information visit www.cere-india.org

Royal Opera House, Mumbai is widely touted as Mumbai's Cultural Crown Jewel and India's only surviving Opera House. The original idea for the space was conceived of in 1908, inaugurated in 1911 by King George V, and eventually completed in 1916. The design incorporated a blend of European and Indian detailing. The space became a cinema in later years before falling into disrepair and shutting by the 1990s. Fittingly, the space has been owned by the Royal Family of Gondal since 1952 and was eventually restored by conservation architect, Abha Narain Lambah under the leadership of His Highness, Maharaja Shri Jyotendrasinhji of Gondal. The Royal Opera House Mumbai, now one of the last remaining Baroque structures in the city, reopened after 23 years in October 2016. The building was included on the 2012 World Monuments Watch to raise awareness about its history and significance, and support preservation efforts. The building has since been recognized with an Award of Merit in the 2017 UNESCO Asia-Pacific Awards for Cultural Heritage Conservation. The restored facilities feature a 575-seater 3-level auditorium with an orchestra pit and state of the art technological upgradations, including acoustics, stagecraft, lighting and air-conditioning, alongside retaining the old world charm of the proscenium stage, the royal boxes and the magnificent regal chandeliers. Some more enhancements to the venue include a motorized screen, co-axial ceiling speaker system, Four-zone volume control and all round wifi access. Today, it stands as a key performance and creative hub in the city's cultural landscape, while being a premier heritage landmark. Facebook: MumbaiOpera Twitter: @MumbaiOpera Instagram: @mumbaiopera

Avid Learning, a public programming platform and cultural arm of the Essar Group, has conducted over 1000 programs and connected with more than 125,000 individuals since its inception in 2009. Driven by the belief that Learning Never Stops, AVID's multiple formats like Workshops, Panel Discussions, Gallery Walkthroughs, and Festival Platforms create a dynamic and interactive atmosphere that stimulates intellectual and creative growth across the fields of Culture & Heritage, Literature, Art and Innovation. Facebook : www.facebook.com/Avidlearning; Twitter : www.twitter.com/Avidlearning; Instagram: @avidlearning