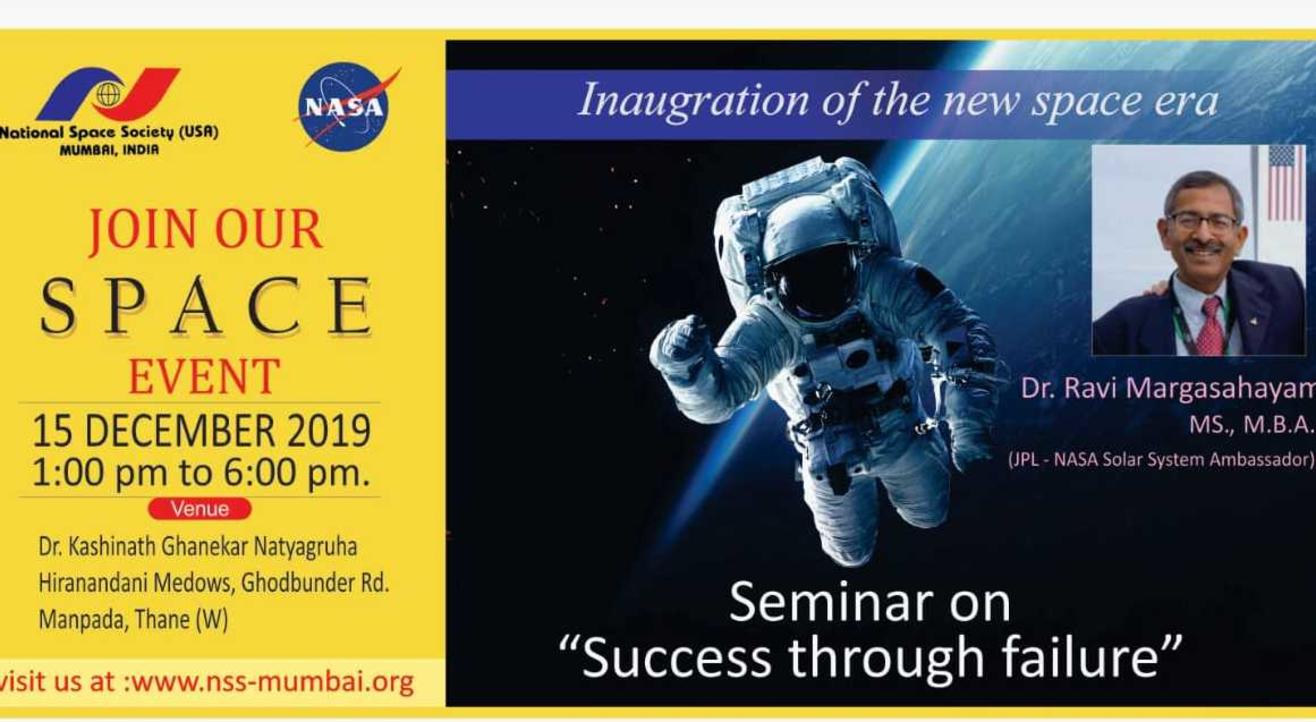 Talks
Inauguration of the new space Era!
Dr. Kashinath Ghanekar Natyagruha
About
This year we are Inaugurating the National Space Society (USA) – Mumbai, India Chapter on 15th December 2019. It will be Inaugurated by the hands of one of the best Engineer at NASA and Boeing Dr. Ravi Margasahayam, JPL – NASA solar systems ambassador.
NSS Vision: "People living and working in thriving communities beyond the Earth, and the use of the vast resources of space for the dramatic betterment of humanity."
NSS Mission: "to promote social, economic, technological, and political change in order to expand civilization beyond Earth, to settle space and to use the resulting resources to build a hopeful and prosperous future for humanity."
This event will be witnessed by ISRO scientists who were instrumental in the Chandryaan 2 mission and various other missions.
Alongside the inauguration we also have a seminar by Dr. Ravi Margasahayam on the topic Apollo 11 moon landing, success through failure.
This event consists of –
1. Inauguration of National Space Society (USA) – Mumbai
2. Seminar by Dr. Ravi Margasahayam ( topic – Success through failure)
3. Question and answer session with Dr. Ravi Margasahayam and other Panelists from ISRO and other reputed companies.
4. Small guidance session for the students.
5. Introduction to MaxQ Talks (New concept developed for introvert people to develop confidence)
We hope all of you guys take in this once in a lifetime opportunity and join us in the journey to create a space-faring nation with National Space society (USA) – Mumbai, India chapter.
Venue
Dr. Kashinath Ghanekar Natyagruha
Hiranandani Meadows, Ghodbunder Road, Thane West, Thane, Maharashtra 400607